FITNESS IS FOR EVERYONE
Fitness is important for everyone because if you are not fit, you tend to have all sorts of health problems. As a leader, it is especially important because of the high stress levels and demands associated with the job. In many ways, being fit is imperative to both, physical and mental well-being, as it keeps you balanced and sane as a person. I myself have only got into regular exercise in the last couple of years, but I have always been active as a person, even if it involves walking wherever possible. We all lead busy lives, but taking out some time from your schedule for exercise is very important, and this helps train you to become a more disciplined individual, as well. In our industry especially, when work hours can be long, we must set aside some time for ourselves and for our health.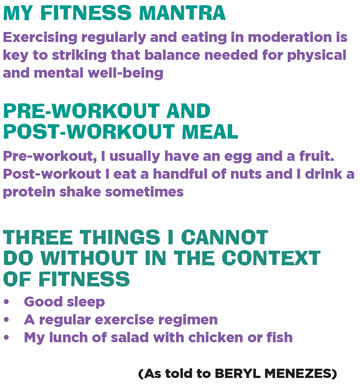 EXERCISE AND MODERATION GO HAND-IN-HAND
I have never been that fitness freak who believes in straining or killing herself in the gym. For me, exercise is about keeping fit, staying toned and doing everything in moderation. It is also about striking a balance between exercising regularly and eating right – not giving up anything you like, but eating everything in moderation. I try to work out in the gym at least four times a week, for about 30-45 minutes, when I'm not travelling, which does not make me super exhausted, but tired enough to get a good night's sleep. Again, while I enjoy the occasional glass of wine, I ensure that I maintain a diet of moderation. I love eating all kinds of nuts and salads and I believe that fish, eggs and chicken are very healthy because they are high on protein and not very high on fat, if cooked the right way. So while I try to eat healthy and include all these elements in my diet, I also eat everything I like – but in limited quantities.
WALKING TO REMAIN FIT AND ACTIVE
Initially for me, getting into a regular exercise regimen was a difficult task because I had never been big on exercise after school and college, where I used to play basketball and go hiking and trekking regularly. A hectic personal and professional life, which included a tremendous amount of travelling, made it even tougher to find time to follow a strict exercise regimen. However, in the recent past, I have decided to adopt a regular fitness regime which I believe is important for one's health, especially as one grows older. Apart from that, however, I have also been an active person all my life and a good metabolism has also helped. I also really enjoy walking and I try to walk as much as possible, even while travelling out of the country. In fact, walking in airports is my other workout, which happens involuntarily and helps me keep fit.