It's true that TV viewing habits have changed, it is very much a part of our modern lives. Despite streaming, internet access, and the proliferation of mobile devices, TV is still holding strong to its audience that is looking for news, edutainment, culture, and brand connect. This is despite the fast-changing demographics and social context. That's what makes the media business special, and it demands agility and hard work from its constituents.

This has been a constantly changing consumer behaviour with respect to various mediums of the media. The business of media has multiple channels of consumer engagement – print of varying frequency, TV, Digital, Events, and IP. Each of the brands in these segments is not in the business of that specific channel only, they are at the forefront of the ABC business – Audiences, Brands & Communication.

According to the Pitch Madison Advertising Outlook 2023, linear TV advertising will continue to grow in 2023. The report states that TV is still dominant, while Digital has the fastest growth rate.

Major cricketing tournaments such as WPL, IPL, Asia Cup, ICC Cricket World Cup, and multiple impact properties across the networks are likely to fuel TV AdEx growth.
FMCG, the largest category of TV market, is likely to substantially increase its advertising budgets, instead of reducing consumer prices because of lowering of raw material inflation, the PMAR report notes.

Despite all claims of the Digital medium's convenience, it has issues of broken trust, lack of reputational moat, and concerns of brand safety. Digital has uncontrollable factors such as fake narratives and anonymous consumers who might never exist. Unless handled well, brands could have their brand values and integrity at risk. Essentially, media brands need to embrace multi-platform delivery.

Here again, TV leads with aura and its ability to emote. TV advertising assures brand safety issues. It is still a significant influencer of consumer minds and shapes societal behaviour. Brands prefer it for its safe environment as it allows them to be seen alongside relevant quality content when consumers are hooked to the screen – be it on news TV, General Entertainment, or reality TV.

Television is less cluttered than any other medium. There are over 12,000 brands that advertise on TV. While print sees over 2.2 lakh advertisers, there are more than a million on Digital. TV advertising generates cost-efficient reach at higher levels of spending. TV is powerfully relevant in this age of accountable and data-driven advertising. Video is that differentiator that is helping this ability to balance Traditional and Digital channels, unlike any other marketing medium. This is where critics of TV fall short of reasoning – video has been that glue for many years now.

It is important to see for oneself the adulation and celebrity status that many enjoy due to their presence on TV, be it stars of daily soaps or TV news anchors. For example, there are many successful entrepreneurs, especially in the e-commerce space, some of whom are now larger-than-life celebrities, thanks to their appearance on programmes such as Shark Tank or regular commentaries on CNBC. Again, TV is shaping mass reach and empathetic audience connect. Television has proven repeatedly that it amplifies wider and faster. In the context of Digital media, we see social media influencers getting TV shows as an outcome, while TV stars are starting online shows. In the narrative of the creator economy, TV builds credibility.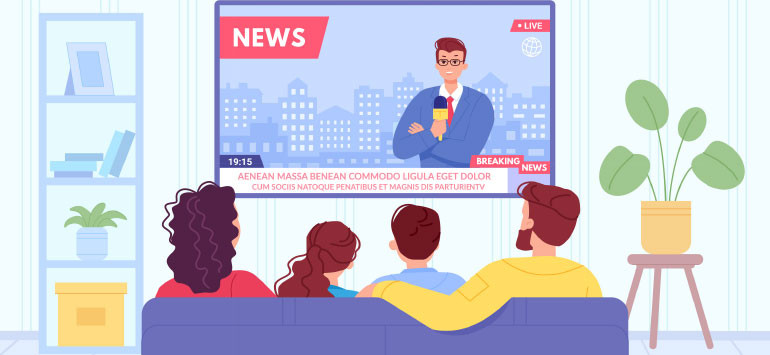 Let me give you three examples to show how TV builds brands, whether it is FMCG or human brands. Also, for news TV, or GECs or Reality TV, Television is playing its role of building human brands.
1. Being the founder of exchange4media and e4m News Broadcasting Awards, I know all major news anchors in India, and a lot of them are friends. When I am out with them I see the kind of fan frenzy and attention that they get. Let me give you the example of Sudhir Chaudhary who now does the show 'Black And White,' and 'Seedhi Baat,' on Aaj Tak. Whenever I am with Sudhir in a public space, he pretty much gets mobbed and how. He is super popular, and is big on Digital. But TV has built his aura and persona with his days at DNA, Zee News, and now Aaj Tak. This is the power of news TV.

2. I have known some celebrities who were entrepreneurs before their Shark Tank days. Although they were super successful even before 'Shark Tank,' they have now become celebrities after appearing on the show. Take the case of my friend Aman Gupta of boAt. Aman is a celebrity in his own right because of 'Shark Tank,' and also because of his authenticity and the large business that he has built. This is the power of 'Shark Tank'.

3. I met a young dentist who wanted to be an actress and ended up entering 'Bigg Boss'. The show helped her build her celebrity credentials and now people come up to her for a selfie at airports and temples. Soundarya Sharma is even getting called to inaugurate new stores and gets paid for the same. This is the power of 'Bigg Boss'.
Today whatever content comes on TV, gets amplified on Digital and vice versa. Influencers are getting shows on TV, and TV stars are starting online shows.

In the era of OTT and the Digital and creator economy, mainstream TV is by far the surest way to build a brand and also credibility.

No wonder start-up businesses raise capital and have to build a brand in a short time once they go on TV.

Let me give you an example – D2C brands, direct-to-consumer, and digital-to-consumer brands are going to modern retail trade, general trade, and taking the physical stores and physical retailing to grow their brand beyond a certain number. D2C is giving way to omni-retail. In a similar way, TV is the way to go omni-broadcasting. Almost a decade or more back, Amit Khanna, the media veteran, in a chat with me, had spoken about round-casting, which is giving way to omni-broadcasting.
TV - a responsible role model
To build on their social responsibility, TV broadcasters have to continue being relevant to their advertisers and viewers, and vice-versa. This is where the TV needs further focus.
Younger leaders: TV broadcasting has experienced, and successful broadcasting veterans. With shifting demographics and the need for energetic and differentiated leadership, the sector needs to groom younger millennial CXO leaders. This could fast track the move from broadcasting to omni-casting.
Controlling costs: The business of TV has to stay profitable and continue to invent newer emerging technologies. However, in the name of creativity and innovation, businesses cannot throw away the responsibility of cost consciousness. How does one balance costs with experimentation for the long term?
Understanding your audience: Understanding your core audience and getting your creative strategy and flawless execution to appeal to your audience is a must. That would, in turn, create consumer engagement as well as emotional impact around your TV brand. Well, that's the trick to do 'dhanda' - it simply drives up sales.
Don't make decisions for your viewers: Present them with the narrative and content. Let them decide what's best for them.
How to grow the overall viewership pie in all genres: This is the biggest question concerning media and TV executives. The answer is simple and yet complex – differentiated content, aggressive consumer marketing, and deeper formats.
TV is still incredibly relevant in this age of measurable, data-driven and high-expectation advertising. TV is increasingly available in larger and wider screens with better resolutions than ever before – to suit consumers' wallets and aesthetic preferences. Consumers have also learnt to seamlessly toggle between TV content on television, and on their (mobile) screens, which are getting smaller than ever before. That's the power of TV. Size doesn't matter, but understanding the consumer does.