WE WILL PROVIDE GUIDANCE AND CERTIFICATION TO HELP ORGANIZATIONS STAY ETHICAL: SANDEEP GOYAL
Senior media professionals have come together to create Forum for Ethical Use of Data (FEUD), a platform aimed at engendering the right atmosphere and mindset sensitized to the ethical use of data. While ad veteran Sandeep Goyal has taken over as the President of FEUD, Ambika Srivastava, former Chairman of Vivaki Exchange and Paulomi Dhawan, an active office bearer of the Indian Society of Advertisers (ISA), have assumed the positions of Vice Presidents. Vivek Mohan, former Country Head for Alcatel Lucent India, will be an Executive Member. Goyal tells us more:
THE IDEA BEHIND FEUD:
FEUD has been formed in response to the current vitiated sentiment, both globally and in India, as a result of recent controversies like the Facebook data scandal, or the concerns being raised closer home on Aadhar. The Forum will bring together all interest groups and get them to discuss, debate and devise a viable way forward in the handling of data so that it stays confidential, protected and its keepers stay trusted.
THE RELEVANCE OF FEUD IN INDIA:
In India, there is yet a lot of work that needs to be done to ensure that data of all kinds is protected and secure, so as not to compromise the privacy and confidentiality of customers. Far too many organizations have access to far too much data, but they are not investing enough to keep that data well protected. At the Forum, we will provide help, knowledge, guidance and eventually certification to help organizations stay ethical with the use of data at their command.
MEASURES TO CHECK PIRACY:
In their own way, the music industry and the software industry which had massive issues of piracy, achieved a lot of success through a combination of measures over the last two decades. Data is different, but requires direct action if noticeable results are to follow. The Forum will initially operate from Mumbai and Delhi. Efforts are already in place to bring in a senior retired police officer as an adviser to the Forum.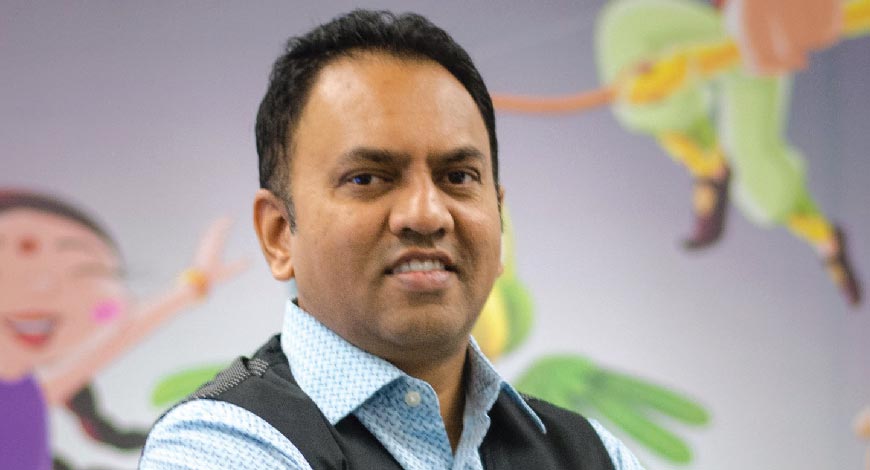 CHHOTA BHEEM HAS BECOME A HOUSEHOLD NAME: RAJIV CHILAKA
Chhota Bheem , one of the most loved and easily recognizable animation characters recently completed 10 years in existence. Conceptualized in 2003, by Rajiv Chilaka, Founder and CEO, Green Gold Animation, Chhota Bheem debuted on Indian television screens in 2008, when Turner Broadcasting System launched it on their kid's entertainment channel, Pogo. Chilaka tells us more:
THE EVOLUTION OF CHHOTA BHEEM:
As a brand, Chhota Bheem has come a long way, not just in terms of the show, but also the spin-offs that have been inspired by the show, including Mighty Raju, Arjun – Prince of Bali and the Throne of Bali. Besides these three, we also have a new avatar of Bheem called 'Super Bheem'. We have produced over 40 episodes of Super Bheem and about 10 TV movies. Today, brand Bheem has almost become a household name.
THE MONETISATION STRATEGY:
We are very fortunate that we own the IP for Chhota Bheem. Over 150 brands have licensed the character to use it with their product. We have created over 100 different merchandised products with almost 4000 SKUs. Moreover, Chhota Bheem products have been distributed to over 12,000 stores. The 15 exclusive Bheem stores are working wonders for us. We have also tied up with Imagica for a ride based on Chhota Bheem. This is probably India's first animation character that has been able to have a 360-degree presence, not just on TV but also on YouTube and platforms like Amazon and Netflix.
WHAT THE FUTURE HOLDS:
We will soon launch a show called 'Mighty Little Bheem' which will feature the baby avatar of Chhota Bheem. It will be a silent show considering babies don't talk. This show will be available on Netflix globally across 190 countries. This will be India's first Netflix original and we are very proud that Bheem has taken us so far. Also in the pipeline is the fourth feature film, Chhota Bheem: Kung-Fu Dhamaka.