It may have a 60-year legacy that is rooted deeply in tradition, but Badshah Masala's latest campaign carries a message of modernity and equality at home and in the kitchen. The brand, in its latest ad film, depicts a mother advising her son to step into the kitchen, thereby imparting an important message about gender equality in the home. Hemant Jhaveri, Managing Director, Badshah Masala tells us more about the campaign, challenges during the pandemic and more
Q] Tell us a bit about what inspired this campaign for gender equality in the kitchen
Having been in this industry for over 60 years now, we've seen massive changes from sales trends to traditions. Over this course, we've often observed parents preparing their daughters for marriages but seldom do we see sons being prepared for the same. Badshah Masala identified the need to shift this paradigm and promote the idea of sons taking up an active role in this process as the spouses as well. Through this film, we try to break a long-lived stereotype and we couldn't be happier about the modern touch that we are adding to our legacy brand.
Q] As a brand that has been in existence for over 60 years, what are some of the challenges you've faced during the pandemic in keeping the brand relevant and strong?
The pandemic left a huge impact on us as a brand. People couldn't go out, so our offline sales definitely took a hit and it became difficult to reach out to our potential audiences. We had to revamp our entire marketing strategy but thankfully we had an e-commerce website up and running. We shifted our focus to Digital and increased our communications through social media. Our team quickly adapted to the new normal, allowing us to sail through the pandemic and sales were maintained.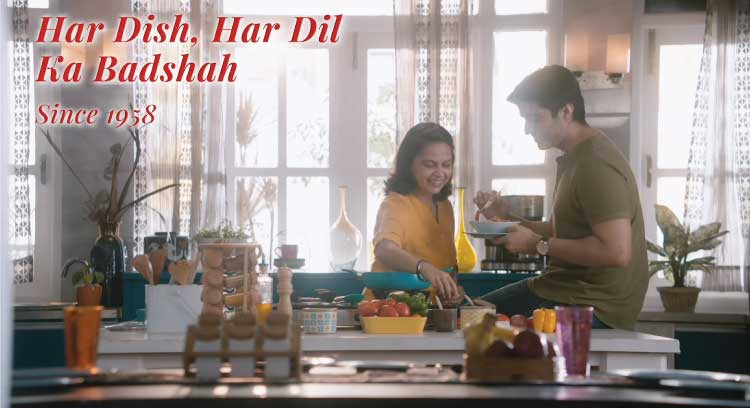 Q] How are you communicating to consumers during these challenging times? What are the innovations you're using on Digital?
We talk to consumers where they are and in these times, they are online more than ever before, on social media, browsing newsletters, visiting online shopping sites, etc. We changed our entire approach to traditional marketing by investing heavily in Digital. We boosted our efforts on the social media front and directed our sales channels to our website and other e-commerce platforms like Amazon, Flipkart, etc. Hyperlocal delivery platforms such as BigBasket and JioMart were also a huge source of sales for us. Our target audience is online but they are not young and hyperactive netizens. We keep it simple with regular contests online that attract a lot of people and provide us with good engagement.
Q] How do you see the brand growing and evolving in the years ahead?
Having penetrated international markets, and after acquiring a good hold over the southern and western quadrants of India, we intend to augment our reach into the northern and eastern parts of the country and further expand abroad. We're embracing modern ideas while keeping our traditional flavours intact, and the future looks promising for Badshah Masala.