Q] What strategy will you adopt this summer to increase your reach?
This summer, staying true to our commitment towards innovation, we have an exciting new line of products. This product range will speak for itself in terms of the benefits it offers to our ever discerning customer base. We are expecting that the new range, coupled with our marketing efforts will bring great success.
Q] Has the consumer sentiment towards instant drink concentrates changed in any way post-pandemic?
Notably, we have witnessed 3 main changes – an increased demand from health conscious consumers who're seeking health benefits from their instant drinks, a larger focus on convenience, and a move against the use of plastic. Rasna is one of the few brands that has responded to all these three demands. Rasna products offer the highest count of vitamins and minerals among all the instant drinks product.
Q] What was the idea behind changing Rasna's tagline from 'I Love You Rasna' to 'We Love You Rasna'?
In a recent market research study conducted by Rasna, it was found that 60% of its consumption is attributed to age groups outside of children. In our new TVC you can see how our products are not only being enjoyed by the young Rasna girl, but also by a middle-aged couple, and a slightly older socialite lady. The idea here is to show how Rasna products can be enjoyed by people across demographics and age groups. It is this insight that prompted our new and more inclusive tagline, 'We Love You Rasna'.
Q] What does your media mix look like? How do you allocate your marketing budget across various mediums?
Our marketing mix is spread across TV, Digital and Print channels of communication. Our budget allocation has, of course, been the highest on the TVC side, followed by Digital, and then Print.
Q] A lot of new players have entered the beverage segment in addition to the existing ones. What is your USP and market share in the instant drink concentrates category?
The key USP that sets us apart from the competition has to be innovation. Every year we launch new products and packaging that caters to the ever-evolving demand from customers. Our communication strategies also keep evolving to keep pace with the trends. As a 'Made in India' category leader in this sector, Rasna is one of the few companies that has successfully fought off fierce competition from international brands for many years now. Currently we enjoy 80% of the instant drink concentrate market share in India, and we are witnessing growth across all markets.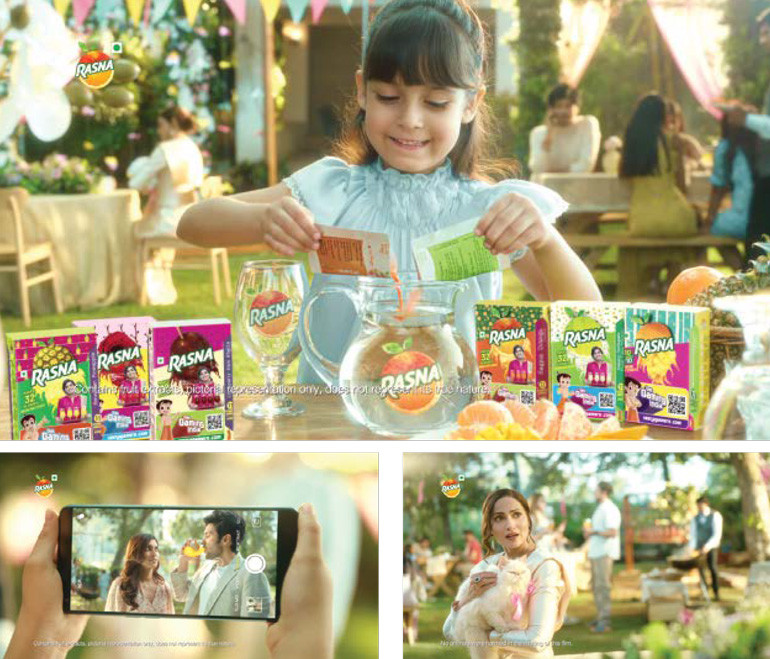 Q] What marketing and communication strategies are you using to target non-metro and rural markets?
Non-metro and rural markets have always been very important for us. Our aim has always been to ensure that all Indians, especially those in rural areas, have access to healthy and refreshing instant drinks at an affordable price. Even today we carry on this legacy within our core brand values. To target these markets, the first and most important strategy is to ensure strong distribution networks. These networks are complemented with marketing campaigns that are run across physical display advertising, radio channels, Print, TVC, and now a growing Digital approach as India's mobile penetration continues to rise. Our strong focus on both our urban and rural markets has ensured that we enjoy a hyperlocal presence throughout.
Q] We have seen a sharp acceleration across Digital, and it continues to go a notch higher with each passing year. What were some of the key learnings for you from the past year?
The pandemic gave rise to a huge demand for alternative health products. We have catered to this demand with our latest 'Rasna Healthy Day' product range. Under this portfolio, we launched 'Rasna Healthy Day Honey', which is a 100% pure and natural product without any preservatives or synthetics; 'Quickie Soup - a maida-free, multigrain product consisting of a mix of grains like jowar, ragi and oats, loaded with vegetables; 'Choco Spread with Calcium' for healthier bones and higher energy; and finally the 'Healthy Day Protein Vita', which is a malt-based chocolate drink with double the amount of protein as compared to its competitors. Furthermore, to keep with the D2C trends, Rasna has also launched a microsite where all Rasna products can be ordered directly by consumers.