Q] What was the intent behind 'Given for Generation' campaign, and what was the marketing mix of the campaign?
The campaign 'Given for Generation' was conceptualised to emphasize on our legacy, and also to make watches a gifting category. We have been around for 167 years globally and about 35 years in India. In the campaign, we are also talking about the watch making capabilities and the longevity of our products. Watches as a category is used largely for gifting. The marketing mix of the campaign was 360 degrees. We were on ATL, but as a larger strategy, we want to focus on Digital. We have used a lot of influencers for the campaign, the entire cost of the campaign would approximately be around Rs.15 crores. I think about two third of ad spends went into main lines and the mass media, and one third went into influencer partnerships, digital activation, and social media amplification.
Q] You have stepped in as a newly appointed MD at Timex. What changes are you looking forward to implementing in Timex as a brand?
To be very candid, we somehow couldn't convey a few things to our consumers and potential consumers. On the marketing side we have to do a bit more work in regards to talking about our global origin. Somewhere we feel we can do better so that people can recognise us as an international brand, rather than a domestic brand. We are a global brand with presence in about a hundred countries. So, I think that's one of the objectives because whether we like it or not, there are indeed some advantages of being a global brand. We have an expertise of 167 years, in comparison to a brand that is absolutely local, and is not totally exposed to newer technologies and watchmaking capabilities. We are proud to be 'Made in India', about 90% of what we sell is actually made here, and we export to about 20 countries across the globe from our own plant in the country. Also, somewhere, the world is progressing too fast and we feel that we have to be faster in conveying that we are a legacy brand, and we are absolutely relevant to the younger generation. We have to connect a bit more with the younger and important Target Group, which is between 18 and 30 years of age. We are also looking forward to investing more on the Digital rather than traditional media for communicating our brand message.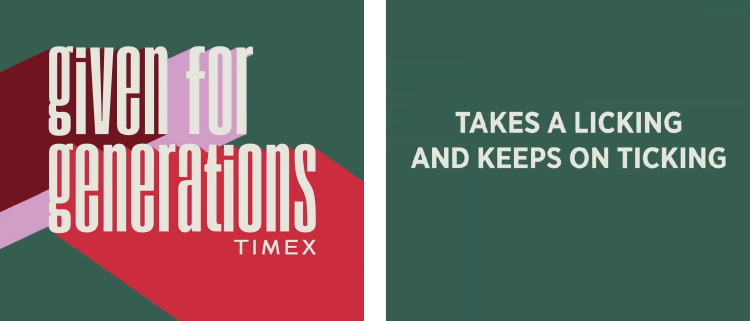 Q] Today counterfeit watches in the Indian market have become a major nuisance. How does a brand like Timex, tackle such a thing?
Today we are not facing the issue as much as we used to a couple of years or probably half a decade back. The counterfeit issue still exists, but it's not a major problem to address or the first priority for us. But having said that, we are continuously tracking the counterfeit availability, which is largely in the online space, and we keep de-listing them. Offline it's not worthwhile to attack because it doesn't pose a major challenge to our commercial goals, but on the online space of course we do take action.
Q] Today, e-commerce platforms are growing at a very fast pace in India, what are the bottom of funnel marketing tactics utilized by Timex?
I would divide our online business in two parts – one, e-tailing and second, e-commerce. Performance marketing plays a major role, and it is directly related to the ROIs and are very effective. But we not only invest in performance marketing but also in display marketing. Display marketing helps us in brand building also in terms of channel marketing and giving us ROI. It works on brand building because all these portals, the larger ones, whether it's Amazon, Flipkart or Myntra, they get multimillion footfalls every day. So display marketing gives us advertising benefits too. At the same time, anybody who is planning to buy, we get an ROI on the business. When it comes to e-commerce, which is our website, it is pretty strong at this point in time, we invest a lot of resources on the website. Then there is a paid search, and there is a lot of traffic diversion from our social media pages. So, it's a combination of SEO and social media diverted traffic which is pretty big and organic.
Q] What are the innovative marketing and advertising strategies that Timex is utilizing to increase its reach?
In addition to the traditional way of marketing and advertising, we are focusing on two things in a larger way, one of which is collaborations. So, recently we did a lot of collaborations, such as the one with the hit web series Stranger Things, and also with Coca Cola, among others. We also did something which is called Waterbury Ocean collection collaboration, which was largely on sustainability, everything used in our watch was sustainable and doesn't add any carbon footprint. You will see lot more collaborations happening in the days and months to come. We are also focusing on building a large influencer base for a longer period of time. So, these would be the two in addition to everything else. It is also important to retain consumers whom you have acquired after spending lot of marketing bucks. So, there's a conscious effort to roll out a very strong CRM module to ensure there's a consistent communication with the consumers who have experienced us and our products.
Q] How much revenue growth are you expecting in the coming years as compared to the previous years?
We are very aggressive in our approach. We want to double our business in two or two and half years' time. So, that's the kind of aggressiveness we have in our growth. Recently we acquired Guess & GC, which are very strong brands, and we are also looking forward to many more partnerships and expanding our license brand portfolio.
Secondly, we still feel Timex can be extended to a few more consumer types. So, we are relooking at our product portfolio and trying to see the areas where we are a bit weak. So, that will be an add-on business rather than an incremental growth.

The third, as I said, technology or smart watches is expanding watches as a category rather than eating into the share of analogue. So, as a combination of these three, doubling the company's revenue over two, two and half years seems very realistic, seems very true I believe.