Skore is more than just a condom brand, says Vishal Vyas Head of Marketing, TTK Healthcare Ltd as he takes us through the latest campaign to showcase its diverse range of sexual wellness products. Vyas also discusses the challenges in marketing condoms in a conservative market while outlining the brand's efforts to normalise discussions about sex
Skore, the condom and sexual wellness brand from TTK Healthcare, is well known for its quirky campaigns. The brand, which earlier this year caught significant consumer attention with its 'Cliteracy Drive' about female orgasms, is now back with a witty campaign titled 'Get Naughtier'. The digital campaign films feature young couples who find themselves in comical, awkward situations when using Skore's sexual wellness products. Vishal Vyas Head of Marketing, TTK Healthcare Ltd takes us through the campaign and the brand's efforts to normalise conversations around sexual pleasure. Below are edited excerpts from the interview.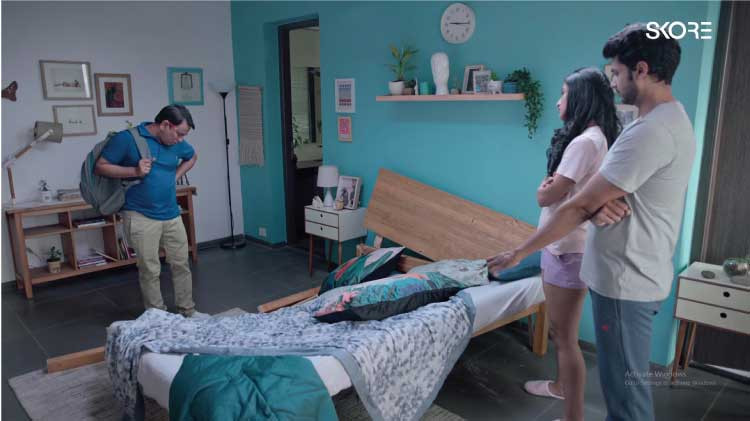 Q] In a category and market where campaigns can easily veer towards sleazy messaging, what was the brief to your agency, Dentsu Isobar?
Skore has never used sleaze in its communication as a crutch to promote the brand. We have always tried to be bold but also tasteful and this is also our way of standing out from the crowd. Since launch, we have created communication which is not only engaging and noticeable but also disruptive in nature. A case in point is the current campaign. Skore's creative strategy has been to keep in mind the growing young population and their lifestyles, and stands for a fun and naughty brand and all our creative communications are based on that.
The key objective of this campaign is to communicate that Skore has a range of sexual wellness products. Skore brand's purpose is to make young couples ace the game of love, and our products help them do that, and that's what we say with Skore – there's a lot to be won. In this campaign, we wanted to communicate concisely that we are more than a condom brand, offering interesting sexual wellness and pleasure products such as vibrating rings and flavoured lube variants, to pheromone activating, spray for men, and pleasure gel for women.
Q] How are you amplifying the campaign? What is the kind of budget and media mix you're devoting to it?
We believe digital medium is the best bet for this category. In fact, the emergence of online medium is one of the main reasons for the exponential growth the sexual wellness category has witnessed globally. The campaign relies on social media, influencer marketing, digital films, and media to set the right context and generate buzz across multiple touch points. While the films explore the naughty side of everyday life through situational comedy, social media drives constant engagement through innovative content that both teases and makes the TG aware. In order to familiarise more people with the product offerings, there is also a large-scale sampling activity being driven by social media contests and other activities. We have earmarked a budget of Rs 4 crore for this campaign on Digital.
Q] In a market that has a sizable number of condom and sexual wellness brands, what kind of messaging and positioning do you adopt for Skore?
Skore is a quirky and innovative brand. We have always been expressively bold and naughty yet classy in our messaging while remaining to the point. In terms of positioning, we have always been a young and empirical brand that caters to both men's and women's needs. Being the youngest entrant in the category with a plethora of well established brands, Skore always tries to disrupt the market and create its own space. And that's what ensured our rise to become the third largest brand in the category in such a short span of time! Our communication has played an important part in our attempts to disrupt the market. Apart from communication, we keep innovation at the forefront. Skore is well known for its innovations in the industry. Apart from the regular condom range, we have launched many firsts in the category such as cooling condoms, warming Condoms etc. Our patented 'zig zag' patterned dual textured condoms were also well received in the market. Going beyond products, with an aim to enhance user experience, we have also provided solutions to the problems consumers face. For example, one common problem that consumers face when using condoms is their disposal – so we provided solutions by giving free disposal pouches with our premium Champion range.
Q] What are the challenges in marketing condoms and sexual wellness products in a largely conservative market like ours?
The condom category poses various challenges to the marketers. The biggest among them is shopper hesitation or embarrassment. It makes things complicated for marketers as it leads the consumer to buy whatever is thrust upon him from retailers rather than opting for the preferred brand. The other challenge is lack of display and merchandising opportunities for condom brands in retail environment, as most retail outlets are hesitant to display condoms and even when they do, it is normally kept out of sight. Additionally, self-regulations imposed by some media houses make it difficult for condom manufacturers to promote or educate consumers about the product.
Our solution to these challenges is twofold – the first is to normalise the conversations around sex. Skore has always adopted a quirky and fun approach to tackle these challenges and tried to normalise conversations around sex life. Case in point is the current campaign where we have ensured we communicate our message with simplicity to make people aware of how normal it is to have the desires to experiment with your sexual aspirations without being judged. We also conducted India's first condom fashion show – Skore Fashionista, where the key message was that condoms are fashionable. Our intent was to make people comfortable with condoms, making them talk about them, and breaking the stigma attached to them. The second is to use online medium as primary medium to educate, create awareness, engage and even sell our current range of pleasure products. The e-commerce boom has also assisted in helping create awareness as well allowing consumers to try our product from comfort of his or her bedroom. The rapid growth of the online medium during the pandemic has given us a great platform to promote and distribute our sexual wellness range without worrying about handicaps we face in the traditional retail environment.