Q] What are your current marketing strategies, and what does your media mix look like?
We look at any campaign with a 360 degree approach. Apart from seeking to engage with the consumer community, we also actively engage with the influencer community. We have two types of influencers - macro celeb influencers who engage to provide us the reach and communication access to awareness. The second would be the community of influencers who work with us frequently. So, we have something called 'Pep Homies,' who are a community of micro, nano, and macro influencers working with us on a regular basis. They are people who talk about us every month and post content online. They talk about how they like to engage with us as a brand. We use all the mediums, and for the kind of business that we are in, Digital becomes a strong medium. We work on performance and a lot of other things to drive business.
Q] What new avenues are you exploring in digital?
We have mediums to create our brand awareness, and on a daily level, each communication is measured on how much ROIs it can bring in. There are also conversations that are more about brand love, and that is where influencers come into play. It's a community that engages with our TG on several platforms, like Instagram, and Facebook. They create a lot of brand love towards Pepperfry. Because we are a brand with beliefs and our communication is warm, vibrant, and honest, this community brings out the nature of our brand, and it partners with us in making homes beautiful.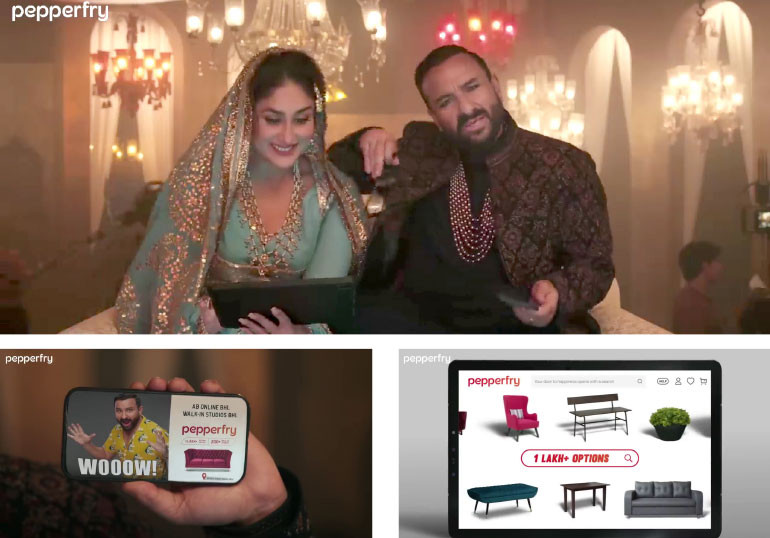 Q] Tell us about the 'Pepperfry Meme Superstars' campaign, what was the thought behind it?
The campaign is to show the omnichannel strength of Pepperfry. Our Target Group (TG) belongs to the 25 - 45 year age group, and they love to research about a product online or they might go to the local market to find out other options and prices. Only then do they decide to make a purchase online or offline. So we thought it's best to talk about our omnichannel strength. We now have over 200 studios in hundred-plus cities where you can have the touch and feel experience. For those who love to shop online, we have one lakh plus options, which is the widest range you can get for furniture and home decor online.

Our TG spends most of the time on digital while travelling, and they engage in memes. So we thought of involving that in our campaign for the folks to drive the message in the language they understand. Our communication outdoors was a series of memes and we had users reaching out and saying that they paused to take a look while they were driving. So you get to see Saif Ali Khan and Kareena Kapoor Khan for the first time in a campaign of this format.
Q] What new product innovations have you added in your portfolio recently?
We have recently launched Pets furniture as we truly believe the number of pet friendly users across homes have gone up. We have also launched a 'Furniture Protect Plan'. It's different from warranty, which is generally about how the product performs as against what is promises. But for unplanned errors, human or otherwise, a furniture protection plan ensures your furniture can go back to as it was.
Q] Currently, what is your target market-share in the online furniture segment and what are your strongest growth markets as of today?
Our growth from tier 2 and tier 3 has been pretty good, coming to a level of about 25 to 30% of the business contribution.
Q] Pepperfry entered into the mattress segment last year, how is that segment performing?
Our focus on that category is very strong, and we continue to invest in it, as we want consumers to have a great scheme.
Q] Going forward, what will be your key focus areas for Pepperfry?
We want to be the one-stop destination for everything home, not just furniture, but it also includes home decor, lighting and everything else. So that becomes one important category for us. Our focus is getting into more geographies, either through online or offline. Reaching out to new geographies has been a critical game for the business because even today, it is too small for all of us. Also, we'll continue to focus on technology because at the core we are a technology-led company. We also want to make investments toward building the entire experience of the consumer in furniture shopping, being either at the level they wished it was on, or beyond the level that they wished they could reach.