Q] In the Nayi Shuruaat campaign, why did you choose to feature The Moms Co, Sleepy Owl, and Doodlage instead of keeping it generic?
We wanted to show real stories of resilience, grit, and new beginnings. The Moms Co, Sleepy Owl, and Doodlage are three distinct and unique businesses that were born on Facebook and Instagram. All three businesses built strong offline distribution networks but Covid-19 compelled them to make a new start by moving online more comprehensively. While these businesses may be from different industries, what ties them together is how they grew on the back of the communities that they found on Facebook and Instagram - the community of mothers, coffee lovers, and those passionate about fashion and sustainability. When we started talking to these businesses, we realized how these communities had enabled new ideas, support, and even growth for these businesses during the pandemic, helping them bounce back. While this film features just three such businesses, this is an ode to the millions of emerging and small businesses across India that made their nayi shuruaat during the pandemic.



Q] By what percentage have you seen the Facebook community grow in the nine months after the lockdown began in India, what is the reach overall today?
The usage of the Facebook family of apps has increased everywhere across the globe including India. In India, for instance, Instagram Live views increased by more than 60% week-on-week in the initial weeks after the lockdown and Live broadcasts from Facebook Pages in India had tripled in June 2020 compared to the same time last year. We've also seen more businesses, particularly small businesses use our apps as they move online to connect with customers and grow their business. Our research study with OECD (Organisation for Economic Co-operation and Development) and World Bank has shown that in October 32% of operational SMBs on Facebook India reported that the proportion of sales they made digitally has increased compared to what it was before the Covid-19 pandemic. 51% of operational SMBs in October on Facebook India also reported at least a quarter of their sales are made digitally. The pandemic has hastened the acceleration of offline-to-online journeys outside the metro cities, and we've seen an increasing number of small businesses come online from smaller towns.



Q] In the days to come what are the new solutions that Facebook plans to offer to allow people to have a full fledged online store and enable better sales?
Facebook's goal has always been to enable new opportunities for businesses, especially for the more than 60 million small businesses across India. The economic recovery of small businesses will continue to be a focus area for us in the coming year. We will continue to look at key areas where small businesses need our support such as funding, skilling, ecosystem enablement, and support to move online, and we'll continue to double down on those.
Q] What kind of ad spends are you looking at for this campaign and on what mediums will it run?
The media mix selected for the campaign consists of TV, Print and Digital with films that are built for each medium.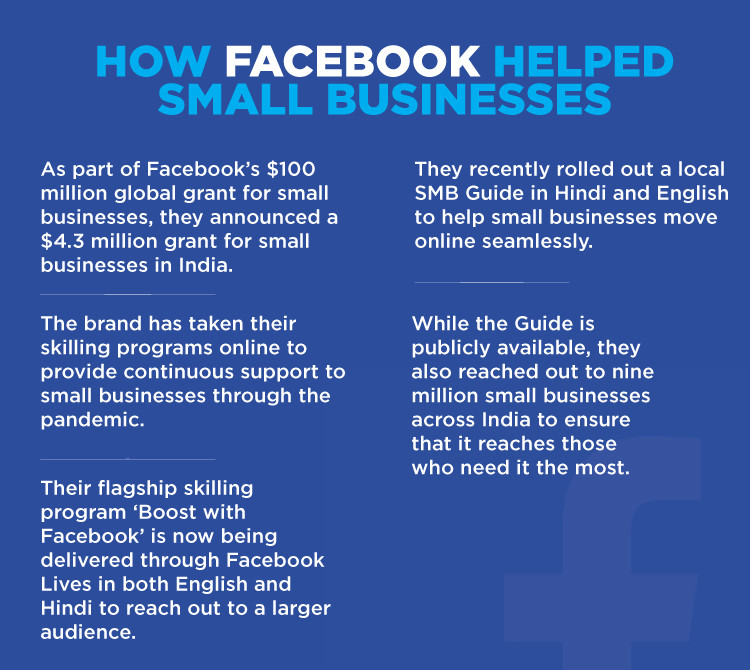 Q] Between Facebook Groups and Whatsapp's integration with Jiomart, what is the number of people who are using the umbrella brand Facebook actively for business?
Globally more than 200 million businesses, mostly small businesses, use our apps to connect with their customers. Of the 200 million, 10 million are active advertisers across our platforms as many have shifted their businesses online. This goes to show the vast number of small businesses who use our platform for free every month. We support more than 50 million WhatsApp Business app users globally every month and more than 15 million in India.