Q] What is your strategy to attract Gen Z and new-age consumers, and what narrative is the brand using for its marketing communication?
We have adopted Digital tools in order to attract Gen Z. Though we are present on television, we are also talking to consumers in the language that they understand. We did conversational marketing, wherein if anyone at any time is talking about sex, a sticker of Kamasutra came up to aid the conversation. Then to build engagement, we linked those conversations to our chatbot, engaging in a two or three-way conversation with the consumer.

Additionally, beyond our usual marketing practices, we have found that in this category, meme marketing works well. So from social to Web 3.0, we're trying to employ all available media to engage with new-age consumers.
Q] What was the objective behind venturing into the Metaverse?
Kamasutra has been one of the pioneers of sexual wellness in India. We are the first to position condoms as an object of pleasure. But we've seen that people are shy about sex in India; they don't like to talk about it. With the rise of Web 3.0 that allows you to create immersive experiences, we thought of delving into the world of Kamaverse. We drove engagement as this is a category of fun, and more importantly, it is also a category where a lot of education is needed. So, we have created three different wings – seduction, pleasure, and sex.

We also created our first virtual influencer, Kamya, and took the chatbot to the next level. She can take you on a virtual tour to educate you, and drive engagement in this immersive world.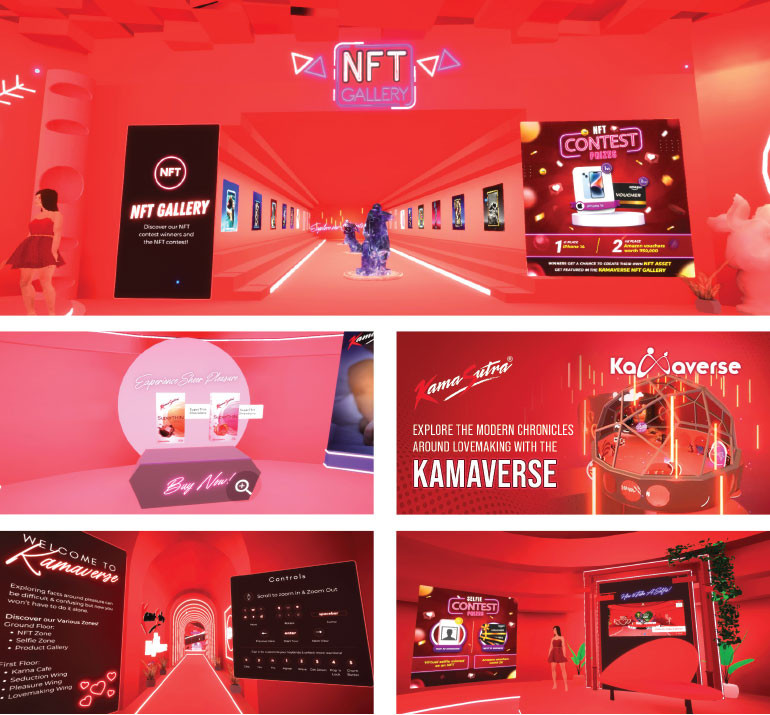 Q] How are you amplifying the campaign? What does your media mix look like?
We are going to be present on TV with a product advertisement. However, for Kamaverse, we are doing a hundred percent Digital mix, because it only makes sense. Our core KPI is going to be about getting people on the website. We have done a number of things in the Digital world, branching out to different sections. So we have sex education, NFT collectors, and also comedians to keep it light-hearted. On the other hand, we also have regular couples to drive engagement. We have kept around 30% to 40% of our budget for Digital, out of which, 15% to 20% is for influencer marketing. We have also leveraged various social media platforms to drive awareness, and are doing things such as meme marketing because we feel that it is really popular. At least 30% of spends will go into Kamaverse.
Q] ChatGPT is buzzing these days, and brands are planning to integrate their chatbots with the new generative AI tool. What are your thoughts on it?
Right now we haven't gone there, as we would first like to study it. ChatGPT will help us a lot because with machine learning there will be richer and more engaging conversations. Eventually what will happen is that the conversations and machine learning will become better, more intuitive, and much faster.
Q] What strategies have you planned to drive growth for the business?
For us, innovation is definitely going to be key. We are going to focus on how to come across as a complete sexual wellness partner, and the ways in which we can provide product platforms that can help unleash one's level of confidence. This is mostly aimed at women.
In terms of communication, it is all about product superiority and unleashing confident lovers. So we want to come up with a lot of TVCs and Digital content around the product category. Lastly, we want to build the mother brand, Kamasutra, going back to what Kamasutra stands for – the bastion of sex, love, relationship, and courtship. Also, using technology to accentuate those engagement points in a way that educates and engages consumers.