Ariel India launched its new ad campaign, #ShareTheLoad focusing on bringing about a change in the mindset of men to ensure that they contribute to household chores. Sharat Verma, Chief Marketing Officer, P&G India and Vice President, Fabric Care, P&G India along with Josy Paul, Chairman and Chief Creative Officer, BBDO India share their opinion and expectations on the newly launched campaign.
Q] Ariel since the past four years has created eye opening campaigns for men and women. What message does season 5 of Ariel Share the Load want to deliver?
Sharat Verma: The message is simple, the study data of an independent agency clearly states that 88% women believe it is time to talk to men about doing their share of the household chores equally and other data also clearly states the fact that men are not contributing to it. Sharing the load is an important aspect of a family. This year, we want to address the deep-rooted conscious and unconscious bias that the men have which comes in the way of sharing the load. During the lockdown, men started sharing the load in household chores but eventually stopped when the world started opening up. We want to send a clear message that doing household chores is not only a female oriented job.
Josy Paul: Since past five years we have been working on different campaigns with Ariel, post every campaign we get feedback. After the lockdown, we noticed several changes and curated the data we got throughout the year. We wanted women to take the charge in this new ad film and it was a built up like a volcano eruption from a woman's point of view and this leads to the change. The ad film is built on an empathetic process rather than the creative process.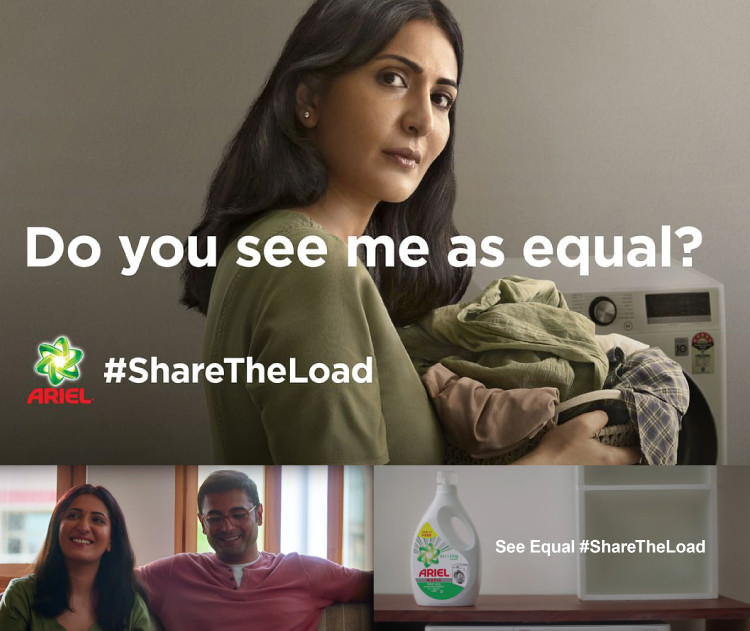 Q] What is the marketing mix of the campaign and how do you intend to reach the right target audience?
Sharat Verma: The objective is to reach as many consumers as possible because we are not intending on selling Ariel powders. We are lending our voice to start a conversation which our consumer wants to see. We will be using digital media, print, TV and outdoor activation in malls, etc. We have tied up with several influencers and companies who also share a similar thought. This campaign is really a trigger to start a conversation between couples which eventually would take them to a better place.
Q] In the ad campaign we also see two men living together, is Ariel comparing two couples- one opposite sex couple as husband and wife, and the other which showcases two men as lovers or a gay couple?
Sharat Verma: That's a keen observation. We wanted to make sure that we show the contrast that men are capable of sharing the load when they live together. The two men (Sid and Aman) in the ad could be colleagues, brothers, college mates, friends or could be a couple as well. The point is that they basically represent that if they live together, they can perfectly share the load equally. That is the important message. We have not put them in any relationship.
Josy Paul: That's a great question. While making the film we did not make any specific mention of the relationship between the two men (Sid and Aman). I have spent two years with one of my associates in New Delhi while my wife was in Mumbai. My son lives with two of his batch mates and it is not possible that you can stay without contributing to household chores. It's a part of living together and doing household chores does not revolve only around women.

Q] BBDO and Ariel year after year have won awards for Share The Load, this is at a time when clients are known to change agencies every year. What makes BBDO's relationship so strong with Ariel?
Josy Paul: The chemistry we have with Ariel and especially with Sharat has always been wonderful. Sharat and his team have a great connect with us and have been a great support while making the season 5 ad film as well. The consistency of people involved from Ariel and BBDO led to increasing belief in each other. The campaign has ideas and observation from Sharat's team as well which also makes them the writers involved in the campaign. Since the past five years we have been working together as one team and that makes the bond so special and strong.
Q] What was the budget of the entire campaign and what response are you expecting from this campaign?
Sharat Verma: The idea behind the campaign is to expect a change in the behavior of men. We started our first campaign when the number of men not doing household chores was way higher than what it is today. We want this number to go down to zero and only then we would call this a campaign of change. We do not disclose the budget of the campaign, but it is a year-long campaign that we have been doing since the past seven years. The team we have at P&G is very passionate about this campaign. We truly believe that brands can bring change in the mindsets.