Our ambition is to integrate care into the ecosystem, says Tapan Singhel, MD & CEO, Bajaj Allianz General Insurance as he reflects on the brand's growth on its 20th anniversary. Singhel explains how the organisation has remained committed to ensuring efficiency in its claims settlement process, while also keeping the customer at the heart of everything it does
Q] The organisation celebrated its 20th anniversary recently, it has never reported any loss in 20 years. What has enabled you to do that?
It's the philosophy we had from the beginning, which is that we wanted to be the best claims paying company. If you look at our grievance ratio published by IRDAI, it is amongst the least in the industry because the claims settlement process is among the best in the industry. It is the secret behind this performance. We have no pressure to cut on claims. The philosophy of being the best claim paying company in short is that at all points of time we underwrite well, and we serve the people well.
Q] What was the marketing strategy which has served you well in the past 20 years?
Our initial thought on marketing was not something fancy, it simply relied on 'word of mouth'. We did not invest much in marketing. We invested in a superior customer experience, massive distribution, innovation and ensured that the customer experience is useful in terms of claims settlement or the way we service our customers. Settling claims is transactional; you have a claim, and we pay but as a company, we go beyond that. The ambition is to integrate care into the ecosystem so if you think of care, you think of Bajaj Allianz General Insurance.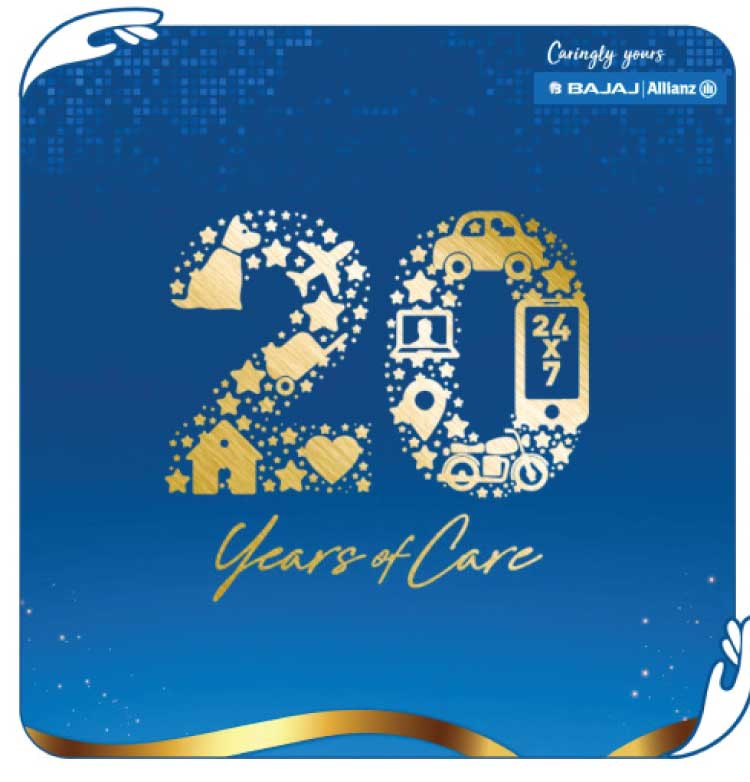 Q] You launched 'Criti-Care' recently to cover critical illness. What kind of response have you seen to the product?
When you go and buy anything, you have the option to customise things. Insurance companies do not allow the option of customisation, we just offer a policy. The beauty of Criti-Care is one can decide the kind of cover they want. It is an endeavour to keep customer at the centre giving them the option to decide. It's a very powerful product and it's just been launched in April this year, and I am sure it will pick up very well.
Q] Bajaj Allianz is also part of a lot of government schemes like Pradhan Mantri Jan Arogya Yojana, among others. What made you foray into this space, and how has it worked for you?
Insurance companies and the government should work together for the betterment of society. I lobbied aggressively for the Pradhan Mantri Jan Arogya Yojana, a health insurance scheme, where people get an insured sum of Rs 5 lakh. It will increase the life expectancy of Indians by 5-10 years. Therefore, a poor guy with Rs 5 lakh insurance can then go to a hospital for good quality treatment, which was not the case earlier. Nobody sets up infrastructure in rural areas because there's no payment capacity. We watched all the big brands in the hospital industry opening up in semi-urban and rural places suddenly after the announcement. I've talked about on many platforms, and I support such schemes.
Q] What are the emerging trends in insurance that you have observed among consumers, especially during this second wave of the pandemic?
The belief that a crisis creates awareness leading to sales is not accurate. The sales still happen because of distribution and some go to buy online. In April last year, the growth was negative for the retail health industry and then it picked up. It reached 40% in May, June, July, August, and September. One registers around 20% growth normally. The growth does not show a permanent trend. The other unique thing which came through was 'pay as you go' under motor insurance. We decided that the customer should decide how much to pay depending on the kilometres, and it sold pretty well during the lockdown. It was a pilot to gauge the response. We have now filed for a mainstream product, which will go through the regulator. Cyber security is another risk we are focused on. Every individual should have cyber-cover; it does not cost you more than Rs 1000 a year. Companies have boosted their cyber cover but there is hardly any uptake in the individual cover.