When Ananda Bazar Patrika (ABP) launched in the year 1922, it was a four-page evening Bengali daily which was priced at two paise, with a daily circulation of about 1,000 copies. Today, four years shy of celebrating its centennial year, the ABP Group has transformed into a media behemoth and diversified its business to include more newspapers, magazines, television news channels and digital properties.
Headquartered in Kolkata, the group's stronghold lies in its regional offerings. Ananda Bazar Patrika still remains one of the most widely circulated newspapers in the state, despite the coming in of national players. Some of its most popular magazines include Desh, Sananda, Anandalok and Anandamela. Each of the magazines have a circulation ranging between 30,000-60,000.
However, while the latest Indian Readership Survey (IRS) 2017 revealed that the Print medium will continue to witness growth and that regional print will eventually drive growth for the medium, how is the print business of the ABP Group doing? DD Purkayastha, Managing Director & CEO, ABP says that while English readership is falling, the group is in good shape because its Bengali newspaper is still a strong property.
When asked about the growth of its print business, he adds that the Bengali newspaper is growing at a low double digit rate, while English Print witnessed negative growth, even till the first quarter of this year.
"We all know how the print business is performing. Within Print, English publications are facing strong headwinds. English print has already started declining and there's very little growth, in terms of ad revenues, says Purkayastha, adding that the decline started post demonetisation and the implementation of the Goods and Services Tax. However, talking about how the group is doing overall he says, "We are in a much better position than a lot of other players, because not only is our Bengali newspaper growing, but our Television channels are doing well too."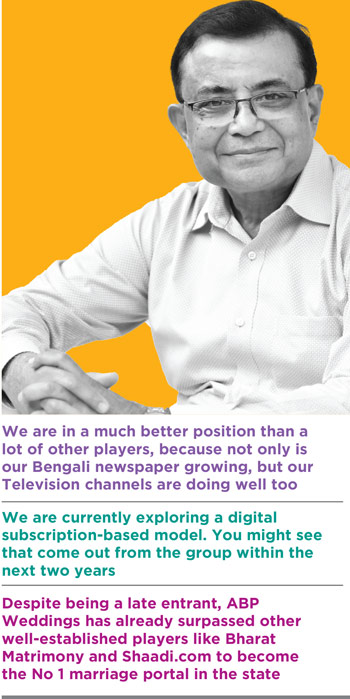 According to him, the key factor that has contributed to the decline of the English media is the fact that most of the English readership comes from metro cities. "In the metros, it is not just the younger audience, but even middle-aged people are no longer interested in reading newspapers. Moreover, with the advent of Digital, there are now a lot of other ways to get news too," says Purkayastha. However, he has a lot of hope for the growth of regional print, thanks to the growth in the hinterlands. "The hinterlands and districts around Kolkata are growing. People today have better purchasing power and they want to imitate the city life. Brands, be it auto, two-wheeler or FMCG players, are noticing this too, and are focusing on these areas. Our focus will also be on regional language print and non-Calcutta districts, because those are the areas that are growing," he says.
Talking about the growth forecast for the rest of the year, Purkayastha believes that English Print will witness a 5% negative growth, Bengali will grow by 6-7% and Hindi will witness a slightly higher growth of about 8-10%.
The scenario in the magazine vertical, shares Purkayastha, isn't too encouraging either; with revenues from advertising falling every year. "We have been witnessing an almost double-digit decline in terms of advertising in our magazine vertical. It's not a good scenario. Having said that, people are paying for the content they are consuming in these magazines. So we are making money from the circulation and probably that's what has helped us survive. But making money simply out of circulation is not a good model. You need advertising," he explains. On why magazines are losing the advertiser's favour, he adds, "Advertisers look for reach. Magazines don't really have that kind of reach."
However, the group, in the past few years, has also been working on improving its distribution network and has thus set up printing plants across the state, in cities like Durgapur, Baharampur and Siliguri. Since the newspaper also has readership outside the state of West Bengal, setting up these plants has helped the ABP Group simplify its logistical issues. It also helps them deliver the newspaper to the doorstep of people outside the state in the morning, which was not the case till a few years ago, when the newspaper would reach readers a day late.
THE INCREASING FOCUS ON DIGITAL
When asked about the biggest challenges that the group's Print business has been facing over the years, Purkayastha states that it is the struggle to retain its readers. "For us, the biggest challenge has been to ensure that our readers don't go elsewhere. And one way of doing that, we figured, is by building our Digital properties. For the past three years, we have been concentrating on doing this and we have witnessed very good traction. Readership might be moving from one medium to another, but if we are able to retain our audience on Digital, they will still remain with us," he says.
However, advertisers have still not started putting in a lot of money on the medium. "Most of the money on the Digital medium is going to the Facebooks, Googles, Amazons and Flipkarts of the world. I don't think anybody is making money there yet, but my objective is to bring people to the medium. And tomorrow, there is a possibility that if advertisers don't pay, readers will be willing to pay for relevant, exclusive content. We are currently exploring a digital subscription-based model. You might see that come out from the group within the next two years," he tells us.
Not only is the group thinking of going all guns blazing on its Digital news websites, the group is also going to focus on its matrimony site, which he says has already become the market leader in the Kolkata market, toppling other established players. "When we say Digital, we don't just mean the news websites. Our matrimony site, ABP Weddings that we launched in 2015 has been performing really well. Our portal is built on the trust and credibility of ABP among the Bengali diaspora. Despite being a late entrant, we have already surpassed other well-established players like Bharat Matrimony and Shaadi.com to become the No 1 marriage portal in the state," he says. The group also launched a similar portal in Maharashtra and is also looking at expanding to other regions.
REGIONAL TO BE A KEY FOCUS AREA
While all might not be well in the ABP Group's Print business, the Television business is contributing to its overall growth. Currently, the group has four news channels - Bengali, Gujarati, Marathi and Hindi, that are doing well for the group. The organization was also in talks to launch a fifth channel in Punjabi, but that could not take off because of problems involved in getting a licence for the channel. Thus, the group launched the Punjabi channel 'ABP Sanjha' in Canada, which has a large Punjabi diaspora, in June.
Talking about future plans for the television business, Purkayastha says, "We already have five language news channels including ABP Sanjha and we are exploring more languages. However, we are clear about one thing: we don't want to go the GEC way. The channels will all be news channels and in regional languages. We aren't even thinking of an English channel right now." On other languages that the group is looking at, he hints at the South market.
EVENTS: THE MONEY-SPINNER FOR ABP
Like most other media houses that host events to build a connect between the industry and consumers, as well as to bring in the monies, the ABP Group has been organizing many such events. "We are doing a lot of events currently. Each of our brands have different events that we organize across the year. We must have a total of about 100 events right now. And they are doing really well for us," Purkayastha says, adding that the events vertical contributes close to 10% to the group's overall revenues.