After Royal Challengers Bangalore (RCB) recently unveiled its athleisure range in partnership with Puma, Rajesh Menon, Vice President and Head, Royal Challengers Bangalore explains why he is focussed on bringing out RCB's lifestyle proposition through its expansions. Menon also tells us why brand RCB is not limited by geographies, while underlining the growing relevance of brand purpose in the sponsorship market.
Q] Royal Challengers Bangalore recently launched an athleisure range with apparel brand, Puma. How did this partnership come about and what are the synergies at play?
Royal Challengers Bangalore's (RCB) association with Puma is the coming together of two brands with a similar ethos, and this partnership is the true intersection of cricket and lifestyle. With the launch of the athleisure collection, RCB becomes the only cricket team to move beyond the traditional retail merchandise into the millennial, Gen Z streetwear fashion with apparel for men and women, including t-shirts, hoodies and track pants. For RCB, Puma was the best fit to launch the collection into the market. Puma is a lifestyle brand and a high-performance sports brand, and there's no other brand that can bring this proposition alive for RCB.

Q] How does this partnership help brand RCB?
Gen Z is not averse to taking risks and trying out new things. RCB understands this philosophy of young India and our philosophy matches this thought process, which is 'play bold'. This also reflects in the players who have played for the franchisee, and whose brand of cricket resonates with young India. Unlike other franchises, brand RCB was not built to focus on any particular region. RCB transcends geographies, language, gender and the fan base for the team cuts across India. As a brand, we are born in Bangalore but to thrill the nation.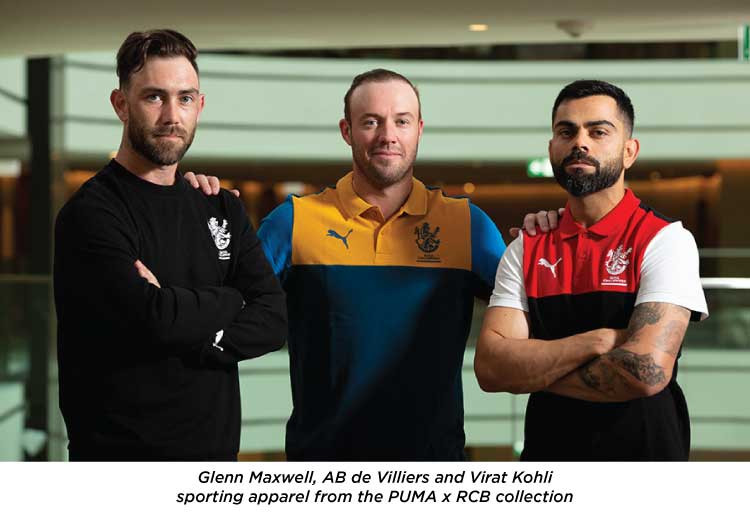 Q] What other brand extensions can we expect from RCB?
Our parent company, Diageo, is in the lifestyle business, and our ethos, as a lifestyle brand, rubs off from there. While other teams are expanding their brands horizontally, we look to expand the brand vertically and to bring out the lifestyle proposition of RCB. We launched RCB Bar and Café in December 2020, and we will expand this format into other geographies within and outside India. We followed this up with the launch of the athleisure range. We believe that Digital will be the next engine of growth, and looking ahead we aim to play big in Digital. We will launch many online, digital and offline products in this space, and are creating our own platform. We want to create India's sports super app, where anything related to sports – right from ticketing and gaming to health and fitness content – will be available on the platform. Everything we do will be in the lifestyle and sports segment.
Q] How has sports merchandising evolved for RCB?
The sports ecosystem and fitness itself is still not evolved in India when compared to developed countries. Unless that evolves and develops – including for sports beyond cricket too – and reaches critical mass, the growth of other businesses pegged on that will be very slow. Having said that, the growth of lifestyle, sports, fitness and healthcare is skyrocketing. From a revenue standpoint, broadcast and ticketing revenues are still strong. However, to my mind, within the next three years I believe that merchandising will be as big as at least ticketing revenue. That is the reason we are not just marketing match jerseys, but also getting into athleisure high performance wear.
Q] What is your vision for brand RCB?
We have a simple agenda. Our key vision statement is to be the best performing partner, most trusted and respected T20 franchise partner. The best performing in all aspects, whether it is business, revenue growth, operating margin growth performance, on field performance and even internal focus, which is employment engagement, business performance, and society at large.
Q] How has your association with your brand partners evolved?
While other franchises lost partners during the pandemic, we did not lose a single partner. Our record to have been able to deliver to our partner brands, such as our NBFC and fashion e-commerce partner, has been phenomenal and impactful, showing the ability of RCB to be a brand purpose vehicle, and we always try to bring the purpose alive. We don't just look at selling real estate, but look at which lands on their brand purpose; that's critical for us.
Q] Tell us more about this requisite alignment with brand purpose.
The Indian market is evolving to the concept of aligning marketing with the brand purpose. In the next three to five years, if the sponsorship market has to grow and to have sustained impact on brands, then every team, irrespective of IPL, has to start looking at bringing in the brand purpose. If you look at some of our initiatives, such as 'RCB loves Furry' where we introduced a pet lounge called 'DogOut', this property can be easily aligned with pet care brands. Similarly, brands that focus on sustainability can align with the green initiatives we undertake. We need to develop IPs and properties that keep our interests in mind, but which are a win-win for all and also connect with society.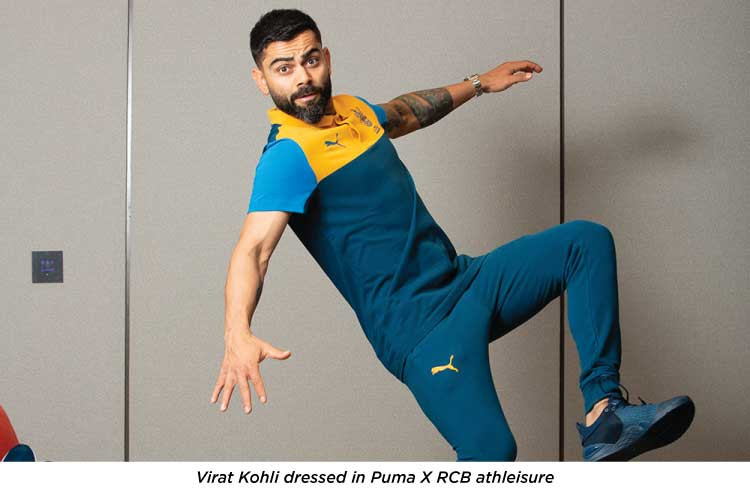 Q] As a brand, how did you ensure constant engagement with your fan base?
We believe in complete frontline empowerment, which basically means a flat team structure, and we are completely in sync with the fans. We have regular meet-ups with fan groups through the year. This helps us know what's working, what's not working, and the fans' expectations. An insight from the fan group led us to retire Jersey no. 12, the 12th man of the team. This was our tribute to the fans. We also engage with fans with the IPs that we develop. The RCB Insider Show anchored by comedian Danish Sait, aka Mr Nags, gives fans an inside view of the RCB world in a satirical manner. We also saw that fans wanted to know more about the game day strategy, and so we launched 12th Man TV, a peek into the behind-the scene-actions. Another IP is Bold Diaries, a series where we showcase stories and experiences from the RCB camp, such as what happened during the auction, the thought process behind why we picked some players, etc. We are in the process of creating more IPs that resonate with fans, and will be launching our podcast series in the next two months. The topic for the first series is, 'How IPL has changed my life' where we are curating the experiences of players and the support staff.
Q] In terms of revenues, how has RCB performed?
I won't be able to share numbers, but I can say that in terms of revenues we are among the top two teams. We are leaders from a digital engagement standpoint, and during IPL 2020, we were number one globally and saw greater traction than even the European franchisee football teams. This year, we were number one in IPL from an interaction point of view. We don't spend a single penny on buying ads: Everything is organic and we invest on IPs.