Last week, Naveen Tewari, Founder & CEO, InMobi & Glance, was awarded the exchange4media Influencer of the Year 2020 Award. The e4m Influencer of the Year Award honours visionaries who have transformed the landscape of the advertising industry and invoked next-level growth. Tewari is known for the exemplary work he has done in a short period. He has made his mark by transforming a start-up company into a successful global technology giant. Tewari dived into the world of entrepreneurship quite early when he founded InMobi in 2008 after a brief stint at global consulting major McKinsey.
Under his leadership, InMobi, one of India's first unicorn companies, has now positioned itself as the world's leading advertising platform. Tewari's second business venture Glance is already making a name for itself by delivering personalised content to the users on the lock screen of their smartphones, leveraging the power of AI. Tewari has mentored and supported over 60 budding technology companies so far in his career and has personally invested in several companies such as Razorpay, NestAway, Springboard, Mettl, Klub, Factors.ai, Bright Money, and The Bombay Canteen to name a few. He has also served as a board member at Paytm.
In a discussion with Annurag Batra, Chairman & Editor-in-Chief, BW Businessworld & exchange4media Group, Tewari also spoke about his learnings from the past 12 months in the context of the pandemic and about his vision to put India on the global map in a substantial way, through this work.


'TRULY HUMBLED TO ACCEPT THIS AWARD'


As he accepted the award, Tewari showed true grace as he said, "I'm truly humbled and accept this award on behalf of my team who makes these achievements possible. It is amazing to finally be at a physical event that I missed in the last 12 months. There is a lot of God's grace present over here which makes all of these opportunities possible. At the end of this tough year, one thing has become clear that there are a lot of bigger things in life that we didn't imagine earlier. These things are important and involve family and friends. It was so touching to see so many things being said about me by my industry friends and family. e4m is a great platform that recognises the work people put in, and I'm truly humbled to be accepting this award."


'DIGITAL IS NOW PRIME TIME'
At the fireside chat with Annurag Batra, Chairman & Editor-in-Chief, BW Businessworld & exchange4media Group during the event, Naveen Tewari, Founder & CEO, InMobi & Glance spoke candidly about his learnings as an entrepreneur particularly against the backdrop of the pandemic. As he emphasised his vision to put India on the global map, he also drove home the increasingly important role that Digital and AI play in ensuring the success of Indian businesses
Q] How have the past twelve months been for you both professionally and personally?
The world has been impacted by everything that has happened in the last twelve months. These months have been traumatic on people when it comes to health and the pain that people suffered. But as humans, we have all come out of this differently. We have evolved differently. In terms of my business, Digital has evolved drastically. More than that, our evolution as human society and individuals has been faster than what would have taken a decade or two to get to. When it comes to balancing and understanding the importance of our environment, family, and health, these things have become crystal to all of us and hopefully, they stay with us for a long period. It feels like nature has its ways of cleansing the system and this has been a very broad stroke cleansing.
Personally for me for these months, of course, the last twelve months were tough. It started off thinking about what would happen personally and then moved onto what would happen professionally and everyone saying that if you have to manage a business, you have to fire people and reduce cost. But we took a hard call saying we will not let anybody go and keep them. Instead of having people suffer we decided to distribute the payment. Across the company, everybody volunteered and agreed on taking a pay cut. Professionally an enterprise cannot run if it is not set uprightly. I felt proud of the way everyone stood up not for themselves but everyone. We are in a much better place today than we were twelve months ago despite going through so much pain and suffering.
Q] What were the challenges that you had to undertake in the last five years in building products and opening new markets?
The reality of every entrepreneurial journey is not in the success. The successes are few and occur after a lot of failures. In the last five years, we have evolved a lot as a company. Our main business, to begin with, was in the Digital Advertising space. At that time it was very clear that Google and Facebook would take over the way they were faring in the market. Investors pulled back saying that we can see a trend line and the writing for us was that it is going to be hard to compete. From there on, we charted out a very different path for ourselves, unique from other startups. We said that despite the fact we have a start-up, it doesn't give the free right to continuously be burning money. You have to first start a sustainable business. In a year, we became a profitable company and have maintained it since then. This gave us a sense of freedom and humbled us a lot. We went away from a lot of media. We didn't have sound bytes from the media but we had hard bytes inside the company and made hard decisions. Businesses are not built to be in the news, they are built to provide services to the end customer. As an entrepreneur in India, getting celebrated too quickly has its challenges and a caution to a lot of new entrepreneurs today is to be very wary of that.
The second thing we focused on was innovation. The reality in technology businesses is that capital will never win you the game. Innovation will do that for you and it is not to be done by some sub-unit sitting in some sub-division of the company but has to be done by everybody. We did three major innovations. The first one was that within the advertising space, advertising, in general, is going to be automated, transparent, and has to scale. We took a bet on a direction that advertising would get to and at that time in 2015-16 our business in the US used to be about 5-10%. Today our share of business has increased to 60%. We innovated on the core business. Then we started innovating on the consumer business and funded it from our proceeds which was hard. We innovated and created a consumer platform called Glance which was completely done in-house with less than 10 people. We redefined what the lock screen should be able to do and has become the biggest content platform that all of us use.
Q] How are you retaining the qualities of a start-up now that InMobi has scaled up?
We are trying to put India on the map in a very substantial way. We get complacent too quickly. For me, start-up is a mindset of continuing to learn, being inquisitive, and executing faster. I hope we stay as a start-up with a mindset but continue to grow larger.
Q] Tell us about the patterns that InMobi and Glance are disrupting.
Last year, in April we took a bet on five sectors that from an advertising point of view we were never focused on. We started looking at new sectors like gaming, productivity and fin-tech. We chose sectors that were contributing to 5% of our revenue but today they contribute about 60-70% of our business. In a matter of three months, we have seen mild transformations that changed the way businesses would be. When the businesses revived in July'20, we were right up there taking advantage of that.
Q] Do you think there will be more product-based companies coming up in India in advertising or other businesses? What are your global ambitions as an entrepreneur?
We will see more product companies, especially in the software space. The software space is creating phenomenal companies because India has figured out how to do a high-quality go-to-market. The go-to-market can be done remotely. If you can build a consumer company in India then your business can look 5X larger if you focus on let's say taking that business in South East Asia or the Middle East. Suddenly your scope of business changes. In reality, India has a lot of people but a smaller market with only 27 million people having paying capacity. We are not like China or the US where consumers will pay a lot and you will build a sustainable business. Sustainability in the businesses will only happen if you capture a few other businesses.
Q] Trends that we as an industry should be cognizant of?
Digital is now prime time and has reached that stage in a year. Everyone has moved to OTT. This change took place faster and the digital leap is phenomenal. The second leap which has happened and is happening right now is AI. Everybody uses the term but not many understand it. If Indian businesses need to succeed, they have to embrace AI in a way to serve our customers every need.
Q] What do you think will change in the way you operate to win bigger bets that you are making?
I agree with the statement that 'what got you here will not get you further.' But what is constant in that statement is that if someone in your organisation has a learning mindset they will come up with a new thing. The challenge of saying I will continue to do what I did in the past is a mindset of saying I know what is best. When someone says that, it is the time when the downfall starts. What we try to do at least in our organisation is to remain hungry about learning. It is hard because success comes with a bit of ego. If one can fight that off, then you have a learning mindset and will figure out what the next path would look like.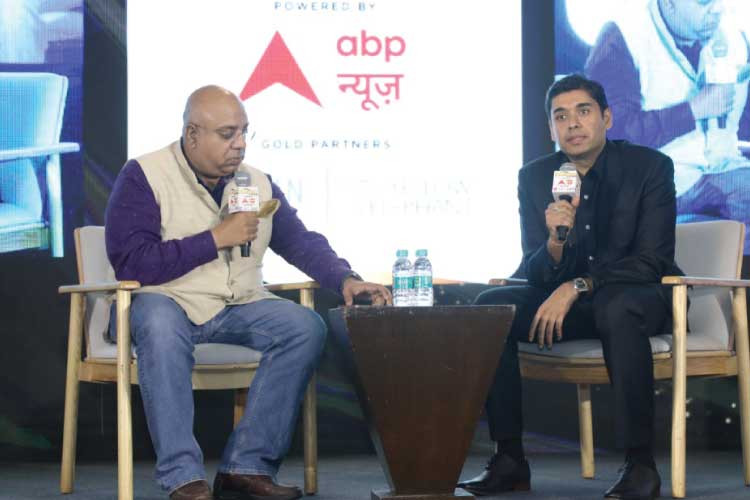 Q] Who are the people you look up to or take advice from?
You should learn from every conversation. My whole management team is very open about going and seeking advice from people. One of the members of our board Dr Tarun Khanna, a great strategist who will tell me something and I will get it 10 months later. There are a lot of very successful entrepreneurs in the country from Infosys to the Tatas, Birlas, Mahindras and Ambanis. They have built such phenomenal businesses over the years and while a lot of them may not be in a similar business as ours, that does not change the fundamentals of the business. Going and seeking their advice even if it is for an hour is so good because they give you so many things that will not be applicable on the spot but you learn that way. Speaking to international companies who think differently about the creation of businesses, like we are very close to Microsoft and Google. We try to spend a lot of time with them to learn from them on the things that we can curate. COVID made things easier because you call and speak to knowledgeable people for 20 minutes and learn from them.
Q] What is InMobi as an organisation doing to further more women leaders especially in the area of technology?
Women have a level of dedication and commitment that can not be matched. I believe that we are under-invested on the women's side but still, 38% of the workforce is made up of women. There was a point in time where every global region of our company was run by women. Some of the major businesses we have in China are run by women for the last nine years. Our Asia business is run by women. We have a lot of women who are in leadership positions and we feel very proud of that and we see their level of dedication.