The co-founder of Sideways Consulting shares reflections from the company's five-year journey with 50 odd marquee brands as clients, and what it took to establish credentials in a non-traditional advertising agency mould

Curious mix of a consulting firm, an advertising firm, a tech solutions company, a product design studio and a circus - that is how Abhijit Avasthi, Co-founder, Sideways Consulting describes his five-year-old agency.

Set up by Avasthi and Sonali Sehgal in 2015, Sideways sets itself apart in the way it approaches business, strategy and communication for its clients. Avasthi tells us how Sideways has refused to fit into the traditional advertising agency mould - to date, they have never pitched for accounts, and the scope of their work ranges from HR and tech solutions to design to ad campaigns for brands. Perhaps that is why Avasthi refers to Sideways as the 'Birbal' to businesses and organisations.

Reflecting on an eventful five years in the business, the former Ogilvy creative stalwart shares learnings from the Sideways journey, takes us through some of its celebrated work and tells us of its highly differentiated positioning in the advertising industry.
Q] It's been five years since the day you and Sonali Sehgal set up Sideways. How do you sum up the journey so far?
It's been a thrilling ride, an absolute adventure. Learnt so much along the way. The joy of having brought to life a new age, one-of-its-kind creative company is tremendous indeed. We have managed to actualize our vision, and that is hugely satisfying. I can proudly say that there is nothing like us in terms of the width of work we do, the nature of problems we address and the range of businesses we operate across.
Q] Your SOP is to never pitch for accounts, yet you have a list of marquee brands working with you. Tell us more about the strategy and how you built the company on it.
We knew our offering to clients was vastly different from what conventional advertising agencies offer and hence it didn't make sense to participate in pitches. Initially it was a challenge to explain to them what we bring to the table, but we were fortunate that many clients took a leap of faith and gave us opportunities. I am grateful to them.

Now after five years, we have more than enough case studies across a variety of problems and categories for 50 odd marquee companies. We still do not pitch, but now our credentials deck does the talking.
Q] What were some of the biggest business challenges that you have faced – not just during the COVID-19 crisis, but before that too?
Earlier, explaining the value that Sideways can bring to businesses, why we are different, how our different processes and a differentiated team can yield more impactful results was a challenge. Consequently, our pricing seemed a bit unreasonable to clients.

But now with case studies and a massive body of actual work, life is much easier. Our clients appreciate why we charge what we charge. Now we are only looking for more such imaginative clients who know they need to navigate the new world differently.
Q] You believe in providing all business solutions in-house and have adapted technology to a large degree in your work. Can you tell us more about it and how it gets integrated in the work that you do for your clients?
In the last few years, technology has transformed our lives, and consequently businesses too. So when we started Sideways, we knew tech would be pivotal to our offering. Hence, we put together a solid tech team which works alongside all other teams - strategy/product design/digital/communications, especially for the new age tech-enabled businesses.

It also helps solve client problems differently – like building sales platforms to solve distribution issues, a Tinder-like app for research, etc.
Q] You have created some amazing campaigns, including the maiden TV ad for Kia Motors which was the most viewed ad on YouTube at the time in 2019. Tell us about this and other high points over the years.
That was an interesting opportunity and a tough challenge – to launch India's 15th or so car brand, and one which no one knew about in India. Kia gave us a lot of creative freedom with a single minded brief – disrupt the category and establish us as a design-led premium brand.

We had an interesting idea, and Vijay Sawant added his magic by making a hypnotic film that captured people's imagination.
Some of the other interesting work/high points besides advertising that has defined our journey includes: showcasing our own IP toys and games at the Nuremberg Toy Fair in Germany in January 2020,

the work on Borosil to help move it from being a primarily industrial company to a kitchenware consumer brand, solving a complex business issue for Fevicol, partnering Google Pay on the product/strategy side, designing collectibles for Disney to disrupt traditional toy retailing, imagining Big Bazaar's offering as a service brand, designing the 3D training model for Paani Foundation, the 'Lunar Dome' tribute to ISRO in partnership with St+Art, digital activations for Imagica… there is just so much that I can go on and on.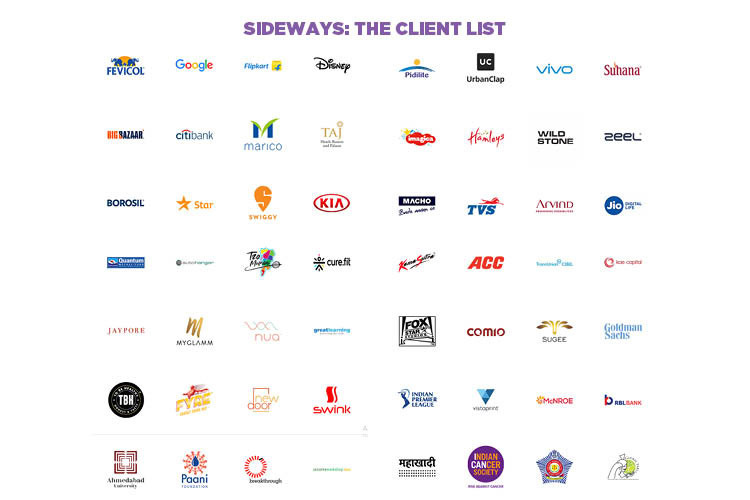 Q] Advertising is only a part of the work that you do. Tell us about the other non-traditional part. What is the nature of solutions that you have been offering to marketers?
Half of our business/solutions lie outside of advertising. Some of these are providing tech solutions, reimagining digital platforms, service design, reimagining business models, HR, strategic interventions, etc.
Q] You address Sideways as the Birbal to businesses and organisations, always studying challenges and tackling problems. How well has this approach worked for you?
It has worked brilliantly, with an increasing number of clients realizing its worth. That is the reason we have reached where we have, in creating a company like Sideways. I tell everyone that we are a one-of its-kind-company in India. It's a curious mix of a consulting firm, an advertising firm, a tech solutions company, a product design studio and a circus, maybe!
Q] Tell us about Team Sideways – what is the kind of talent pool that you have and how has it shaped up?
It's a motley crew of behaviour architects, technologists, product designers, writers, designers, brand strategists, business folks and engineers. We are always looking to widen this pool. I believe Sideways is the most exciting place for those who are up for interesting challenges and are okay with stepping outside their comfort zone.

Q] Talking of your Ogilvy days, do you miss the buzz of a big agency and the ecosystem it provided? Do you feel it was the right decision to turn independent?
I miss Ogilvy, for sure. It was home. I learnt so much there and have made lifelong pals from those times. But I needed to move on to embark on an adventure driven by curiosity and the desire to discover new grounds, professionally and personally.
Q] Before you set up Sideways, you had said that you were open to the idea of the company being acquired, should opportunities arise. What do you have to say about that now?
Did I? I doubt it. Acquisition means giving up a fair bit of independence and the freedom to pick and choose the kind of work that excites us. What we enjoy is the flexibility to indulge in a variety of work, and I would hate to see that getting restricted.



Q] Can you recount a few anecdotes over the five-year ride at Sideways - defining moments that stand out in your memory?
I can't pick a singular defining moment or a string of them, actually. A company like ours is shaped each passing month because of the different nature of projects that come our way. We started from scratch without an inkling of how it would pan out. We were looking to land opportunities to partner businesses of all shapes and different nature of problems.

So when a toy design project came our way, it moved us a tad forward in our journey. When a tech project for a digital payments firm came, we inched ahead. Likewise, with an HR project, a big advertising launch like Kia, a chance to invest in a start-up, an e-commerce platform launch, a JV with another company (Reliance Brands) to launch our own products... each of them have shaped and defined us.

Also, stances like not pitching, having mandatory 10-day winter vacations for everyone, the ritual of celebrating everyone's birthday and the not-so-sober Diwali parties have all contributed to the culture of Sideways and shaped it.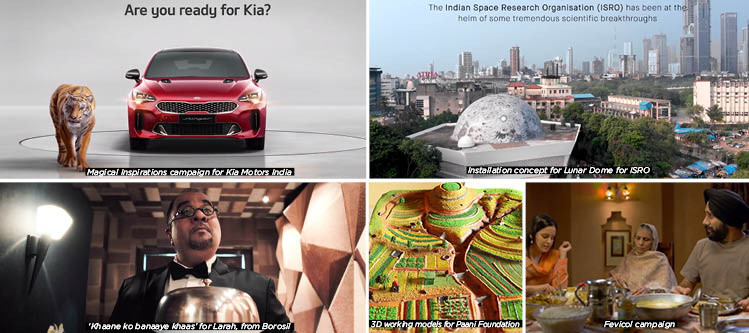 Q] How do you envision the next five years to be for Sideways? How do you plan to grow?
Slowly and steadily, we have built something special. We now know how our kind of madness works. More and more clients are hearing of the impact we have had on other businesses.

The foundation is solid for scaling up well. So we will continue to look for the more imaginative and braver clients who are eager to leave behind the old ways of working for the new. And I know there are many out there.