Virendra Gupta, Founder & CEO, Dailyhunt and Umang Bedi, President, Dailyhunt are the recipients of this year's exchange4media Influencer of the Year Award, for their outstanding vision and pioneering a venture that is shaping consumer Internet for Indians living outside the top metros. The award has been instituted to honour visionaries who have transformed the industry and inspired the next level of growth while progressively using innovative technology for business achievements.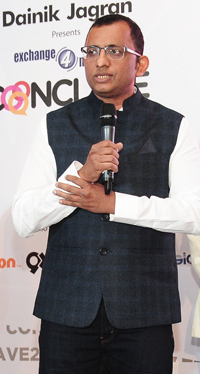 Having served in various leadership roles across the industry in a career spanning two decades, Gupta became an entrepreneur in 2007, with the launch of value-added service company, Verse Innovation, the parent company of Dailyhunt. As the founder of the company, Gupta has led mobile application Dailyhunt to become the leading platform for content in local languages with a user base of 155 million monthly active users as of October 2018. Bedi, who joined the platform as its President earlier this year from Facebook India, has been instrumental in developing the roadmap for the next billion users at Dailyhunt, as part of his role leading strategic thinking and operational business delivery of the organisation. Together, the visionaries are helping shape consumer Internet for Indians living outside the top metros.
CVL Srinivas, Country Manager, WPP India and Raj Nayak, COO Viacom18 - winners of the exchange4media Influencer of the Year award in 2017 and 2016 respectively - presented the award to Virendra Gupta at the exchange4media Conclave 2018 in Mumbai.

VIRENDRA GUPTA ON WINNING THE AWARD
"On behalf of Team Dailyhunt, I humbly accept this award. As you know, our vision is to bridge the digital divide and we pride ourselves in being one of the companies that is trying to fight off the digital prominence of Facebook and Google. This award acknowledges your belief in us and we are just getting started."

UMANG BEDI ON WINNING THE AWARD:
"It's been the most amazing entrepreneurial journey. Viru and I have been brothers because we are so aligned in our thinking. He understands Bharat at the grassroots level and I understand the scale of businesses. We are so complimentary in our skillsets. In life, you need an elder brother. And for me, that's what he stands for."