Arjun Mohan, CEO - India, upGrad, decodes how the brand's advertising strategy has connected with consumers. He says the company has recorded mid-year growth in gross revenue to cross $210 million ARR this September.
upGrad's ad campaigns are informative and humorous and thus appeal to a large section of audience. The underlining wit has helped the brand connect with its TG better. Its latest campaign 'Fast Forward Your Career' — launched during the IPL— is in its second leg and continues to tickle viewers' imagination with its playful take on the dated perception that 'online' MBAs are not effective. upGrad's proposition is to become a 'trusted lifelong learning partner' and empower the working professional community.
Arjun Mohan, CEO - India, upGrad, says the Edtech major talks to its consumers actively to understand their anxieties and ensure that they become successful in their career. The critical insight it has gained through this exercise is that each learner is aspiring to outperform his or her peers. This prompted upGrad to roll out its 'Fast Forward Your Career' campaign, which connected with working professionals personally. Mohan says, "The campaign, which ran during the IPL, saw a good response. All the metrics, in terms of organic traffic, organic leads, conversions, have been positive."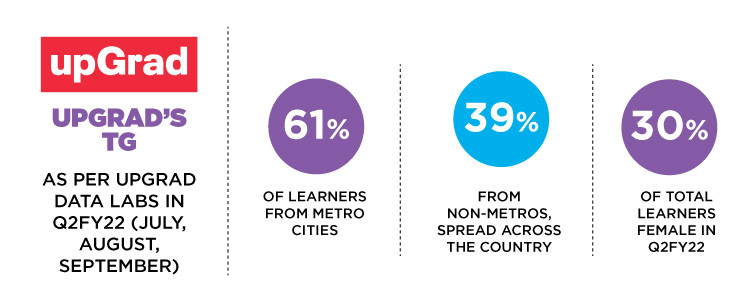 Understanding the consumer
A careful study of upGrad's initial campaigns tells us that the company has picked up on a prevalent concern among working professionals — office politics. It's a problem time and again highlighted by employees, who saw internal politics as a hurdle in climbing the corporate ladder. Thus, the brand coined its first campaign theme around office politics — used a donkey as an analogy for the boss. The aim was to convey the message that employees should focus on up-skilling themselves instead of worrying about office politics. A similar approach was taken for the company's branded content — BYN x upGrad Originals: The Office Canteen. It hammered home the importance of up-skilling, a recurring theme in the brand's campaigns since its inception. "We found that the core audience of upGrad showed interest towards humorous content. Hence, we give a humorous angle to all our campaigns where we talk about important things, but with a hint of wit in it. We received good feedback and managed to capture our TG's attention," says Mohan. "Our approach is to look closely at what a working professional is seeking — what are his/her interests, the content they consume. We wanted our ads to connect with our TG. Our initial research also showed us that if we wanted to address this group, we had to speak their language. We could connect with them by focussing on their fears."
This has paid rich dividends for upGrad.
Earlier this year, the company launched upGrad Study Abroad, a tie-up with multiple leading universities, which enables a student to do one-half of a course online and the other half on campus. This provides a cheaper alternative to students.
Recently, upGrad saw the merger of its subsidiaries — upGrad Campus (originally Impartus), upGradJeet (originally The GATE Academy), and upGradKnowledgeHut (originally KnowledgeHut). For it, this consolidation creates one parent company in India that will drive its vision for an integrated strategy to expand, and promote transnational learning through 2022. The merged entity covers the entire gamut of higher Edtech offerings, catering to college learners and working professionals. As an integrated 'lifelong learning' company, the merged entity would support college learners with undergraduate degrees, study-abroad programs, campus programs, government test preparation courses and job-linked programs. Whereas, for the working professionals, upGrad would provide short-term courses, masters programs, doctoral programs, and executive programs.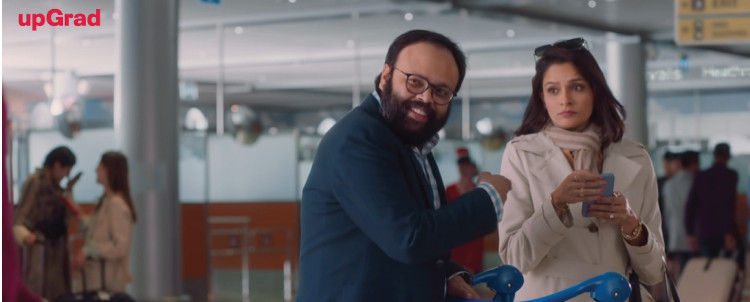 Who are upGrad's customers?
According to Mohan, upGrad's TG consists of those who have a minimum of two to three years' work experience and are knowledge-workers. He elaborates, "A typical upGrad customer, who picks up the product, is very ambitious and wants to go ahead in his/her life. The individual is looking at upgrading and investing in oneself to ensure that his/her growth trajectory continues." For upGrad, the customer base has been growing steadily with more people coming in from the ancillary services. Since the outbreak of COVID-19, the company has witnessed another prominent set of clients coming in — people who are not inherently ambitious but now feel the need to invest in themselves to have a successful career in the current circumstances. The company has also seen traction in smaller towns as awareness about specialized profiles increases.
He categorizes the upGrad customers into three segments — People looking to transition into a new domain/job (around 30%); those looking to upskill and those looking for professional confidence.
upGrad's dedicated career services and placement team, Recruit, has seen positive traction among employees. Mohan says, "Last quarter we enabled ~1500 successful career transitions in JAS (July-August-September) 2021/Q2FY22." "We believe in creating impact and referrals are a great way of earning learners' trust. We closed our first FY22 quarter with 40% referrals," he adds.
Leveraging IPL
Last year, upGrad associated with the crowd puller Indian Premier League (IPL), where it ran its ad campaign 'Sirf Naam Ki Nahin, Kaam Ki Degree'. This was the first time that the company tied up with a sporting event. The objective was to create awareness and introduce upGrad to the audience. Speaking on the association with IPL, Mohan says, "There are very few large marquee properties on Indian TV where you will get 100-150 million people from across the country watching at the same time. We picked up this property because we are doing a fairly good job of reaching our TG through the various channels they exist in — be it YouTube, digital, niche programming. Every now and then we do want to get into the marquee program to ensure that we reach out to a larger TG and create the brand equity at the top of the funnel. This is what we are aspiring to do through IPL."
He continues, "This year, the idea behind associating with IPL was to target people who are aware of upGrad and are fence sitters. We are pushing them to take the next step."
The brand has also invested in sporting properties such as English Premier League and Wimbledon, and it will continue to put money into other sporting events.
As part of its investment in marquee properties, the brand has an association with a big-ticket property on the cards. It's a brand partnership with Sony Entertainment Television as the Presenting Sponsor and with SonyLIV as the Co-presenting Sponsor for the very first edition of internationally successful entrepreneurial business reality television series Shark Tank India. This association aligns with the brand's vision of charting a successful career path for keen professionals as their 'trusted lifelong learning partner'. This will also further the brand's expansion plans in India.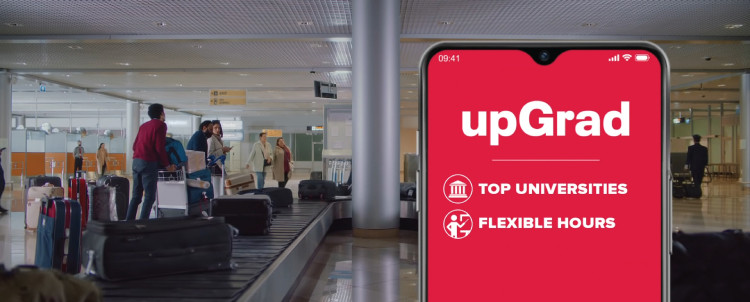 The way ahead
While earlier campaigns highlighted upGrad's MBA and degree courses, the focus going ahead will be on its sub-brands — data and technology programs. Mohan explains, "Currently people know that upGrad will help you in upskilling, but when you start talking about upGrad MBA, you have to keep in mind that there is another group of people who aren't aware that we offer traditional courses. We are working on this." Talking about new programs Mohan says, "For some of the new programs, we are looking at a few more domains such as animation and VFX. That's something students in tier-II and tier-III are looking for today. We are also deepening our tech portfolio."