Q] What was the idea behind 'Back To College' campaign?
When we talk about Dell campaigns, whether it's a 'Back to School' or 'Back to College', we are focussing on both school going and college going students. The campaign has been conceptualized and developed by the creative agency VMLY&R, and it kicks off with an ad film, which shows three students using their PC, Dell Inspiron 2-in-1, to transform their passion of gymnastics, baking, and automobile customization into profession. I think students today are smart enough and they are doing much more beyond their studies. I think they receive a lot of exposure and they know exactly what they want to do, and the good part is that they can now access everything through their laptops. It is really good to see the way students these days are so clear and so focussed. So, that's how this campaign came up saying that Dell is great for education.
Q] What was the marketing mix of the campaign and how much ad spends did Dell dedicate to this campaign?
The marketing mix of the campaign has been strategized in such a fashion that we are visible wherever students are available. The main video film will be amplified across Social Media, Digital and OTT platforms such as Disney+ Hotstar, Sony Liv, and Voot. This will be available in 3 languages including Hinglish, Tamil and Telugu. As you can imagine, our Target Group is on multiple platforms, such as YouTube, and Instagram, and we are going heavy on our Instagram campaign. So, mainly when we talk about the reach, it is all through Digital.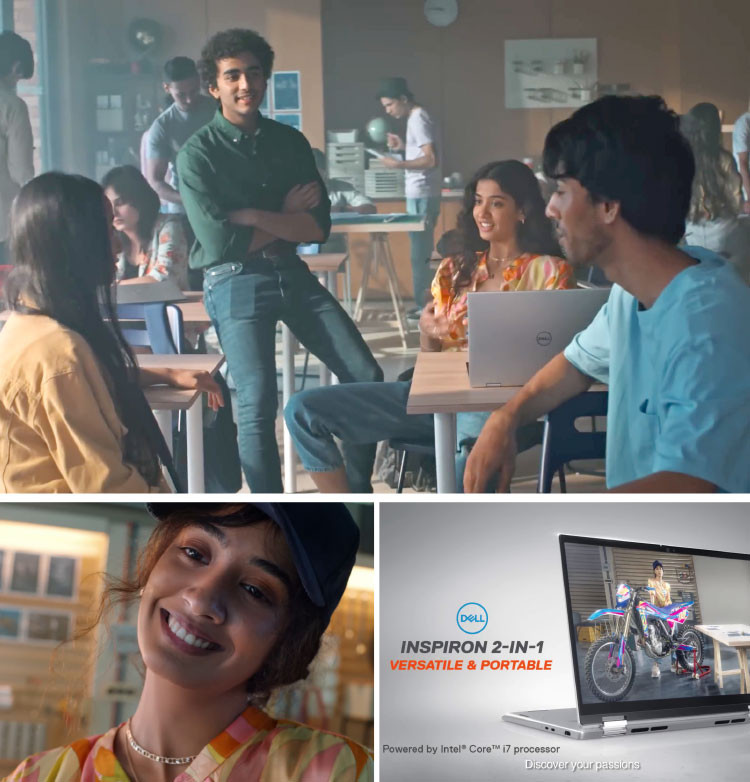 Q] Dell has given a lot of prominence to influencers in this campaign to reach the right TG. Do you think the trend of big celebrity endorsement is diminishing?
I would not say diminishing, there are so many different mediums of reaching consumers now. One has to plan what is the right strategy. We have strategized that every brand campaign will have a particular budget, and we have to understand how within that budget, we can reach our consumers in the right way with the right communication. So when we work with celebrity influencers such as Cyrus Broacha and Cyrus Sahukar, or collaborate with micro-influencers Parth Bajaj, Agastya Shah, and Radhika Bose, we are allowing the message to reach their followers in an interesting way. All of us, whether we are studying or we are working, we keep learning from somewhere, we keep hearing or seeing, and we pick up things. That is the reason we have got influencers, and you can see it as an extension to how the story is going to pan out.
Q] The Indian market for laptops and desktops is growing at a snail's speed. Whom does Dell consider its competition and why?
More than competition, it is about what we offer to our consumers. If you look at a particular audience, the challenge is how we can actually reach them in a better way. So, I think that is what we are focusing on. It is not that we are pinpointing a competition and concentrating on that. It is always consumer first, and not keeping in mind what the others are doing. Of course, there will be competition, which is a part and parcel of business. But when we are talking about a campaign, it is not keeping others in mind, but it is purely Dell and its consumers first.
Q] How much growth did Dell register in the past 2 years and how much growth is expected in the upcoming year?
From the Indian market perspective, we registered a record first quarter revenue of $26.1 billion, up 16%, with growth across ISG (Infrastructure Solutions Group) and CSG (Client Solutions Group). The Dell Technologies India grew 64% y-o-y in FY'22, which was a record year for the India business, with back-to-back record quarters. We have reported 61% y-o-y growth alone in the fourth quarter of 2021, while Asia – Pacific and Japan Commercial PC orders grew at 15% YOY in Q1.
Q] What other innovative strategies does Dell utilize to reach out to its TG and increase its revenue growth as well as the reach?
What we try to do is that we give our consumers the best experience, so from wherever they buy our products, they need to get the best experience. At the same time from the marketing angle, it is extremely important that we do the right communication with them. What we try to do is we drive into the insights on what the consumers are looking for, what is their behaviour, what kind of media consumption is happening. We receive a lot of data insights through our partnerships with media agencies. This helps us to reach out to our consumers in the most effective way. So, it is not only about communication, as you may have the right communication, but not the right media reach, or you may have the right media reach but not the right communication. So, we try to reach out in the right way. We reach out to our consumers in different versions from a media perspective.