After Finance Minister Nirmala Sitharaman during her 2022 budget proposed to levy 30 per cent tax on income from crypto and digital assets, now Advertisement Standards Council of India (ASCI) has laid guidelines for promoting VDAs through Print, Television and Digital & Social Media. It's not surprising because today, India tops the list of countries in adoption rate of VDAs. Looking forward, advertising industry is expecting a surge in VDA advertisement on traditional as well as on digital platforms.
As per a recent report by cryptocurrency research firm Chainalysis, in India, the industry has grown by 641% between July 2020 and June 2021. The country reportedly houses 10.07 crore crypto owners, which is the highest in the world. As per industry estimates, cryptocurrency platforms spent anywhere between Rs 150 crore to Rs 180 crore on advertising and marketing in FY22. ASCI after laying down the guidelines has brought more clarity on the subject matter of legislation pertaining to misleading advertisements for advertisers.
Last November, Prime Minister Narendra Modi during a meeting with other stakeholders on the issue of misleading advertisements by cryptocurrency exchanges had reached a consensus that 'irresponsible advertisements are misleading youths in the nation and must be stopped,' Later, in January this year a Parliamentary committee had raised several questions on advertisements run by crypto and NFT companies.


Exchanges like WazirX, Bitbns and others had stopped their ongoing advertisement campaigns on television and online. Experts say that the government received several complaints against several VDA firms for misleading advertisements.
During an interaction with IMPACT Magazine, Manisha Kapoor, General Secretary, ASCI on the guidelines set up for VDAs said, "We did receive a complaint but not many in this case. Being a new category, consumers today know what claims are false in an advertisement and other risks involved. For us it is more of a proactive step and being a new category, consumer education will take a little time. We did not want interests of consumers to be compromised."
"We are expecting advertisers to promote their products through honest and responsible advertisements. These guidelines will help the industry in understanding problematic areas and other concerns which can be avoided while promoting their VDAs," said Kapoor.
The guidelines laid by ASCI will be applicable to all VDA based advertisements released or published on or after the 1st of April 2022. ASCI has also asked the advertisers and media owners to ensure that all earlier advertisements must not appear in the public domain unless they comply with the guidelines, post 15th April 2022.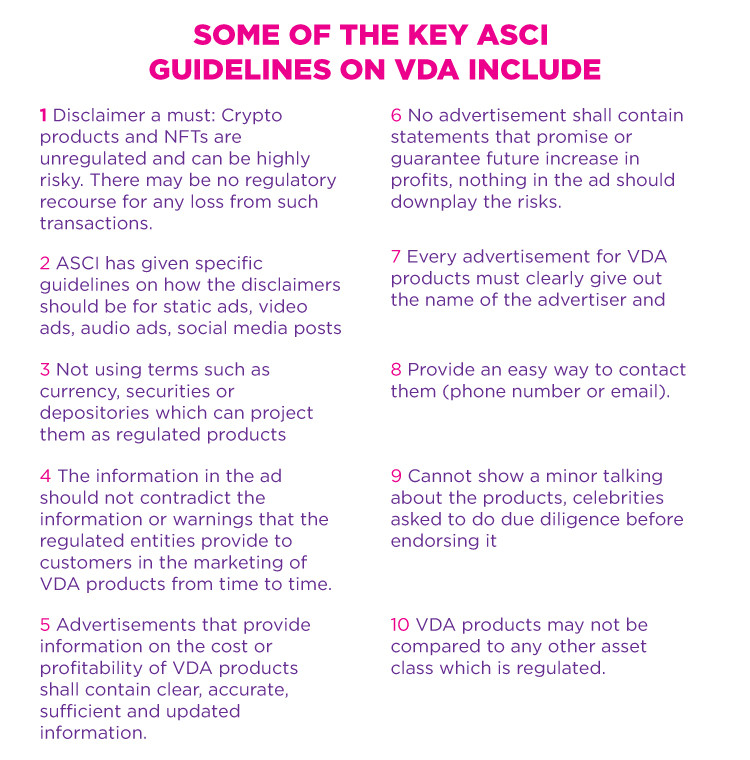 Crypto Exchanges hail the move
India ranked second in a list of 20 countries with the highest cryptocurrency adoption rate, according to crypto analysis platform Chainalysis. Vietnam secured the first

spot, and Pakistan came third.
While explaining the importance of getting the right message delivered to the masses via advertisement, Ramalingam Subramanian, Head of Brand, Marketing and Communication, CoinDCX said, "The crypto industry has witnessed an increase in adoption exponentially. The level of awareness among Indians who have invested is increasing steadily with more knowledge-driven approach to investments. CoinDCX also contributes towards bringing and building crypto knowledge and education by DCX Learn- a full-fledged crypto learning program with courses on crypto and blockchain to continuously address

misinformation and drive public awareness in emerging technologies such as crypto and blockchain."
Avinash Shekhar, CEO, ZebPay hailed the move made by ASCI and said, "In the recent past, we have seen a number of marketing campaigns that seem to glamourise and oversimplify what we know is a serious and complex category. In the absence of regulation, we believe education and awareness is key to protecting the interests of investors. We believe responsible marketing communications should be a priority for all entities within the category."
Bitbns and WazirX had paused advertisement campaigns around November last year, amidst discussions regarding a possible regulatory clampdown of the cryptocurrency sector, in order to avoid luring viewers who don't have an understanding of virtual currencies. When contacted for a comment on the ASCI guidelines, WazirX spokesperson said, "We applaud the ASCI Guidelines because we genuinely think that the goal of this sector is to foster innovation while protecting their

interests. We will continue to consolidate and spread our consumer protection ideas in the future. Furthermore, we anticipate additional regulatory clarity on the Indian crypto landscape and will continue to abide by it."
Meanwhile CoinSwitch Founder and CEO Ashish Singhal said, "The ASCI guidelines are a step in the right direction to standardize advertisements within the VDA space. The VDA industry is supportive of all efforts towards investor protection, however, there are nuances that need to be addressed as the space is ever-evolving. We will continue to work together with ASCI and other stakeholders to refine them further."
Media planners predict growth in VDA Ad spends
Crypto investment platform CoinSwitch Kuber launched its mega ad campaign 'Trade Kar, Befikar' during IPL last year which featured actor Kunaal Roy Kapur. The impact of

the campaign was huge with over 4x registrations. Similarly, celebrities like Amitabh Bachchan and Ranveer Singh are at the forefront in endorsing VDAs. ASCI has also asked celebrities to do their due diligence before endorsing such campaigns.
"Compared to 2021, I definitely see a 3-5X growth in investments by VDA firms. VDA firms are still in their early days, thus, contribution to overall ad spends would not be much. But if you compare them against legacy financial setups then definitely there are some serious inroads being made by VDA firms," says Sahil Shah, Managing Partner, WATConsult.


Rammohan Sundaram, Country Head & Managing Partner – Integrated Media, DDB Mudra Group says, "Currently CoinDCX, Coinswitch and WazirX have embarked on advertising in a big way, soon you will see BuyUCoin, UnoCoin and BitBns also join the fray. There are some large global players like CoinBase who are also entering India. So my belief is that there could be an addition of at least Rs. 150-200 crores from these companies that will be ploughed in Media."
Sundaram further says, "ASCI's guidelines now make it more legitimate as an operation for these companies because consumer interest is taken care off. Most importantly there can be no communication such as guaranteed returns or even the mention of the words like currency, securities, custodian and depositories which makes it very clear that there is only one financial system in this country. With these in place, any advertising automatically helps create awareness and so naturally there will be adoption of such investment opportunities however the frenzy will disappear in time if NFTs for example don't tank like some of the ones did. For example, Synthetix Network Token on CoinDCX is on a -62% return on investment, such debacles don't yield much confidence in a country where investments in the traditional world in itself is so under penetrated."