Sidharth Rao, Co-founder and CEO, Dentsu Webchutney is having a great year. After big wins at awards ceremonies both in India and at Cannes, Rao has now released his book 'How I Almost Blew It'. Narrated by Rao himself and published by Westland Publications (an Amazon company), the book narrates the heart-stopping stories of celebrated industry tycoons and their critical life lessons. Among the many leaders whose stories and experiences are featured in the book are Deep Kalra of MakeMyTrip, Deepinder Goyal of Zomato, Ashish Hemrajani of BookMyShow, Kunal Shah of FreeCharge, Murugavel Janakiraman of Bharat Matrimony and Ajit Balakrishnan of Rediff.com. Rao believes there has never been a better time to be an entrepreneur. The market is flush with capital, and the Internet and emerging technologies have lowered costs and nearly levelled the playing field. Here, we present an exclusive excerpt from 'How I Almost Blew It' that gives you a sneak peek into the entrepreneurial journey of BookMyShow's founder and CEO, Ashish Hemrajani.
Ashish Hemrajani was a part of the Mad Men world long before the show became a televised sensation. He was living life in the fast lane as an account manager at J. Walter Thompson but was constantly afraid that everything could go up in smoke any day. He needed to get out of the jaded and uninspiring environment and recharge so he booked a vacation to visit South Africa, Zimbabwe and Botswana. He had no idea that the journey would alter the course of his destiny. The idea of BookMyShow struck him, quite like the Newtonian apple, as he sat under a big tree in the Storms River Valley. A radio commercial selling rugby tickets online on the portal Computicket helped him gravitate towards the idea. Computicket was the original avatar of Ticketmaster and the inventor of event ticketing. The idea was quite straightforward. It did away with pricing arbitrage, made ticketing information accessible, and was convenient for users. This was a novel concept for the Indian market where the purchase of a simple movie ticket meant queuing up outside cinema-halls to try your luck at pigeonholesized windows without the assurance that your patience would be rewarded. Moreover, black marketing of tickets for popular films was rampant and the paan wala sitting opposite the box office was more likely to have tickets to the show than the man sitting at the window. The paan wala, a man with oily hair and red-stained lips, was sure to charge you four times the cost of the ticket. It was usually a huge gamble because the cinema-goer had no idea whether tickets would be available, and if available, then how many they'd be able to purchase and whether they would even get seats of their choice.
Cricket fans had to face bigger challenges. They not only had to not stand in long queues while getting drenched in the pouring rain or fainting in the sweltering heat, they also had to escape the policemen who carried lathis and took immense pleasure in beating up restless ticket buyers.
Hence, the idea of an online ticketing service stuck with Ashish who was well aware of these issues. While in Stellenbosch—the Napa Valley of South Africa—he had a few too many glasses of Merlot. He woke up with a searing headache and an awful realisation that at some point during the night, he had resigned in a text message to his boss. Caught between a rock and a hard place, Ashish had no option but to try his luck and hope that the start-up idea which had germinated in his head would bear fruit.
THE FIRST ROUND
Ashish was only 24 at that time—the age when one has more enthusiasm and confidence than caution and experience. He formed a company with two of his college friends, Parikshit and Rajesh, and together, they wrote a single-page business plan about online ticketing and faxed it to Chase Capital Partners (CCP). This happened during the dot-com boom in India when things were moving fast for some key players in the market. Sify announced a massive `499 crore acquisition of a company, which many assumed to be just a few pages on the Internet called IndiaWorld. Despite the misgivings of naysayers, Sify's market capitalisation at the NASDAQ was climbing to almost a billion dollars every month. Rediff.com was also preparing for its IPO. By 2000, there had been investments in almost a hundred pure-play Internet companies. Leading this pack was Chase Capital Partners which had invested $26.6 million in 12 companies. CCP had tasted success with its investments in North and Latin America and unlike other privateequity funds which tend to concentrate on a single industry or country, CCP was spreading its tentacles everywhere. CCP requested a meeting with Ashish and his partners within a week of that fax. They landed a million dollars faster than they could say 'dot-com'.
Within six months of this generous funding, News Corp. also came knocking on Ashish's door. They also wanted a piece of the pie and handed over another two million dollars to the unsuspecting entrepreneurs. The company expanded its business at a rapid pace, spreading it to eight markets and employing 150 people within months of setting things in motion. Ashish explains, "We were selling tickets for movies, plays, and concerts. Today, the cash on delivery (COD) option has become conventional but we were the first call centre company in the world who included that option in our set-up."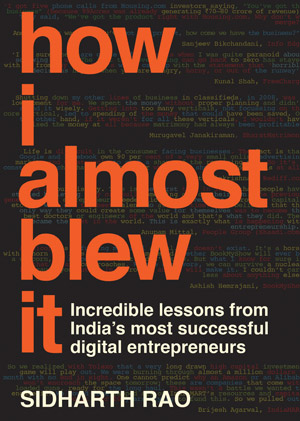 Even so, it was not a very sophisticated system. The group used Ashish's personal number to receive the calls. They did set up a website for online bookings but it was seldom used. "That's because the ecosystem for such bookings didn't exist till then as Internet penetration was low. Debit and credit cards weren't widely used either," Ashish explains. Tickets were bought on the phone which made BookMyShow more of a call centre service rather than an online portal. Ashish adds, "Customers would call us to book tickets and we would pick up the live inventory from cinema halls." It was a simpler time and yet a difficult task. Movie tickets formed the largest chunk of their business but cinema bookings were not automated then; so the company made deals with the multiplexes. They would buy the inventory in some multiplexes and block it in others. This way, they kept their risks diversified. That was the upside but the downside was that whenever they didn't take risks, they lost opportunities. "The beauty of running an Internet business is that your costs must start tapering off when your revenues rise. But our system was so inefficient that it was exactly the opposite," says Ashish as he finds it easier to see the humour in the situation in retrospect. The reasons for their inefficiency were often beyond their control. If a well-hyped or significant film released over a weekend, they would surely be inundated by a barrage of calls which required more hands on deck to prevent their Net Promoter Score (NPS) from falling. Selling more tickets also meant having more people with vehicles to be able to deliver those tickets. "Our model just wouldn't scale efficiently and we could never see us making a profit in this manner. It was a massive problem," Ashish recalls. "We could never outsource our deliveries because we were worried about inventory theft so we took care of them ourselves. One person would go to the cinema, buy the ticket and deliver it. At this rate, we could handle 15 transactions every four hours. So with a call centre and delivery work force, every time there was a demand uptake, we would bleed more money," he adds.
LEARNING THE ROPES
Like Zomato and Delhivery, BookMyShow's work involved physical delivery of tickets and in cases of COD, the receipt of payment as well. It doesn't require one to be a rocket scientist to deduce that such a model can be a logistical nightmare. This was the presmartphone era, which meant that even the basic technology that we are highly dependent on was still in the making. Putting it euphemistically, Ashish and his partners had more than their fair share of last mile challenges. For instance, in 2001, Bryan Adams was going to perform in India. Tickets for the concert were selling like hot cakes but there was panic in the company's back offices. They had booked and sold their entire inventory of tickets but the money they received just didn't seem to add up. They dug deep and found out that they had thousands of undelivered tickets. There was a problem on the ground Ashish could never have predicted since it was his first encounter with such a situation. Movie tickets are cheaper at about `100 or `200 apiece. Even if someone orders five to six tickets, the amount would still be around `500 or `600 and the buyer could always pay the cash upfront on delivery. Concert tickets, on the other hand, cost around `1,000 per ticket. The customers going for the concerts usually book them in a bunch of five to six tickets. This meant that the person booking the ticket would have to pay around `5,000 or so upfront. "Since no one carried around that much cash in their wallet, every time our delivery guys went to drop off the tickets, the buyer would take time to make the payment by collecting it from friends or by going to the ATM. But the delivery guys who were on a tight schedule couldn't wait so they would simply leave. You see, we had all those NDRs (Nondelivery receipts) which came back to us," Ashish narrates.
During such moments, the core team had to go into the muck and get their hands dirty. "We split into teams. Some of us handled the calls at the call centre and the rest of us took the tickets in our cars and delivered them ourselves. All hands on deck! It was situations like these that prepared us for the worst and turned us into professionals," Ashish recalls.
Start-up founders need to get their hands dirty. That's the only way to build a sound and successful organisation. They cannot be problem-solvers or fine tune the system unless they become aware of the problems hitting the employees on the ground. Inexperienced founders can't even learn to delegate work until they have worked on all the stages. It doesn't have anything to do with being a blue or a white-collared employee. It's about constructing the DNA of the start-up as these things cascade from downwards. Founders have to be willing to step into the thick of the situations, pick up the phones and delivery cartons whenever needed, which demonstrates the strength of the leadership and the desire to succeed. It sends the right message to the employees because it also stokes their desire to constantly learn and remain vested in the organization's growth. Ultimately, the buck stops with the founders but unfortunately, there are also certain founders who confuse delegation with abdicating their own responsibility. However, Ashish and his co-founders don't belong to that ilk. They knew the need of the hour and were always willing to roll up their sleeves and focus on getting the job done. BookMyShow's eventual success is a testament to these traits.
(Extracted with permission from How I Almost Blew It by
Sidharth Rao
, Westland, August 2019)