Q] Baskin Robbins has introduced new flavours this summer. What separates it from other brands and the flavours that they offer?
Normally in the ice-cream industry, there is a tendency to introduce flavour extensions, but our approach is a little different. We are introducing new flavours and new product categories for the new-age consumers. So you can now have Ice Cream Rocks, which are bite-sized ice creams, much like ice cream popcorns, Ice Cream Pizzas, and a third new category is called Ice Cream Float. Float used to be a popular category a couple of decades ago, and now we have brought it back in a new and more refreshing avatar. Additionally, we are introducing new flavours for sundaes and ice creams.
Q] Baskin-Robbins had introduced two vegan ice creams, the Mississippi Mud and Alfonso flavours. Is there a market for vegan ice creams in India?
Yes we did, and now we have Vegan Vanilla and Mississippi Mud. We do not have mango in the vegan range anymore. Presently, the demand for vegan ice creams is small and niche. It is a very small fraction of the overall ice cream demand in the country. However, the proportion of people preferring vegan products is growing. So brands such as ours are creating products for this niche demand.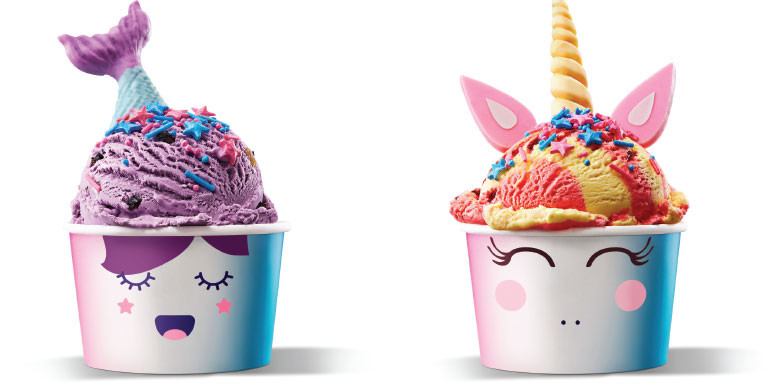 Q] According to a report by Research and Markets, the vegan ice cream market in India is expected to grow at a compound annual growth rate (CAGR) of 12.5% from 2021-2026. What is the contribution of the vegan category to your revenue?
Vegan ice creams contribute less than 2% to our overall revenue from the ice cream category. The vegan products were introduced because we saw a demand, but the demand has remained subdued, and we are not facing any major challenges in meeting it. It is a small set of customers who prefer it, and we have made it available for them. The vegan range does not dominate Baskin Robbins, and most of our products remain dairy and milk based.
Q] Baskin Robbins is set to complete 30 years in India. How has the Ice Cream industry evolved in the past decade? Have you noticed any changes in consumer patterns?
The ice cream industry has evolved in multiple ways over the past decade. It used to be an extremely reward-driven category. Earlier, a family went out to eat ice cream during special events or celebrations, etc. Over the years, the ice cream category has evolved into an enjoyment-driven category. The industry has noticed a sea change in this regard. This makes the product category more relevant, and it is no longer limited to just one occasion. Another change that we have noticed is that the disposable income of Indians has increased, and they are buying bigger refrigerators which enables them to stock frozen products and ice creams. This has led to an increase in in-home consumption. Third, consumers are ready to consume different products and cuisines from around the world. This is a great indication that they are willing to try new products and flavours in newer formats. Baskin Robbins has leveraged this by introducing newness in every product category. Furthermore, consumption of ice cream is not limited to Metro cities or tier I cities, but is growing across tier II, III and IV cities extensively. Over the last couple of years, the industry has grown by 13%-14% and is projected to grow by 15%-17% every year.
Q] In-home consumption has seen a rise due to growth in food delivery and Q-commerce platforms. Are consumers ordering ice creams via these platforms?
Quick commerce and food delivery platforms have definitely increased the reach of the category. Ice cream is an impulse-driven category, and consumers will not always want to step out of the house, especially when there is excess heat or maybe rainfall, etc. So, they order it online and Q-commerce platforms deliver the products in a span of few minutes now. Baskin Robbins is available on Instamart, Zepto, Dunzo, Big Basket, etc., and has grown tremendously on these platforms. About 75% of our online business comes from food delivery platforms, while 25% business comes from Q-commerce platforms.
Q] What is the ratio of out-of-home and in-home consumption for Baskin Robbins?
Out-of-home consumption is way higher than in-home consumption because that is how the industry has been since the past many decades. We have seen a drop from 95% out-of-home to now 70%, while 30% of our products are consumed in-home. The growth rate of take-home consumption is very robust.
Q] In FY22-23, Baskin Robbins grew by 35%. How much growth are you expecting in the upcoming year, and what are your expansion plans?
This year the growth may not be as robust as the last financial year, but we are still targeting at least 20% plus growth going forward. We are present in 239 cities with over 850 parlours at this point of time, and looking to add another hundred odd stores across India. Maximum stores will be opened in the northern region followed by the South, West, and the East. Delhi will be our focus area; we believe that our presence in the city needs to increase with more stores.