Adding yet another illustrious personality to its leadership team, GroupM has appointed Sameer Singh as CEO of its South Asia operations, effective July. Sam Singh - as he is popularly known in the industry - joins GroupM from Google India where he is Director-Sales. Based in Gurugram (Delhi), Singh will report to Mark Patterson, CEO GroupM Asia Pacific and CVL Srinivas, who has held the position of CEO, GroupM South Asia since January 2013, taking on the additional responsibility of Country Manager, WPP India in October 2017 after the demise of WPP veteran Ranjan Kapur. With Singh's appointment as the new CEO, Srinivas' transition to full-time head of WPP India is now complete.
Commenting on Singh's appointment, Srinivas said, "When planning the leadership succession, we found in Sam the perfect candidate who could take GroupM South Asia to the next level. Sam has a track record of driving change at organizations focused on media, technology, brands and ROI. I look forward to working with Sam who has been a client, a media partner and a friend for many years."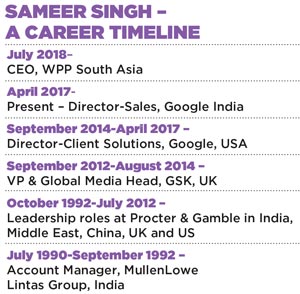 As part of his role, Singh will lead GroupM's data-centric solutions, digital solutions and content services for its clients in South Asia. "I am super excited to join the GroupM team and I look forward to bringing to the table my experiences built at Google, as a marketer, and while working across emerging and developed markets," remarked Singh on his appointment.
An alumnus of IIM Calcutta, Singh comes with rich experience spanning 25 years across portfolios ranging from brand management, marketing services and media to forecasting ROI and research, sales and procurement, across geographies including India, China, UK, USA, and the Middle East. Prior to his role at Google India, he was based at Google's headquarters in Mountain View, California responsible for measurement, brand consulting, insights and product solutions. Singh has also worked at Gillette, P&G and GSK; setting up the global media team and embedded digital excellence for GSK. Moreover, Singh spent some time at MullenLowe Lintas Group as well, as an Account Manager, early in his career.
According to Mark Patterson, CEO GroupM Asia Pacific, "Sam is a unique talent and a great business partner with a fantastic track record delivering growth for market-leading world-class businesses across the globe. He now joins another one, and we are excited, proud and pleased to welcome him to GroupM South Asia."
Singh's appointment is the latest in a string of leadership changes at WPP, the latest being the appointment of Roberto Quarta as interim Executive Chairman of WPP and Mark Read and Andrew Scott as joint Chief Operating Officers of WPP, after the resignation of Sir Martin Sorrell as CEO of WPP last month. Closer home, in February, Amin Lakhani was elevated to the role of President, Client Leadership of Mindshare India, while Anita Kotwani was promoted to Senior Vice President, New Business, Mindshare India and Premjeet Sodhi was appointed as Senior Vice president, Mindshare Fulcrum, South Asia.