"Decade after decade, as the industry changed, as market forces changed, the very construct of operations changed, remuneration structures changed and so on… I treated it like a long distance run where it was necessary to stay the course and not look at it as a sprint…

Finally, I put to practice what I have always preached. Leave at the right time. Build succession plans. Have back-ups. Plan B if need be. Make way for fresh thinking. Trust youngsters… All my milestones and achievements and the award today is entirely due to the dictum I faithfully followed of 'surround yourself with talent better than you'. I was fortunate. I only wish I could name each and every one of them here. I dedicate this award to all those who worked alongside me."

MADHUKAR KAMATH
'HE IS SO GENEROUS WITH WHAT HE HAS TO OFFER IN LIFE...'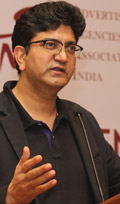 Prasoon Joshi
CEO & CCO, McCann Worldgroup India & Chairman McCann Asia Pacific
Madhukar and I never collaborated professionally, but whenever we met, I used to feel that there are two kinds of success – 'kitni success' and 'kaisi success'. We have stopped talking about what kind of success; we're obsessed in today's world about how much success. 'Kitna paisa' aur 'kaisa paisa' – I think we have to stop distinguishing between the two. Whenever I met Madhukar, I realised 'kaisi success honi chahiye' where people want to be with you. You are not a leader when you look ahead; when you look behind, and you find people following you… that's a leader. They are there because he is always the one helping others. The tanpura quietly plays its music, but it is the pillar. If it misses its tune, then the singer too misses the tune. Madhukar is that tanpura, because of whom you're able to listen to Shalini's music. He is the reason she feels effervescent enough to sing… and he never pronounces that… He is so generous with what he has to offer in life. You can reach out to him anytime, and you will see the same response. He is calm, he is always composed, and he never loses his cool… he has a great desire to share with others, in terms of what he has learnt, in terms of knowledge…
Darakhton ke usulon ko samajhne ki karo koshish Darakhton ke usulon ko samajhne ki karo koshish Alag mitti se bante hain, alag hain unki har khwahish Woh gamle ka nahi paudha, jahan chahe uga do tum Woh gamle ka nahi paudha, jahan chahe uga do tum, Jahan chahe laga do tum, jahan chahe saja do tum Woh ugte hain zameen pe dil ki, dil mein hi dhadakte hain Woh ugte hain zameen pe dil ki, dil mein hi dhadakte hain, Woh logon se jude hain, aur unhi mein zinda rehte hain Use tha aasmaan choona, magar apni hi sharton par Use tha aasmaan choona, magar apni hi sharton par, Use tha jeetna who bhi, magar apni hi sharton par Woh aaisi roshni chahta tha, jisme ho na angaare, Woh aaisi jeet chahta tha, jahan koi bhi na haare Woh kehta hai mere hisse ki khushiyaan baant do jaakar, Woh kehta hai mere hisse ki khushiyaan baant do jaakar, Hai jitna dard sab bhardo mere seene mein tum laakar Meri jholi mein jo aayega, main woh sab lutaaunga, Jahan se jo mila hai sab jahan ko deke jaunga.
'HIS FAVOURED MANAGEMENT STYLE IS THE NUDGE…'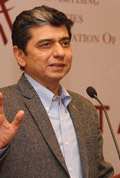 Santosh Desai
MD & CEO, Futurebrands India
I first met Madhukar in 1991, when I joined Mudra. By that time, Madhukar had already built this fabulous agency from scratch. Mudra was an outsider at that time, in the 80s and 90s. A) It was headquartered in Ahmedabad, B) It was founded by the person who is the absolute anti-thesis of what an agency head was at that particular point in time, and C) It started life as an in-house agency of an Indian conglomerate – none of these were considered good qualities, and yet to build a powerful agency with a unique culture, truly driven, committed set of people was something that Madhukar did. I joined when he had done all of that, and he had moved to an exalted role of a spectral presence – who knew everything, was aware of everything, and guided everything. But the one thing that I do remember personally, was the role that he played in building and creating a certain culture, and maintaining the culture of the place. There were a whole lot of us who had come in, who were new people, and for us to inculcate, and to get what the Mudra spirit was through extensive story-telling, through a lot of memory creation was something that I vividly remember…
Over the years, I have had much to do with Madhukar in the various roles that he has played - certainly as a boss. In fact, Madhukar has never been my boss, but he has always been my boss' boss. Over a decade, we've been colleagues in the governing council of MICA; therefore there has been a spectrum of experiences.
If I had to distill a quality of Madhukar, which I have discovered, and it has got reinforced over the years, is the fact that he is almost a compulsive builder. He is continuously looking at anything around him, and finding ways either to add value or to do more, or to make things better. And his favoured management style is the nudge - he is constantly nudging himself, or nudging people around him to do better. He does this by a combination of two qualities. One, he makes you extremely comfortable, but there is always an air of mild dissatisfaction, with which he goads you to do more…this combination of a great deal of bonhomie and accessibility and approachability on one hand, and the relentless little nudge for you to be a little dissatisfied and seek more from yourself. He is always there to help, whenever you need for him to back you up.
It has been my great fortune to actually see Madhukar operate at close quarters with a great sense of integrity to the vision that was MICA, a truly wonderful institution created for the industry. To see that, and to further it, and to navigate it through all the changes in context, is truly a remarkable achievement, and I am particularly lucky to have been a co-traveller on that journey.
'MADHUKAR RECOGNISED THE POTENTIAL OF THE MEDIA FRATERNITY…'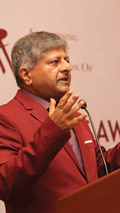 Shashi Sinha
CEO, IPG Mediabrands India
I have known Madhukar both professionally and personally, but what I need to highlight is his contribution to the industry. I will call out a few things which, nine to 10 years back, created a landmark. First, our industry was divided at that point in time. There were two sets of awards, which was a manifestation of a deeper problem in the industry. There were two camps. Madhukar got them together, created a wholesome, one set of awards in Goa, where he got the Ad Club and everyone together... The great thing was his humility, his ability to not lose his cool, to carry everyone with him, which made that happen.
We represent what was then called the media agency business, and were seen as the poor country cousins of the advertising business... Madhukar recognised the potential of the media fraternity, and he gave us recognition in terms of the media forum. Most people don't understand it. Most people would not know what the pulls and pressures were at that point in time. Then came the big bomb that year. My dear friend Vikram Sakhuja and I were in a meeting with IBF under Madhukar's presidency, and we were discussing credit terms and we had agreements in place. At that point, IBF turned around and said, 'Well, all this is fine. We're putting a surcharge of 25%...' There was obviously a big hue and cry. Vikram and I ran out of the room, and went up to Madhukar, and told him what had happened. He said, 'Don't worry…' and the healing touch he gave the industry was remarkable. Subsequently, our agreement was in place, but the fact is that the relationship with IBF and other industry bodies came together. We created something similar with INS.
He saw the potential of Digital, and created a joint relationship with IAMAI, which is now a powerful force. There are many such initiatives… I can't think of anyone else who has achieved so much.
Moving on, Madhukar was also the president of ASCI, the body for self-regulation in 2008-09, and he started this whole programme of reaching out with the ASCI code, and the benefits of ASCI at colleges and business schools, to young people coming into marketing, sales, and advertising.
One of the things which has been pending is digital measurement, and if we're lucky, we'll see it being launched under Madhukar's guidance as the ABC's Chairman, a role he takes over on September 20.
What I want to call out is his humility, his ability to carry people together.