Q] What was the objective behind the brand launching a 10-film series ad campaign? What are your expectations from it?
Let me just clarify, even as the production values and everything looks high and it seems like a 10-film series, it's actually one film which continues across four and a half minutes or so. From a consumption standpoint, we've broken it down into 10 short films typically like you would see in a web series. There are multiple reasons for doing that, one is of course, the title itself, 'The Missing Dulha'. The first film establishes that the Dulha has gone missing and therefore from an audience point of view, you are on the hunt trying to figure out 'why'.

What we have then done is, have ten 30-second episodes, each of them ending in some cliffhanger, where an HDFC Life product fitment is also there. It's a situational comedy in which the product market fit is highlighted. The reason why we have done it in this way is obviously to introduce the audience to the plot in the first film. And then, once they have seen it, they organically go on to the subsequent films which speak about different product features or different products per se, from where they understand how a life insurance company offers a suite of products to meet multiple life goals. We wanted to do something which breaks the clutter.
Q] How has the industry reaction and feedback from the customers been after the release of this campaign?
The response has been very good. Obviously one can always find what works, and what doesn't. So, that's part of the feedback that we take and then work towards improving. It's the call that the marketing team has taken and a bet with disproportionately high payoffs and with limited downside, considering it's a pure play digital film, not a TV or Print film. On digital media, you can control the spends and if something doesn't work, you can optimize it immediately. So, there is limited downside and significantly high upside. In that sense, it has worked quite well. And, I think the views on YouTube and other platforms speak for themselves.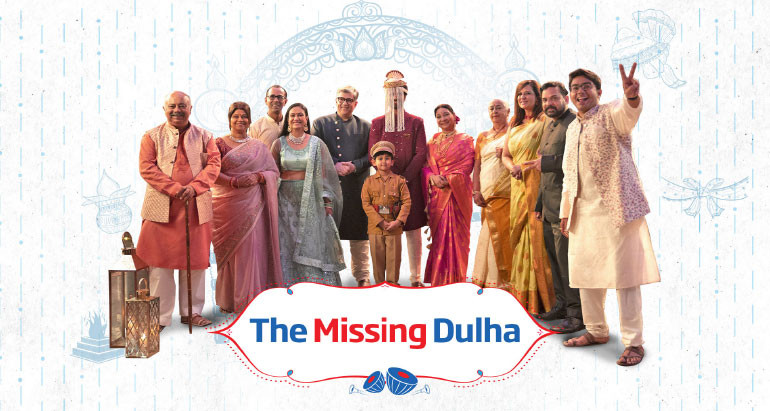 Q] What are the marketing strategies which drive this kind of a media mix, such as a pure play digital campaign?
So, overall, there are two core objectives that we chase as part of our marketing KPIs. One is obviously the longer-term brand consideration and awareness and, in some instances, it is to build out the category- it could be a retirement category, or a term category. But largely it's focused around brand awareness, consideration, and product understanding from a consumer perspective. So, the media spends, for example, on brand films, could be typically 10x that for digital films.
With digital, we also try to be more experimental in nature. That's also one of our objectives. Digital films, in some sense, operate a little bit in the middle of the funnel, rather than top of the funnel. From that mid-funnel we try to get consumers to the bottom funnel, which is where they end up purchasing a policy. Thus, digital films tend to be more performance oriented. So, there's a lot more KPI, return on ad spends (ROAS), in terms of immediate policy purchases, etc., which are linked to some of the digital campaigns.
Q] Which of these mediums have proven to be the most effective for the brand in the past. How effective have you found social media as a medium to connect with consumers, especially the younger set who are digital natives?
Honestly, more than the medium, it's the script that works. It's storytelling that works. I don't know if you would recollect, but about a year and a half back, we had a film around the Covid batch. So, that took on a life of its own. It went viral. People created their own versions of it because they connected with the film. It had the virality and the appeal to be able to persuade people to buy a Term Insurance plan. So, that's one film which did very well on TV. On digital also, we had a series of films which was titled, 'Ye Sahi Toh Life Insurance Online Kyu Nahi? Wherein, we had a protagonist, played by film and TV actor, Manjot Singh, through whom we tried to shift the consumer perception and make them believe that insurance can be easily bought online. That film also did quite well in terms of its click through rates and the website traffic, and other aspects of the business. So, the script has to be defined around the product market fit and the target audience that we're going after, and the media to us, in that sense, is incidental.

Q] Let's talk about your media mix.
Broadly, the top of the funnel, which is going to be largely around TV is roughly one-third of our spending. Then comes digital which is close to another one-third, which is mid-funnel. And then there's the bottom funnel, which is performance marketing, search marketing, etc. That's another one-third.
Q] Can you share some key consumer trends that are driving the category's growth?
In terms of consumer awareness alone, we see that the awareness levels are pretty high. The need for protection has gone up in the last couple of years. So, that's one. Secondly, a lot of the individuals are looking at locking in their interest rates, which has led to guaranteed savings plans doing well apart from term insurance in the last couple of years. If you live longer today there's a huge risk of you living beyond the savings that you have accumulated. So, third is longevity risk, which is where annuity and retirement plans come in.
Q] Can you share some year-on-year growth numbers from 2020 onwards?
Broadly, if I look at a four-year trend, we have literally doubled. Despite very trying times during the two-year pandemic, HDFC Life continued to deliver consistent all-round performance and be ranked amongst the top three life insurers in the industry. Our two- year CAGR of 17% was almost two times the industry growth of 9%. We clocked a growth of 16% in individual WRP (Weighted Received Premium) in FY22 with a market share of 14.8% and 9.3% in the private and overall sector respectively.
Q] What would be your top-of-mind predictions for the industry and marketing trends for the coming year?
Whether it's insurance or companies in other categories or media and creative agencies, there needs to be a lot more focus on deep consumer research and then building your communication based on what consumers are truly likely to enjoy. The reason why I'm saying this is, given everything that's happening in the economy around us - rising inflation, consumer growth being in single digits, GDP growth being in single digits, fears of recession in the US and all of that - there's going to be a lot of micromanagement in terms of costs and spends. Advertising is a discretionary spend in some sense. So, as marketers, we need to be really thorough and do our homework really well in terms of consumers and generating maximum ROI from our spends.