Q] What was the prime objective behind launching a multi-film campaign featuring three different actors with different storylines?
For us, the lead character in the film, actually is the OYO app. It's a conversation we've been wanting to have for a while and its time has come. There's a lot of work that's gone into the app, which is featured in these films. And putting the app at the heart of the campaign is the single thing I would probably point out. Thereafter, of course are the stories and you try and deliver each one of the things that you want to speak about. Flexibility, it's super important for us all right now, things are changing drastically around the world and our customers cancel in no time. So it's extremely important to point that out. And OYO is really the most easy app you'll ever encounter to book a room, cancel or change your plan. So, that's our nearby feature. At the same time, it is a consideration building campaign amongst a new audience, and a campaign that talks about an OYO that you might not know about. And that is also reflected in how the app you to search for the kind of OYO you want. So the app is the star of the campaign.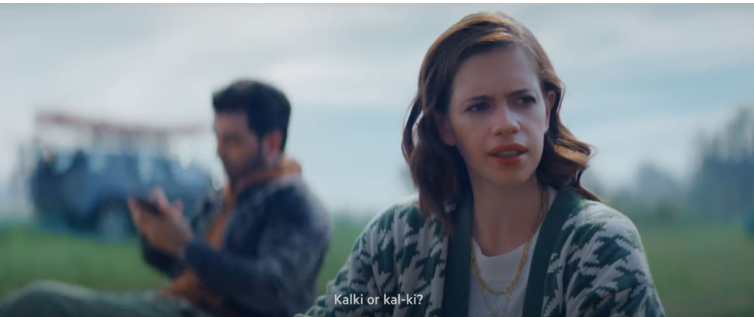 Q] How was #KalkiKalDekhenge campaign featuring Kalki Koechlin conceptualized?
The OYO app allows spontaneity. We are literally all living in the era of spontaneity. And it is not just for the backpackers, Spontaneity is for everyone, just pick up and leave on the weekend for a one day trip. Also, sitting at home for two long years in COVID, all of us are suddenly spontaneous, which is great. And the overall app is the biggest enabler for spontaneity you will find anywhere. It literally takes seconds to book a room in a location you're comfortable in or cancel a booking in no time. That's where we were jostling with. And "you can cancel tomorrow's booking" is what we were trying to write various things around. And it just occurred to us that, why are you writing for tomorrow's booking, etc. Why don't we just talk about Kalki? And he wrote the film around Kalki. So, it's not like we signed Kalki and then thought about the idea. It was serendipity that brought the two together, it wasn't necessarily a plan to sign Kalki, but it worked out beautifully. And #KalkiKalDekhenge also trended on Twitter number one.
Q] Tell us a bit about 'Assi Reach Gaye' campaign.
The 'Assi Reach Gaye' campaign talks about OYO's 'Nearby' feature. Nearby feature is something that is so quintessential to OYO, if you use the nearby feature on the app, you'll find a bunch of OYOs around wherever you are right now. We were again chatting about, we do a lot of index research with our consumers. At one point, I remember in 2020, we did 1000 calls from within the organization as part of a project called Project Hello. As of last year, we spoke to a whole bunch of ladies, and it just helps us understand so much about people, their behavior and interest, and how people just use it in their own way. And how understandable and relatable it is plus the many different ways people are using it is insane. Even memes are being made by people with Bollywood context, we too made a comic strip on the kid called Cookie. So from this whole Twitter takeover of the page to people unboxing it and using it their own way, it's brilliant. And really it was this time we spoke about it because it exists within our customers, and they've adopted it for their own use in their own way.



Q] How are you amplifying the campaign? What does your marketing mix look like?
We've almost taken a two pronged approach. We want to build configuration amongst families and indeed amongst young people. So we will be present on the right channels, in the right genre, that is one part of the plan. The other approach covers OTT, we have a holistic plan in place, which covers genres. But I think the interesting part of the plan is to just treat the India-South Africa ODI matches as one property. Make sure you're on the right property, talking to the people you want to build consideration with. And take a property first approach, as opposed to a broader genre first approach.



Q] Why did you choose actors like Diljit Dosanjh and Hrithik Roshan for unveiling the ad films on Twitter? Can we expect them to feature in one of your ad films anytime soon?
It's like we didn't really plan to sign any of the actors, be it Kalki or Chitrangada, Kunal or Gul. And Diljit is brilliant, isn't he? I love Diljit, the appeal he has across youths is amazing. And Hrithik, he embodies the role he played in Zindagi Na Milegi Dobara alongside Kalki, and I think answers the question. Also, we look at Twitter as a platform and a property for us to be present on, so we should do all the right things to maximize people's attention towards us in a nice, fun way without intruding on them. You don't want to intrude on people and advertise, you just slip in and maybe add a little bit of fun to their lives while they consume that. And that sort of explains all the choices we made from the type of content we created to the type of people featured in those films and the type of people who shared them.
Q] How are you positioning your brand against strong competitors like Airbnb?
We're a pretty unique brand. In various markets, we have various trends. And to be honest, if you look at the European market and our presence there with our vacation home brands, we're a market leader there in the short stay segment. The brands that are a part of our portfolio there, are legacy brands who have a very loyal customer base and repeat customer base. Also, we keep adding new features to that funnel as we progress. In terms of positioning, especially in markets like India, our ubiquity and the whole varied nature of our offering across the world sets us apart.
Q] How has 2021 panned out for OYO and how are you looking at 2022 now?
In 2021, we were very fast to react and we literally transformed the brand from OYO to OYO Care. We kept our hotels open for people, who tested positive to quarantine and half the year, we did a lot of initiatives under OYO Care. Our transformation to OYO Care was quite stark, but the impact was just so humbling. And the other half of it was about just buckling down and making improvements across for our patrons who are our hotel owners and our customers. We are a technology hospitality brand. And just working on that tech and making improvements both for our patrons and customers, these are the two things that we did in 2021 specifically. And I think it has really set us up for hopefully an awesome 2022. And we're already off to a decent start.