Q] What was the idea behind #PorleEMonKhushi ad campaign featuring former Indian cricket captain Sourav Ganguly?
Lux Cozi is the no. 1 men's innerwear category brand in its segment, and Sourav Ganguly is currently the number one face in West Bengal. Last year we logged a turnover of Rs 700 crores, and in the next three years we target to reach 1000 crores. Our focus now is more on regional areas and to penetrate deep into the market, and that is the reason why we have roped in Dada, his penetration in Bengal is the largest. Durga Puja is the biggest festival in West Bengal, which is then followed by Diwali. This is the right time to launch the brand deep inside the state and reap maximum benefit. Similar to Sourav Ganguly's strong and tough man exterior, but soft interior, our product Lux is also very strong and durable from the outside, but soft from the inside. So, there have been many similarities between the brand Lux Cozi, and brand Sourav Ganguly.
Q] What was the marketing mix of the campaign?
The medium which we thought would really be effective is OOH and installing hoardings at pandals for advertisement. In Kolkata, pandal hopping starts at 5 in the evening and it continues till 4 in the morning. It has hardly been two days since we started the campaign, and we are already getting very good response from the market. The whole market is saying that we are only seeing one brand all across Kolkata, which is Dada and Lux Cozi. We are also using television, radio, and print. But we are banking more on OOH for the next 15 days. Our ad spends are bifurcated in 40% on OOH, 40% on TV, and 20% is a mix of print and radio.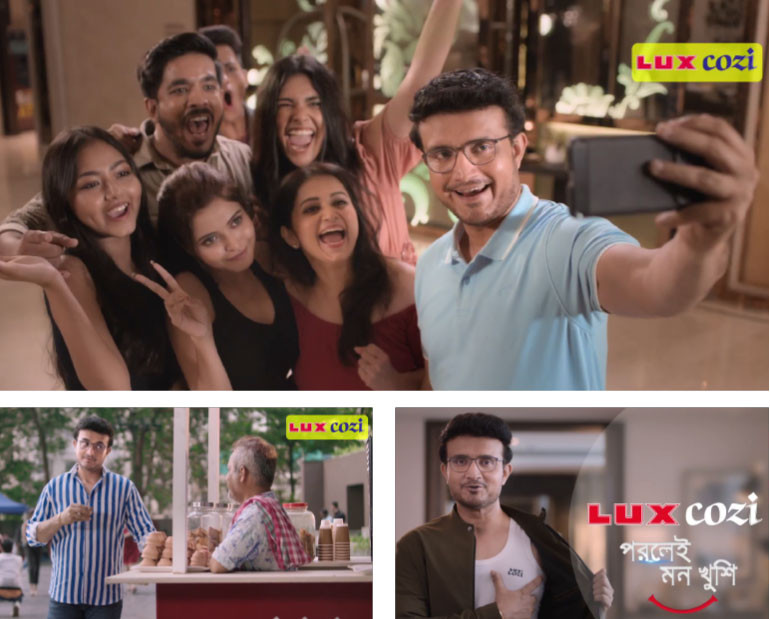 Q] We recently saw that Lux Cozi entered the kid's innerwear segment. Would you like to explain the strategy?
There is no pan-India brand for kids' innerwear present right now. There is the kid segment in mix premium category. You will find designer wear brands, premium brands, but there is no brand as of now present in the whole country. So why not take advantage of this market scenario? We see that this market has a huge opportunity in upcoming few years.
Q] Today, the GENZs and Millennials are prime consumers, how is Lux Cozi trying to make a connection with them?
This is a very good question. We have a big plan in our kitty for the same. I think February would be the right time, but I would say we are coming up with a very strategic marketing technique as to how do we place our brand for that category of consumers. It will not be fair for me right now to discuss on that strategy openly, but we can have that discussion around February.
Q] There are several innerwear brands available in the market, whom do you consider your closest competitor?
The closest competitors are those brands who sell approximately at the same price. Also the positioning of their brand is in the range to our positioning. Competition depends on quality, price and positioning. What we are doing differently from them to become the market leader is that the product that we are offering to our consumers is at the best price with a better brand recall value, or a better aspirational value at the most affordable price.
Q] Today e-commerce platforms are growing at a very speedy rate, What percentage of sales does Lux Cozi get from online compared to offline platforms?
Around 2020, FY 21, we used to draw around 60 to 70 lakhs of sale per annum. Two years later, which is FY 22, we were around 15 crores of sale on online platforms. So, we have progressed very fast and especially after COVID, we had a special focus on the e-commerce sale and we're seeing a huge jump.