Q] RS Sodhi, MD, Amul shared the video of your campaign, 'Maa Ke Haath Ka Khaana'. What was your reaction when a direct competitor shared your video which is unheard of in the industry?
We believe that the sharing of video by RS Sodhi in itself says a lot about its reach and connect with the audience. We are thankful to him for sharing our video and glad that he liked the content developed by us.
Q] Why did you think using an influencer like Zakir Khan would be the right approach for Mother Dairy during the lockdown?
Zakir Khan is a famous writer, presenter, actor, and stand-up comedian. The video is not only a personal expression of Zakir but a reflection of emotions of many of those who are away from home. One of the first thing we dearly miss during such tough times is maa ke haath ka khana and feel guilty about not learning the household chores, and being sorry for not thanking our mothers for their selfless love and care. Khan takes the listeners on a heart-warming journey. We are thankful to his expertise in communication, acting, and expression that helped us increase the campaign engagement significantly.
Q] What are the different ways and mediums through which you are promoting the #MaaKeHaathKaKhaana campaign?
As of now, we have come up with influencer-led marketing campaign for our ghee, which we believe is the best suited for the target group. We keep listening that food brings everyone together and creates unforgettable memories, we wanted this thought to blend in with our core proposition 'Rishton Ka Swaad Badhaye', and that's how ghee ki khushboo reminds us of maa ke haath ka khana at this time.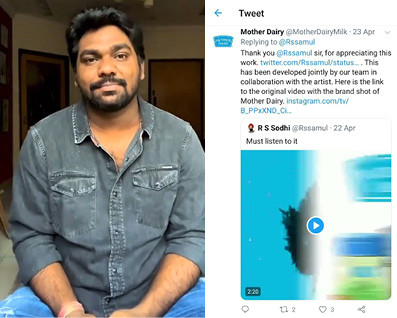 Stand-up comedian Zakir Khan and a grab of Mother Dairy's response to RS Sodhi's tweet of the #MaaKeHaathKaKhana campaign
Q] What is the key learning from the lockdown for your brand and overall industry?
In the time of crisis, empathy is one of the most powerful ways to connect with your audience. During this time, we believe in offering content of value that builds solidarity and creates a lasting positive impression on the audience by love and belonging which will strengthen brand connect with the masses.
Q] Are you increasing your spends on Digital?
We have plans to strengthen our branded content going forward and many more are in pipeline.
Q] What is one consumer pattern that you pre-empt right now for your sector and overall industry?
The worldwide lockdown has resulted in significant shifts in consumer behaviour, specifically in terms of online content consumption. Consumer behaviour is influenced deeply by cultural factors. Content brings in strong engagement and personal relevance, emotional intensity will elicit strong levels of memory encoding for the consumers.