Kavitha Rao, Chief Commercial Officer, Ikea India talks about why the brand known for the 'big blue store' is focusing equally on online channels in India and why more than sales, at this stage it is more important for the Swedish retail major to position the brand right in the country
Q] Tell us about your new campaign-- Home is where it all begins
In the last 18 months, we've had quite some challenges in the context of the pandemic, and people have been spending a lot of time at home. The idea was to look at insights from consumers and the insight in this case was that every kind of change starts at home.
Q] To what extent did part one and two of the campaign series, help Ikea drive sales?
As Ikea, we have to be humble to say that we are a relatively new brand here. We could be a very large home furnishing retailer globally, but most people in India are still getting to know us. So right now the priority is to establish Ikea as a great brand in India and positioning it well, that is where the efforts are going. When we look at sales, it comes way down in the hierarchy at this point as far as the impact of the ad campaign is concerned.
Q] Your ads unlike what an Amazon did in India which is localizing the approach, is still very western in its overall feel, why?
When we look at it from our lens, we have brought the concept to life in the context of the India market. The first set of ads we released after we launched the first store in Hyderabad touched upon aspects like moving from a small town to a large town, a couple waiting to welcome a new baby into the family or the recent one on a pet coming into the family and so on. Our ads are very different in U.S or Europe. But it is a journey, and we need to get even closer to our consumers in the India market, and create that desire and appeal for a lot more Indians here.
Q] What is the marketing mix for this campaign?
We use a range of media options- Print to television, OTT etc. In some specific areas, we tend to use Radio, Cinemas etc. Television still continues to play a major role and in the context of the pandemic, now OTT too, so I would say our media is very audio visual driven. We also use OOH in markets like Hyderabad and Mumbai where our physical stores are present
Q] It is a well established fact that Ikea operates large stores at the outskirts of cities…but now you also have an app and in-city experience stores, tell us more about them
A decade ago, we would have always talked about the big blue box, the Ikea standard store, which is anywhere between 30,000 to 40,000 square meters big and it has always been pitched as a fun day outing for the family with shopping, fun experiences and a meal. But increasingly, we are seeing changes in consumer behavior across the world. We now see that people would like to have things closer to them rather than driving 40 kilometers to the outskirts to spend an entire day out. That is why Ikea globally looked at smaller format stores, closer to consumers in city centers in U.S, Russia, Europe etc. One such small format store (10,000 sq metres) is opening in Mumbai soon. Our guess is, people in Mumbai would like to explore the fun day out experience once a year, go to their neighbourhood store twice and do the rest of the shopping for the year online. It is all about an omni-channel approach.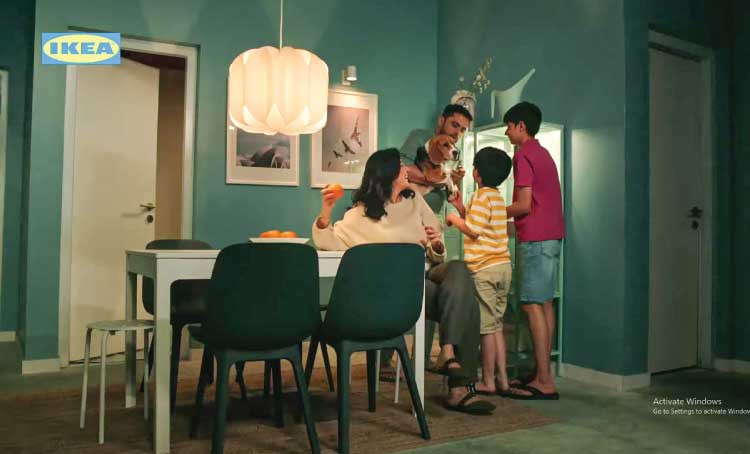 Q] 2018 was when you launched your first store in Hyderabad and yet you have not spread to the northern and eastern markets in the past three years, why?
Given a chance we would like to be everywhere in one shot, but our business model is such that we own the parcel of land, the building, are involved in the construction process and then operate the store ourselves. It thus takes more time compared to another retailer who's working on a full-fledged leasing model. But we have made land purchases in Delhi and Bangalore already. The other important thing is that maybe at one shot, we could open e-commerce in multiple markets. But we'd like to take it one step at a time because when it comes to furniture and home furnishing, it has also got to do a lot with services. So when we look at e-commerce, we would also like to have allied services like assembly, installation etc available.
Q] Has the trend of assembling your own furniture caught up in India like the west?
We are clearly seeing more and more people wanting to try it out for smaller pieces of furniture like study tables or dining tables but when it comes to bigger things like wardrobe and kitchen shelves we recommend that they take the installation option. Right from the beginning we knew that it would take a few years for DIY as a concept to pick up. Interestingly, one of our toolkits called as the 'Fixer' sells a lot in the India market, so everybody is at least securing that first toolkit in India.
Q] What is the break up between offline and online sales at Ikea today?
People like to do their research online and if needed they may want to go to a physical store to check something out. A good number of consumers, even in the home furnishing category are very comfortable doing the entire shopping journey online, because of Covid. But honestly it is not that we changed our strategy just now, we have always heavily relied on an omni-channel approach. If earlier the average consumer made five trips to the store, at least one or two of those trips have moved online.
Q] So you are seeing a good amount of footfall in stores as well?
Definitely. A classic example is Hyderabad where we are seeing consumers come back to the store as well as shopping online. On an average, across income buckets, only two and a half percent of the disposable income was being spent on home furnishing. In most of the markets across the world, it is upwards of 5%. But now people are feeling the need for comfortable home furniture much more because of the pandemic. For example you will find that from a time when most homes did not have a study table, today most homes at least have one if not two study tables. The portion of online sales before pandemic was between 12% to 15%, now maybe it is in the bucket of 20% to 25%. It has seen its peaks during times when physical formats were entirely closed.
Q] What kind of growth trajectory is Ikea aiming for in India in the next two-three years?
We are in the early stages of our journey. But one of our first ambitions has been to reach close to 100 million people in India. That requires presence across multiple cities, in multi formats.