As per industry estimates, the Out-of-Home industry in India is valued at $29 billion market, accounting for approximately 6% of the $500 billion global advertising spends. In fact, as per a study by KPMG in India and Google, global cross-border B2C e-commerce is set to grow at the rate of 25% CAGR to approximately US$1.5 trillion in 2022, prompting Indian OOH brands to look at international markets.
In this context, Laqshya Media Group has entered into a strategic alliance with France-based Comkeys, one of the leading independent international communications groups to bring Mediakeys, a specialised international media exchange which works with brands to fulfil and execute across international media budgets, to India.
Talking about bringing Mediakeys to India, David Payne, Global HeadStrategy and Operations, Mediakeys said, "Mediakeys is a media exchange focused solely on international media. We work with brands all over the world delivering solutions for them largely in the world of out-of-home although we do cover all media. Our current agency network is limited despite being one of the largest in the OOH sector, as we are not a larger agency network group which focuses on local budgets. Thus, for us on an international scale India is becoming increasingly attractive for long-term growth, even as it is taking its place at the center of the global economy. That means that there is obviously an increase in the number of Indian brands that are looking to talk to consumers outside of India. In this regard, India is becoming more important for us in terms of sales, outbound, and more importantly in terms of our brands who work with us globally to enter the Indian market."
On the partnership with Laqshya Media Group he further added, "We have been thinking long and hard about our strategy for the market. We wanted to accomplish something where we get to work with the best in class in terms of both, sales and execution. And we bring exactly the same to India as well, so it's a very complimentary relationship where we can work with them to drive sales from India, and we can bring business for them into India. And culturally we are very similar. We are both privately held companies, which are very entrepreneurial, fast moving, and agile. So, it's a very good fit."
Advertising expenditure in the outdoor media market, such as billboards and transit advertising, is set to soar this year, clocking 15% growth year on year. Since OOH cannot be skipped by consumers or blocked in outdoor environments, the medium has remained the core channel to reach mass urban audiences.
Alok Jalan, Managing Director, Laqshya Media Group commented, "The OOH industry is ever-evolving, and we have to adapt according to our clients' ever-changing needs. Like any other advertising medium, you can't turn OOH off or turn the page or throw it in the bin. You can't beat Outdoor for sheer audience size. Even a handful of strategically placed hoardings can get market penetration that beats any major event! Besides, Outdoor is high-impact as well as low-cost, and it conveys the message day or night, rain or shine. To stay ahead of the times, we are privileged to partner with a big international agency like Comkeys SAS of France to bring Mediakeys to India. We will start this engagement with Mediakeys this month onwards."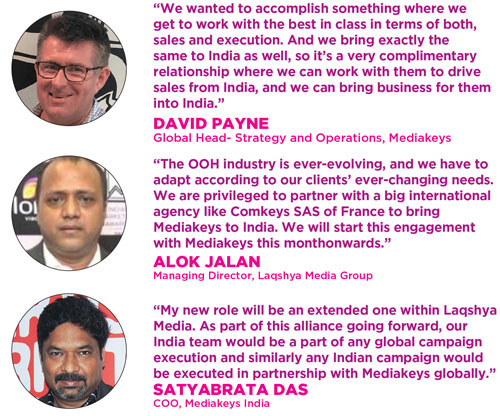 As part of the arrangement, Satyabrata Das, former Head Strategic Alliances & Corporate Communications, Laqshya Media Group has been appointed as COOIndia, Mediakeys.
Speaking on the new role, Satyabrata Das, COO-India Mediakeys, says, "My new role will be an extended one within Laqshya Media. Having been in the ecosystem for almost 30 years, it was good on the part of Alok and David to think that I was capable enough to handle this new position and have faith in my ability to take on this responsibility."
He continued, "We have been working with David for a couple of years now and have now come to a stage where there is a strategic alliance with both the organizations.Therefore, as part of this alliance going forward, our India team would be a part of any global campaign execution and similarly any Indian campaign would be executed in partnership with Mediakeys globally. With the joint partnership and clubbing of expertise and skill sets, we are looking at a surge in growth. We think this will be easily achievable considering global investments in India and China, two of the biggest global markets, and India is destined for a great growth story."