Indian menswear brand, Indian Terrain recently unveiled its Autumn Winter collection for 2021, while enlisting cricket star MS Dhoni as the face of the new range. Charath Narasimhan, Managing Director and CEO – Indian Terrain Fashions Ltd tells us what makes Dhoni the right fit for the brand while discussing the brand's plans to drive a 50% growth in its market share with the new collection
With the festive season well underway, men's fashion brand, Indian Terrain recently unveiled its new Autumn Winter 2021 collection. The brand has also roped in Indian cricket star MS Dhoni for the campaign, showcasing various looks on Indian Terrain's social media. Speaking about the decision to rope in Dhoni as the face of the brand, Charath Narasimhan, Managing Director and CEO – Indian Terrain Fashions Ltd says, "Indian Terrain has always been a brand that aims to produce styles that are classy and timeless. Through the years we have admired and resonated with MS Dhoni's sophistication and personal style as a brand, thus he always emerges as a persona to endorse our clothing line. Eyeing the need of the hour, we aim to provide garments that encapsulate a festive spirit, but also reflective of a contemporary style that our garments consistently carry."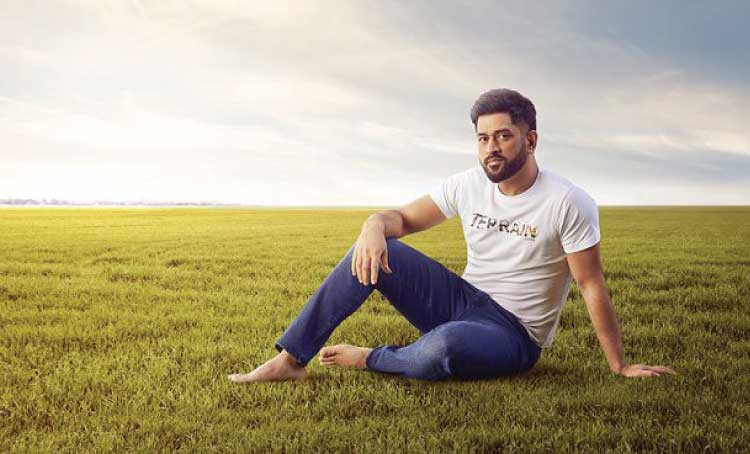 Given that the brand's new launch coincides with the festive season, Narasimhan also adds that he expects to see a jump in Indian Terrain's market share with this collection. "The festive time is also one of our busiest seasons, and we have ramped up our manufacturing accordingly. We have significant expectations from the upcoming collection and are expecting a 50% increase in our market share with the new launch," he states. The new range features four distinct looks – denim on denim, urban, preppy and heritage outdoor. The brand has also introduced a sustainable and eco-friendly line for the first time. On the occasion of the Autumn Winter 2021 collection launch, Narasimhan discusses Indian Terrain's expectations from the festive season this year, the brand's omnichannel strategy and key focus areas for future.
Excerpts from the interview:

Q] How are you leveraging MS Dhoni's star power for your newly launched festive collection? Aside from social media, are you exploring any influencer-led associations too?
Encapsulating the festive season that is coming up, we have associated with MS Dhoni to amplify the campaign. At Indian Terrain, we believe that MS Dhoni's style statement resonates with the brand's own and hence he is the perfect fit for our Autumn-Winter 2021 collection. From a marketing perspective, we are looking at strong in-store and outdoor promotional campaigns along with a special focus on social media and IndianTerrain.com.
Q] With offline retail being impacted during the pandemic, how are you looking at ramping up your e-commerce presence to cater to the demand during these times?
During the first wave of the pandemic, demand for clothing and apparel was impacted as the consumers stayed indoors leading to a decline in sales. When the world returned to normalcy and occasion driven shopping increased in phases, our sales improved over the pandemic. Based on consumer behaviour, we decided to adopt an omnichannel communication approach with a keen focus on seamless customer service, and targeted brand communication with our customers. This approach has helped in strengthening the e-commerce presence leading to higher growth.
Q] Now more than a year into the pandemic, what volume of sales are you seeing through online channels versus offline?
In a comparison between our online and offline channels, our offline sales which have bounced back to pre-pandemic numbers lead in terms of our total sales. As far as our online or digital platforms are concerned, sales have increased over 10 times. Seeing these numbers, we expect significant growth and have plans to increase our sales online over 15 times by the end of the financial year.
Q] You mentioned that you expect to see a 50% increase in market share with the new launch. What are the key growth drivers that you've identified for your brand and the category, and which markets will you focus on in a big way?
The quality of our garments is what makes us stand apart from the rest of our competitors. We offer clothing with fit and functionality like none other, and our choices in terms of work, casuals and occasional wear are one of the most important reasons why our customers keep coming back to us. In terms of our key growth drivers, our offline stores help us in reaching out to the customers to convey our comfortable styling. However, we are working towards strong customer engagement with a data driven strategy across all markets to retain and gain a strong foothold in Northern markets replicating our South Indian markets.