NAVIN TALREJA AND KAWAL SHOOR/THE WOMB'If you like an idea, junk it'
In their first ever address at Cannes Lions, the founding partners of The Womb - Navin Talreja and Kawal Shoor - decoded why product innovation is better than advertising. Navin Talreja said, "After 25 years in advertising, Sar-egama Carvaan forced us to introspect and rethink about the way we were functioning. It changed the way we thought about problems and solutions." Talreja was talking about a device which brought hundreds of old melodies at one place for the older generation which is not very techsavvy. In the age of digital first music, Carvaan is an old fashioned physical radio-like device. This innovation won them the number one spot in WARC's global list of most effective campaigns. But what is interesting is that, the brief of the client was entirely different from what the outcome was eventually. Talreja says, "The Saregama CEO's problem was that he had 1 lakh 20 thousand songs which nobody wanted to listen to any more. And initially they wanted us to find ways to get the youth to hear the songs which was in a way also turning out to be expensive." Adding to that, Kawal Shoor says, "CDs and cassettes had gone out of fashion, radio stations were not playing their songs anymore. The Womb's solution was to shift the target audience from the young to the old." Giving a rather puzzling advice to other agencies, Shoor said, "We choose ideas that make us fearful, in fact we feel if you like an idea, junk it. Thus we took a chance on Carvaan and went with an idea which made us fearful." Talreja topped it up with, "Product audience match is one of the least understood pillars of strategy building. Innovate for the old and you'll make more money. After all, they own more than 50% of the world's wealth."
ATIKA MALIK/CHEIL INDIA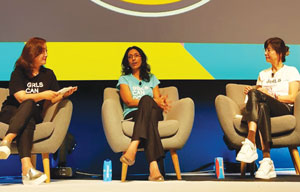 When Cheil called out to the Lionesses
Senior creative leaders from Asia - Kate Hyewon Oh, CCO, Cheil Worldwide, Pully Chau, group CEO, Cheil, greater China and Atika Malik, COO, Cheil India - came together on the Cannes Lions stage to break gender stereotypes. They compelled the creative industry to sit up and take notice of the fact that women are not willing to endure the pervasive sexism in their societies in their session titled 'Awaken the lioness: the battlefront of Asian women'. Highlighting how a woman must get due respect and support from her family and workplace, Malik said, "I was lucky when my senior agreed to extend my maternity leave to 11 months. A supportive work environment is very important." The other speakers spoke about their personal battles to reach the top. Malik gave two examples from India, one was the story of the Phogat sisters and the encouragement they received from their father in pursuing a sport traditionally not known to have women participate (the movie Dangal was made on it). She also went on to explain a similar story showcased in a Cheil ad for Samsung technical school.
PARIXIT BHATTACHARYYA/TBWA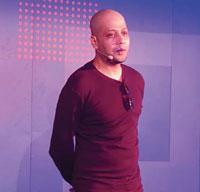 Creating the world's first eye language
There was a talk by Parixit Bhattacharyya, Managing Partner - Creative, TBWA Mumbai, on the back-story of TBWA's campaign Blink To Speak, that won a Grand Prix for Good (Health) in 2018. Parixit Bhattacharyya's talk titled 'Care To Dare to Care' dwelt on TBWA's campaign Blink To Speak, that made possible the simple act of communication for patients with a paralysed body but alert mind through 50 eye movements. "Blink to Speak emphasizes on working with subjects that we deeply care about because it makes us brave and lets us do things we won't otherwise. It reveals our learnings from creating the world's first eye language. It traces the journey of birthing BTS, right from empathy germinating it to finding a village to adopt and raise it and the importance of identifying constraints to create a truly out-of-the-box solution that's scalable and universally applicable," Bhattacharyya said.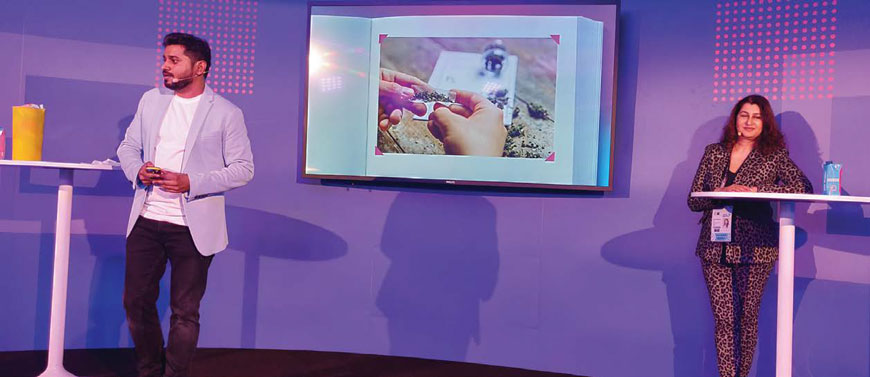 ABHINAY PATIL/MEDULLA


Making Pharma a hero
A session hosted by Abhinay Patil, Creative Director – Art, Medulla Communications together with Kanchana TK, Director General, Organization of Pharmaceutical Producers of India, on influencing public perception and government policy-making for pharmaceuticals through a book. put the spotlight on Health on Day 1 of the Cannes Lions International Festival of Creativity, 2019. The talk titled 'Do you have the B***s to Change Policy?' - about a book that humanized the dry rhetoric of pharma research and government policy-making - was innovatively introduced with the help of origami and making people wear masks and take them off to prove a point on trust. "We have actually tried to bring science to life in a very creative fashion. The idea was to develop a creative campaign that brought to the fore science, scientists and their research," said Kanchana TK, adding that the book actually influenced public perception and government policy-making for pharmaceuticals. Pharma has always been associated in India with the greedy corporate and not the tireless researcher, and the endeavour of the book is to make pharma a hero and undo that.