Kantar has recently come up with an innovative way of capturing deep human emotions, through one of the most engaging mediums of story-telling, theatre. The initiative that is called Creative Playhouse (CP) uses the power of the technique 'improv' to breathe life into ideas, making them more engaging and relatable for audiences.
Shalini Sinha, Executive Director- Insights Division, Kantar, tells us more about this innovative process.
Q]

How did the idea for Creative Playhouse come about?
Our strong lineage of creative development and brand-building has taught us that to build great brands, we need to drive deep emotional connections and conversations. However, we feel that somewhere along the way, we are getting restricted in our understanding of unadulterated human emotions. It is this quest to capture deep human emotions that has led us to go beyond conventional research. In traditional research format, we understand the rational side of the human story perfectly well, but what we miss is the 'emotion' which triggers most intuitive reactions and decisions. We all know that people love being entertained. It's a great way to engage audiences and observe emotive response. That's why we react so deeply to stories. So, the first question was how do we tell stories to consumers rather than just asking questions? There came the idea of 'improv' theatre which is a powerful medium of instant story-telling, as audiences react to the situations, characters, expressions through living, breathing stimulus which are the actors. We integrated the art of capturing human emotion through the art of 'improv' theatre and the science of creative development.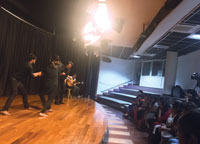 Q]

Walk us through the process that is used at CP.
At CP, the most important aspect is to start with a clear understanding of the client question we wish to answer. We call this part 'Discovery'. We spend time with our client and other critical stakeholders like the R&D, design and creative teams to understand and co-develop the central question. This is followed by the 'Theatre Sessions'. Each session is typically half-a-day long, and quite intensive. It's a co-creation session, but not only with consumers but also with the client and their key stakeholders too. In these sessions, we allow consumers to play with, explore and transform the territories to make them their own. Through co-creation, we understand if and how each idea resonates with the consumers and identify ways to better connect them to the brand through the ideas. As our consumers observe and react to the stories we play out, so do our clients! They observe consumers' reactions and can react by brainstorming with us about any possible iterations to the plot or characters which can be played back instantly by the Improv team. Throughout the session, the team observes the consumers and interacts with them. We hear their stories, what they liked or disliked about what we played, understand what part of our stories made them see themselves. The process ends with a day-long strategic workshop, 'Spark Session', where the cross-function team agrees upon the most meaningful and potent Idea territory(ies) that connects the consumer to the brand, rationally and emotionally.
Q]

How big is the CP team?
Around 30 researchers are trained on Creative Playhouse. Organisational Theatre is our expert and exclusive Improv Theatre partner to conduct the theatre sessions. They are a 100-member team across the country. Presently, 10 of them are trained on this process and depending on the demand, we'll train more members.
Q]

What are the brands you've already worked with?
Quite a few of our clients have expressed interest - GSK, Pepsi, Philips, ITC, TVS, Britannia, V-Guard to name a few... Globally we've worked with some leading names in the industry, ranging from CPG and Pharma, to Finance and Tech. We have done about 100+ sessions so far.
Q]

The work CP is doing is very different. How are you educating advertisers and convincing them about the process?
It's indeed a different and innovative way of doing research. However, we've found a very enthusiastic response from the clients we've spoken to so far. Most of our clients appreciate the core problem of lack of emotional connect with consumers. Hence, they easily connect with the idea. We have done a pilot in India which has shown tremendous promise. We recently showcased CP to over 200 clients through live Improv sessions and the response has been very positive.