IKEA India has opened its first small-format store in Mumbai. On the occasion, Kavitha Rao, Commercial Head, IKEA India, speaks about the company's plans to reach a 10% market share in Mumbai while growing the home furnishing market.
Q] You have already opened two stores in India, one each in Hyderabad and Navi Mumbai, besides the recent small-format store within Mumbai. How many more stores are on the agenda in India in the near future?
I do not have an exact number, but if we look at it broadly, we plan to open one more smaller-format store in Mumbai, one standard and one smaller-format stores in Bengaluru, and then we plan to enter the Delhi market. The roadmap is such that we intend to provide a better shopping experience to our consumers. Mumbai is an important market and we aim to reach 10% market share in future.

Q] IKEA has always focused on buying huge properties on the outskirts of cities. What was the idea behind buying a smaller property at a prime location to showcase all products under one roof?
One of the important changes we have seen from the consumer standpoint is that people are much more focused on their neighborhoods. Time is money today. The younger generation does not want to travel to far-off destinations. So, we are re-evaluating our approach and want to give buyers multiple options. If consumers are willing to invest time, they can go to the Navi Mumbai store. The other option is to come to the Worli store if you have limited time to shop. This is in alignment with changing consumer behaviour and we have to be aware of where our clients are and provide them with a convenient shopping experience. This was the idea behind launching smaller-format stores in places where most of our consumers live.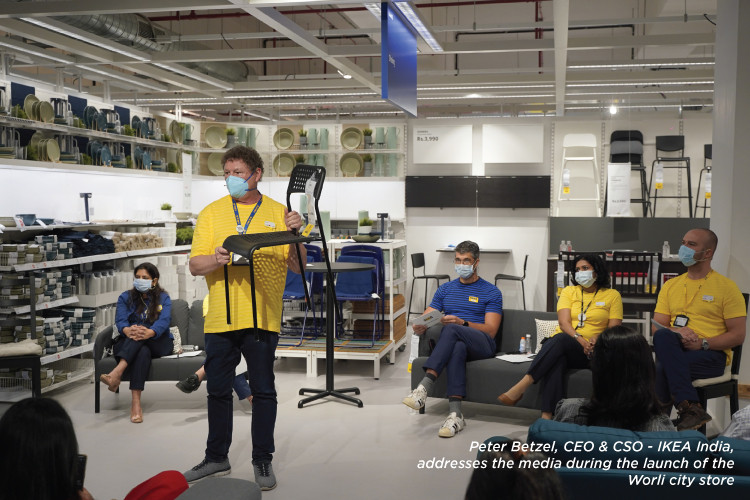 Q] Due to COVID-19, footfalls in shopping malls and mega stores have dropped drastically. How is IKEA planning to bring buyers back to the stores?
It is not something that can be done in one day. It is a long journey. In the coming years we would see a rise in spending on home furnishing against the backdrop of urbanization and the ability to spend more money towards comfortable living. I would agree that due to the pandemic the footfalls were less, there were challenges of store closures and restricted visitation, etc. But we have managed to overcome them.
The second important thing is to make the brand more desirable for consumers to meet their needs. We are focused on sustainability, more driven towards co-working solutions. All these help position the IKEA brand. The moment we create that ambience, people will automatically have a desire to visit us to explore the store and would leave appreciating us for our affordable products, quality and great designs. This will also prompt consumers to visit us again and again. This is how the visitation works for us.
Q] How will IKEA capture the Indian market and overcome the bigger challenges it is facing in the process?
There are many players in the home furnishing category like Godrej and Home Center and online retailers such as Pepper Fry and Urban Ladder. Honestly, when we look at them, we realize that we all are working towards one objective of expanding the home furnishing category. As I said, the interest in home furnishing at this point is low but it is going to increase in a big fashion in the coming years. There will be enough room for all the players, maybe a few more can jump into the fray. At this point in time, we are not worried about the competition when we see that there is enough space for every player in the market.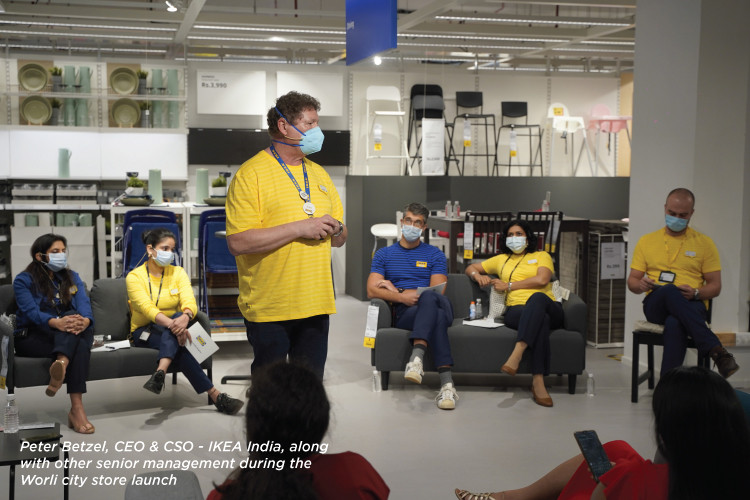 Q] What strategies is IKEA adopting to bring customers to their stores?
We are looking at multiple channels to engage with our clients. In order to spread awareness about the brand, we use a plethora of media avenues — put hoardings across Mumbai, spend on advertisements on the radio, television. TV is heavily preferred in Hyderabad but the scenario is different in Mumbai. We ensure our presence on social media and create meaningful engagement with our audiences. We also rely on user-generated content. Through these channels we create interest for home furnishing. Audio visual media has become widely popular due to the emergence of smartphones.
Q] How does Digital Media come into picture while promoting furnishing brands?
There are two aspects of promoting brands through digital media. One is Search Engine Optimization and the placement of keyword searches and the second is performance marketing. Both of them are technical in nature. But we give extreme importance to the UGC (User Generated Content) on social media. We also conduct digital workshops to ensure connection with customers.
Q] How does IKEA optimize its reach with the use of social media influencers?
We do optimize our reach with the help of social media influencers. We do not look for icons or big names on social media but prefer ordinary persons and their household Stories. It is similar to the content we created in the 'Home Story' series. 'The Home Story' series on YouTube has done pretty well, and gained over a million views. In the series, our team helps ordinary people furnish their homes, and thus bonds with the audience.