In a bid to rejuvenate Kerala in the aftermath of the devastating floods that rocked the state a few months ago, a consortium of media houses and trading associations, including The Indian Newspaper Society (INS), Indian Broadcasting Foundation (IBF), Association of Radio Operators of India (AROI), Mathrubhumi, Malaya Manorama, Deshabhimani, Kerala Kaumudi, Mangalam, Madhyamam, Asianet, Flowers TV, Amrita TV, Janam TV, Deepika, Metro Vartha, Kairali News, Radio Mirchi, Red FM, Kerala Chamber of Commerce, Dealers Association of TV and Appliances (DATA), Kerala Vyapari Vyvasayi Ekopana Samithi (Kerala Traders' Association), The Supermarkets Association of Kerala, and Retailers' Association of India have come together to launch the Great Kerala Shopping Utsav (GKSU), a grand monthlong shopping festival which will take place from November 15-December 16.

Open to consumers across the state, a customer can spend a minimum of Rs 1000 at any retail store across Kerala and obtain a GST bill to participate in the raffle draw for the festival, which has prizes worth Rs 4 crore up for grabs, including daily prizes worth Rs 2000 for 20 winners in each district, a weekly prize worth Rs 1 lakh in each district and a bumper prize of an apartment worth Rs 1 crore. While there are several brands which have come forward to sponsor the prizes, media houses have committed advertising space worth Rs 25 crore to promote the festival, apart from promotions through editorials, radio and TV spots. A special GKSU festival logo has also been released which will be used to promote the festival by the media. During the period of the festival, brands have also committed to launching several special offers, which will not only benefit consumers, but help them to sell their leftover stocks which remained unsold due to the floods.
In addition, the Kerala state government, along with Kudumbashree (the Government of Kerala's women empowerment and poverty eradication program), is facilitating a loan of Rs 1 lakh per household effected by the floods, in order to buy goods lost during that time.

Talking about the objective of GKSU, Kamal Krishnan PS, National Head, Integrated Media Solutions, Mathrubhumi says, "Onam, the biggest festival of Kerala was washed out because of the floods this year and as a result there was a negative market sentiment and trade was suffering, with nobody taking any initiative to rejuvenate the market. Adding to this, there is a perception outside Kerala that the state is still in bad shape and will take much more time to recover, when the truth is that things are back to normal and in reality only about 3% of the population was really affected by the calamity. We realised that just a single media house and its advertising clients will not be able to alter this perception, and so for the first time, all the major media houses in the state decided to come together to create this mega shopping festival and promote it as a collective, using our own resources, as well as partnering with other trade bodies to spur economic activity and help businesses at large, and the government by means of the GST bills, which will help increase tax revenues." He adds, "Moreover, we want to bring back the cheer to everyone who missed out on festive season offers during Onam in August and we want to communicate to the world that it is business as usual in Kerala." Krishnan's sentiments are echoed by other media houses as well.
"We have a certain media schedule in place which will be followed by all media houses to promote the festival through our various media vehicles. This kind of collective is unprecedented and we feel it is the first time ever in India that so many media houses are joining hands and pledging resources for a common cause. The festival was officially announced to the public on November 1, which is Kerala Formation Day, through editorial and advertising space by all participating media houses," Varghese Chandy, Vice President, Marketing, Advertising Sales, Malayala Manorama tells us. So what exactly is each media house doing individually to promote the festival?

"We will be running promos of GKSU on the channel, informing consumers about how they can participate in the festival, win prizes and how the festival will help boost the state's economy. Once people start spending, the business cycle, which had taken a hit with brands withdrawing offers post Onam and instead pumping money into other markets apart from Kerala with the mindset that Kerala is yet to recover from the floods, will start reviving once again. Depending on the success of the festival, we will think about making it an annual affair, although the dates for the same may change," remarks Unni Krishnan, Vice President Sales, Asianet News Network.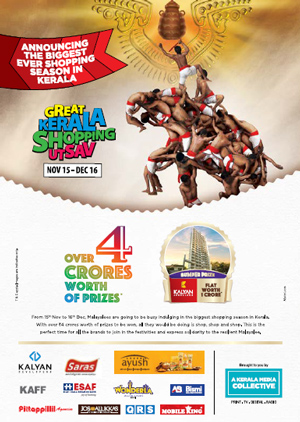 Some brands which will be participating in the festival include Kalyan Developers, South Indian Bank, Ayush, Saras, Kaff, Wonderla, QRS, Bismi, Pittappillil, Joyalukkas, and others.
States Reghu Ramachandran, Senior Vice President, Asianet Communications, "We will be running about 7-8 promos a day for around 35 days, which is a similar media schedule for most of the media houses participating."
MMTV will be running about 15 promos per day on the channel of about 30-40 seconds duration between prime time and non-prime time slots for about 40-45 days, in order to garner maximum eyeballs, P R Satheesh, COO, MMTV, reveals.

"While of course the festival is aimed at helping retailers get rid of excess inventory which they were unable to sell during Onam, unless this inventory is cleared, no fresh ad spends will take place, which also effects media houses. Thus, there is a common interest through this festival to resuscitate businesses, help bring back money into the economy and revive ad spends as well. Red FM is definitely taking the responsibility to do its part in promoting this initiative in its unique style, with an impactful campaign," explains B Surendar, COO, Red FM Network.
Radio Mango and other participating radio stations in Kerala will each be airing 350 promos to promote GKSU, according to Manoj Lopez, Head, Sales and Marketing, Radio Mango.
"We will be carrying GKSU-related ads or news or prize distribution photos on a daily basis in our newspaper for a month, starting November 15. Going forward, if this festival is organized again next year, we plan to get more innovative with consumer expos and more," adds Roy John, Senior Manager, Marketing, Kerala Kaumudi.

Rebuilding advertisers' confidence in the economy is key and GKSU is one way to do this. With media supporting retailers through the festival, investment in the economy is bound to revive as well. "In total there are 17 ads of different sizes scheduled on different days for each publication, for the entire month-long duration of the festival. This is in addition to news coverage daily highlighting various aspects of the festival," says Shinoy K, Senior Manager, Marketing, Deshabhimani Daily. "GKSU is a classic case of cooperation and collaboration in the midst of competition, with rival media houses joining hands to uplift Kerala's economy," concludes Philip Jose, Head - Media Solutions (TV, Radio, Digital), Mathrubhumi.