This week, we begin a special series on the intrepid media professionals on the ground, at the frontline of covering the COVID-19 crisis. These journalists are putting their lives at risk to bring updates on Government efforts and human suffering, uncovering stories from affected areas, hospitals and even crematoriums, while mitigating the threat of fake news. Here, we profile four exceptional journalists and bring you their stories.
'A NURSE HAD TO STOP BREAST-FEEDING HER OWN BABY TO KEEP THE LITTLE ONE SAFE FROM INFECTION'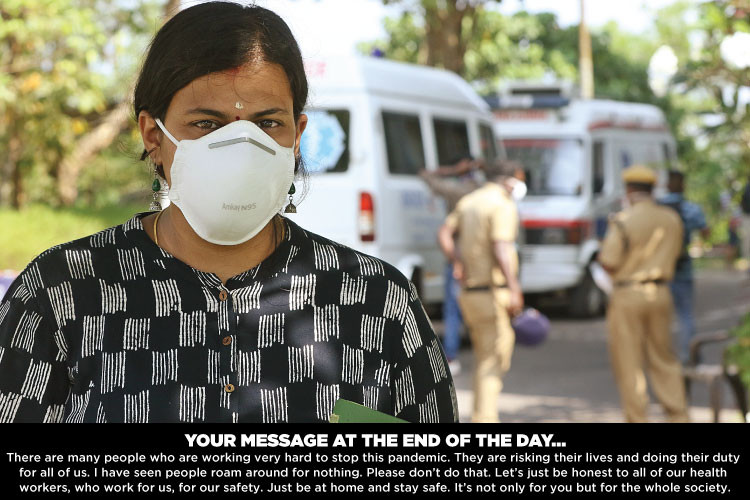 Anjali N. Kumar, Reporter, Mathrubhumi Daily and mother of a one-and-a-half-year-old girl, has been covering the COVID-19 pandemic for the publication in Ernakulam district since January 2020. Today, when she is about to reach home, she calls her parents to distract her daughter in a different room, so that once she reaches, she gets time to clean herself, have a bath and then embrace her daughter who has been waiting for her all day. Here's what Anjali has to say about her work.
Q] What have you been covering specifically on the field and since when?
We started covering the COVID-19 pandemic from January 2020, when it affected China. We did stories on Malayalis residing in China, about students studying there, etc. It impacted Kerala in February first week. We then did stories on how it can spread in Kerala and the necessary precautions that the State should take. From March, things changed and started getting darker. We did a lot of stories on scientific facts about the virus. We started collecting data from each district about affected people and survivors. I also wrote about a family from Italy that got admitted in the Medical College here and recovered; about a taxi driver who was admitted and how doctors and the health department were helping him overcome stress as well as the loneliness in his isolation period. We also try and see that we can bring some positivity through our news and stories by doing some light-hearted content too.
Q] What has been your most challenging experience so far?
So far, every report that I do as a journalist, has always been about 'being there, seeing that and writing it'. However, in the current scenario access to places and people is limited. So actually seeing and meeting people for stories is the biggest challenge due to the nature of the pandemic. We have to gather data through different sources, and hence ensuring authenticity of the data is a challenge. Also, to get contact details of the patients and the survivors is difficult.
Q] As part of covering this pandemic, can you share any particular experience that moved you the most?
We get information from our sources about various people who have been impacted with the virus and have survived. We get to know several things about them and the struggles that they are going through, but we are not able to publish all of it. I was totally moved when I did a story about this Indian family, which had been working in Italy, and were visiting Kerala to spend time with their elder child (7 years old) who had been staying here. The couple's younger child (two years old), who travelled with them from Italy to Kochi, tested positive for COVID-19 and the family was immediately quarantined at Kalamassery Medical College Hospital. The elder child had no clue that his parents were in such a position here. I was really moved to see the plight of these small kids. It impacted me more as my own child is just one-and-a-half-years-old.
When I was talking to a nurse working at Kalamassery Medical College isolation ward, I was also touched when I got to know that she had to stop breast-feeding her one-and-a-half-year-old baby to keep the little one safe from any kind of infection. Her child keeps crying for the mother, but she doesn't let that stop her from doing her duty at the hospital all day and night.
Q] Do you/your family worry about your own safety?
Of course, the family is worried that I'm doing this, but all they can say is 'Stay safe'. We are taking all the necessary precautions. As soon as I reach home from work, the first thing that my child wants to do is hug me. But in the current scenario, I cannot embrace her without sanitizing myself and having a bath. I actually call my parents before reaching home so that they keep her distracted in another room when I come. Even when I am late, she will ask 'Where is Mumma?'
Q] What kind of support are you receiving from the company on reporting the COVID-19 pandemic?
We are getting maximum support from our organization. Mathrubhumi is a great platform that one can work with 100% safety.
'MY BOSS MAKES SURE THAT WE DON'T TAKE UNDUE RISK'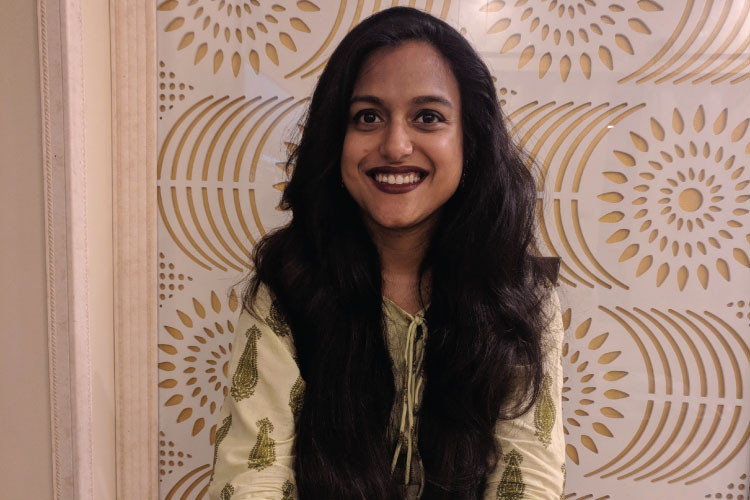 Arita Sarkar, Principal Correspondent, Mid-day has been going around slum areas of Behrampada near Bandra to cover the plight of daily wage-earners and migrant workers and writing about the public distribution system, civic and health issues in Mumbai. Hunger issues are real, she observes, and despite so much effort by everyone, it is not enough. Over to Arita.
Q] What have you been covering specifically on the field and since when?
I write about civic issues and about health, essentially. With respect to the COVID-19 pandemic, I write about daily developments - number of cases, deaths, lapses within the system. The Brihanmumbai Municipal Corporation (BMC) is supposed to do contact tracing when someone tests positive. So we also try and figure out if there are some lapses in that process. I also write about doctors getting infected by patients who didn't know they were positive.
Q] What has been your biggest challenge on the ground?
Thankfully, health reporters in our publication and other newspapers too understand this situation where resources are limited. And that you can't really go out and meet everybody like we used to earlier. So, that is a big challenge. We reporters kind of help each other out to an extent. Obviously, we all have to work for our exclusive stories but there is a certain amount of solidarity in that sense and we stand up for each other and look out for each other. That helps us ensure that we're not missing out on the larger routine stories. But yes, it eventually boils down to your former sources and the kind of rapport you had with officials and this is the time to cash in on that.
Q] What has moved you the most in this context?
I've been writing about how daily wage labourers and migrant workers are impacted. Also about the public distribution system and the rations. People who don't have income right now and are reliant on food packets are in a very complex situation. Their problem of hunger is real. The Government is giving out rice and wheat, and at some places salt. But pulses are based on availability. Even people who have ration cards are eating just rice and salt as they cannot afford vegetables and have no oil and spices. There are certain NGOs working towards this. Even the Collectorate was earlier giving spices, dal, etc but eventually ran out. Also, typically a slum dweller would have anywhere between 7 to 14 people living in one house and it's not enough. So after the protests at Bandra station, I had gone to the slums near Behrampada and saw that people there were so angry. They didn't have food or money. Nor did they have any relatives that they can borrow the money from. And they have rent to pay. So it's really a difficult time for them. Everyone is doing their bit, but somehow it's not enough. Many people are not getting food.
Q] When you visit affected areas for reporting, your family would definitely be worried about you…
Oh yes, I got yelled at badly. But, then they also understand that it is part of my job. Obviously, I wear a mask, gloves and take all precautions. And once I am back, I undergo a total 'disinfection' process. Even our editor says that we need to find that balance and not take more risk than necessary.
Q] What kind of support are you receiving from the company on reporting the COVID-19 pandemic?
My boss has been very understanding. We have an early deadline. And they know that we get facts but we need confirmation. Also, the data comes in very late. But they have been understanding about the challenges that we are facing. They are also making sure that we don't take undue risk.
Q] What is your message at the end of the day, after seeing this pandemic up close?
People are not completely grasping the fact that coronavirus is less to do with one individual but more to do with people around that individual. Most people think that it's not happening #notinmyyard! They don't realize that if they catch this disease, it may not affect them as much, but it might affect a neighbour who may have diabetes and hypertension. So, I think people need to be a little more responsible and prioritize the community's needs over their own right now. Please stay in, at least for the sake of doctors and nurses who are working so hard.
'WE CANNOT DISTANCE OURSELVES FROM THE NEWS WHILE MAINTAINING SOCIAL DISTANCING'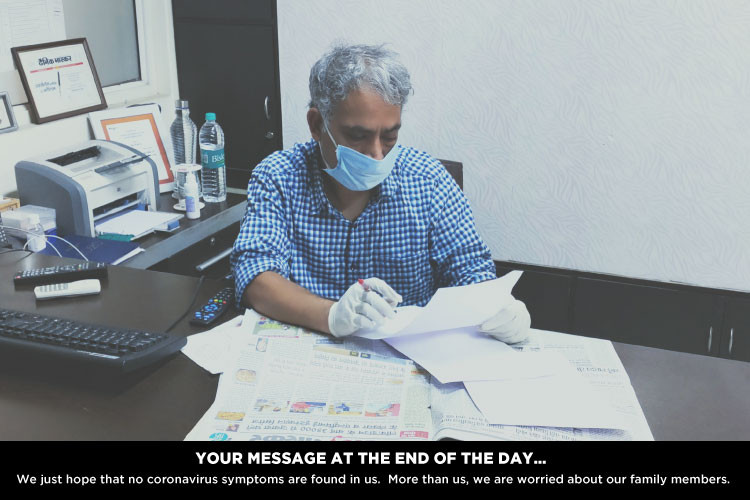 Laxmi Prasad Pant, State Editor for Rajasthan for Dainik Bhaskar, has been reporting about the COVID-19 pandemic from Jaipur, which has been a major epicentre for the spread of the virus in Rajasthan. After a long day's work of reporting from ground zero, hospitals, quarantined zones and hotspots, when he reaches home well past midnight after clearing 25 check posts, his neighbours look at him with disregard and ask a number of questions before he is allowed to reach his home. On human grounds, he says, there are many stories that really upset him. Over to Pant.
Q] What have you been covering specifically on the field and since when?
As a journalist, I have reported from Jammu & Kashmir and the terrorist tension there. However, there at least we knew the probable dangers and also got security. But, right now the dangers of the field we are reporting from are absolutely unknown.
In Rajasthan, out of 35 districts, 25 are affected including cities like Jaipur, Jodhpur, Bikaner and Kota. All Government officials and our sources of news are behind closed doors. Only health workers, police and journalists are out there on the field. The information and press releases we are supposed to get from the Government do not come at all, nor is there a media centre where we can get updates on a regular basis about the situation. So we need to go to affected areas, hospitals and quarantine centres to gather news, which becomes very risky.
Everyone on the ground is doing great work. I have never had as much respect for police officers as I do now after seeing what they are doing for citizens.
Q] What has been your most challenging experience so far?
An area called Ramganj in Jaipur has a population of about 20,000, with 300 positive cases of COVID-19. One infected person who had travelled from Oman went on to infect 285 others in that area. As journalists, we need to go to these places and get news. The biggest challenge for us is that we cannot distance ourselves from the news while maintaining social distancing. Also, in many cases, even if we wanted to help people out, we can't, because of the fear of getting infected.
Q] Can you share any particular experience that moved you the most?
A husband and wife had tested positive for the COVID-19 virus. They had a two-year-old daughter. Doctors asked to test the child for the virus too and the parents agreed. What touched me the most was that when the little girl was undergoing the test, those doctors were actually wishing and praying that she too would test positive. No one in the world would want a small kid to test positive for COVID-19! I asked the doctors why they were praying for a positive result. They said, "With whom will this little girl stay if her parents test positive for the virus?" The girl did test positive and actually it was the first case in Rajasthan where a two-year-old had the infection. This experience was very shocking for me.
Q] Do you/your family worry about your own safety?
When I reach home late at night after work, and crossing about 25 check posts, I have to answer so many questions by the security guard. People don't want me to enter the colony or stay there. There are many journalists across Rajasthan and India who face such wrath.
Q] What kind of support are you receiving from the company on reporting the COVID-19 pandemic?
We are taking due care about safety and precaution in our organization. Not only us, the company is also ensuring safety for hawkers and vendors of newspapers. The entire process of news gathering, printing and eventually delivering it to people is being monitored for safety and sanitization.
'SEEING ALL THIS IS SO INTIMIDATING THAT I HAVE NOT BEEN ABLE TO SLEEP ALL NIGHT'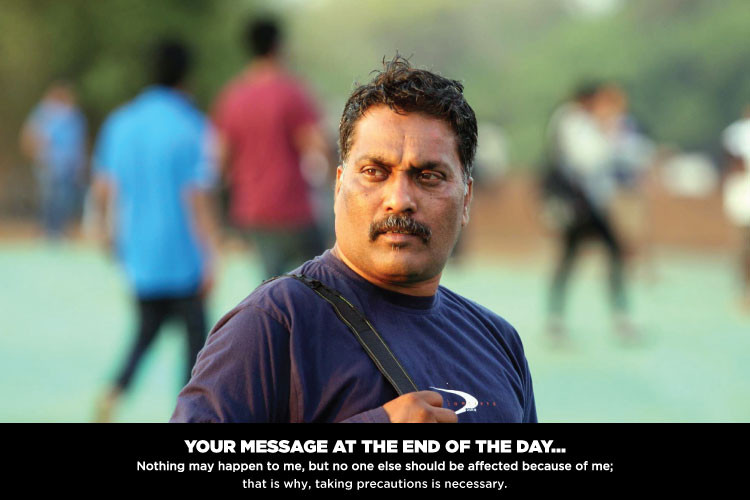 Pradeep Dhivar, Principal Photographer, Mid-day captures images of the pandemic across Mumbai, but keeps himself isolated at home so that his wife and daughter are safe. Sometime back, he was shocked to see a huge crowd of migrant labourers gather at the Bandra station, based on the wrong information that trains had started, and they could go back to their native place. Over to Pradeep.
Q] What have you been covering specifically during the COVID-19 pandemic on the field and since when?
Since the lockdown started on March 25, and even during the Janta curfew on March 22, we covered how the police is managing the situation. We saw how they tackled roadblocks and requested people not to gather in crowds or roam around. I have covered riots earlier in my career. But this experience of covering the pandemic has been absolutely different. In this case, we just don't know how and when anybody can get affected with the virus.
Q] What has been your biggest challenge?
We had visited Dharavi slums at the time of Janta curfew and realized then that social distancing over there was almost impossible. So last week, when a few individuals tested positive there, we visited the place to capture some images. It actually felt bad to see that people were still not taking this entire thing seriously. Residents were moving around freely without any sense of responsibility.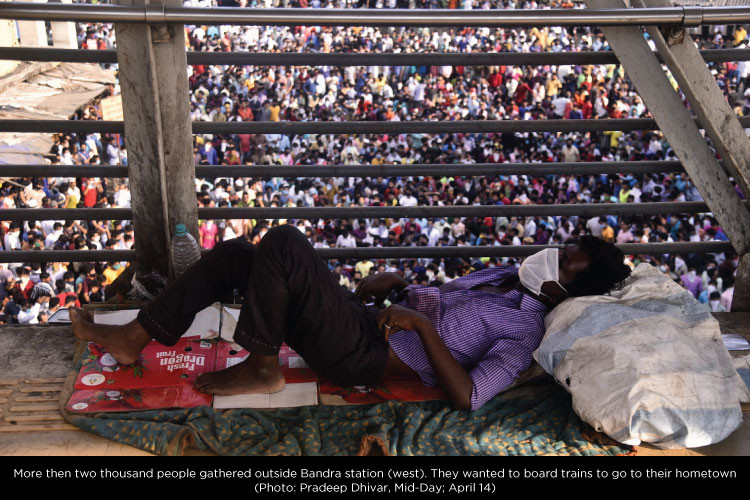 Q] You must have taken many photographs of the scenario in Mumbai. According to you, is there any such photograph that you may have clicked which completely shook you, or any particular experience that moved you in the process?
To be honest, when we take pictures of the situation around the city all day, the images keep flashing in our minds all night. Seeing all this is so intimidating that I have not been able to sleep all night. I was shocked to see the crowd at Bandra Station which had gathered thinking trains had started and they could return to their native places. It was appalling.
Q] Your family would definitely be worried about your safety...
Absolutely. They are always worried whether I will reach home safely or not, although we take a lot of precautions. I drive a bike, so I park it in an isolated place. I sanitize my camera bag and equipment, etc., thoroughly. My wife and daughter have been told to maintain social distancing even at home. As soon as I reach home, after sanitizing my equipment and having a bath, I isolate myself in a room. They felt bad about this initially, but it is important to take precautions.
Q] What kind of support are you receiving from the company while reporting on the COVID-19 pandemic?
We have the company's support. Our boss calls us 2-3 times a day and takes updates on our whereabouts. They motivate and support us through everything.