For the seventh straight year, HDFC Bank remained the top ranked brand in India with a total brand value of more than $20.2 billion, according to the 2020 BrandZ Top 75 Most Valuable Indian Brands ranking released by WPP and Kantar. According to the report, the total value of the BrandZ India Top 75 fell by 6% in 2020, shedding $13 billion in value for a total brand value of $215.608 billion.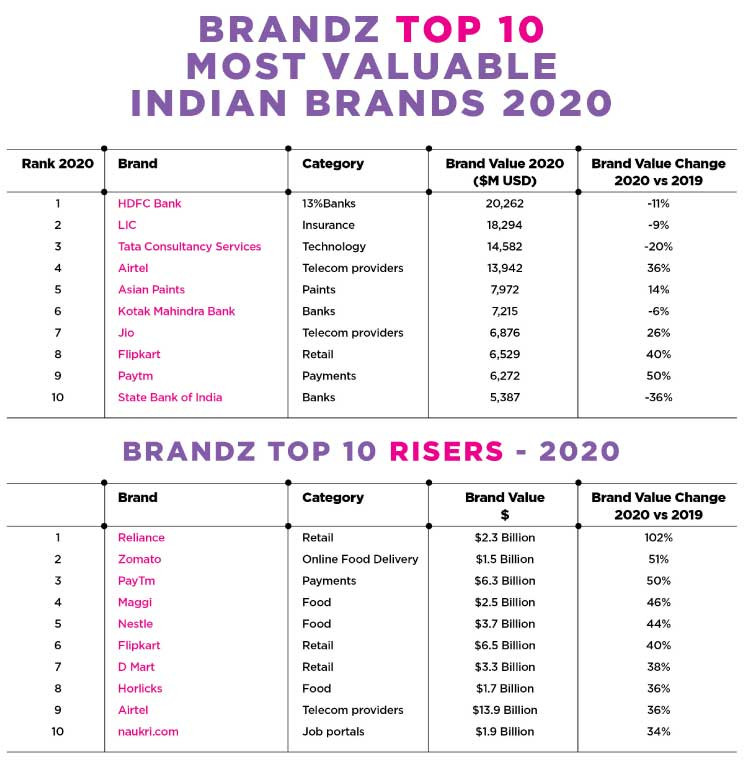 As per the report, 57% brands have declined in brand value in 2020, 35% brands have grown in value in and only 11 brands have grown consistently in the last five years. Despite the overall decline in brand value of the Top 75, 26 brands increased in value and five were new entrants.

Retail and telecom brands outperformed most other categories. Reliance Retail (+102%, no. 25, $2.3 billion) was the fastest riser this year, up 30 places, with telecom brand Jio (no. 7, $6.9 billion) contributing to the overall success of the parent company.

Online retail brands, Flipkart (no. 8, +40%, $6.5 billion) and D-Mart (no. 16, +38%, $3.3 billion) also saw their brand value increase significantly, while instant food brand Maggi (no. 23, $2.5 billion) had one of the highest brand value growth figures (46%) this year. Airtel (no.4, +36%, $13.9 billion) was the top telecom brand, while Jio saw its value increase 26%.

One of five new entrants, BSNL (no. 75, $583 million) also benefitted from the overall uplift in the telecom category, which contributed $25.5 billion to the ranking this year. One of the key trends observed in the report were the 'lipstick effect': Newcomers included personal care brands like Dove (no. 61, $847 million) and Close Up (no. 69, $663 million). Trusted brands have weathered the crisis better than brands with a low trust index, and innovation has also helped brands stay fresh.

Commissioned by WPP, the valuation behind the BrandZ Top 75 Most Valuable Indian Brands was conducted by brand equity research experts, Kantar.



CONTEXTUAL, SENSITIVE MESSAGES WILL DIFFERENTIATE SUCCESSFUL BRANDS: DAVID ROTH

The pandemic has made 2020 one of the toughest years for the global economy. Every brand, irrespective of sector, had to reinvent itself in these challenging and unpredictable times.

All of this makes this year's WPP BrandZ 2020 report even more interesting and crucial. David Roth - CEO - The Store WPP, EMEA and Asia and Chairman of BrandZ shares his perspective on the emerging trends in the new normal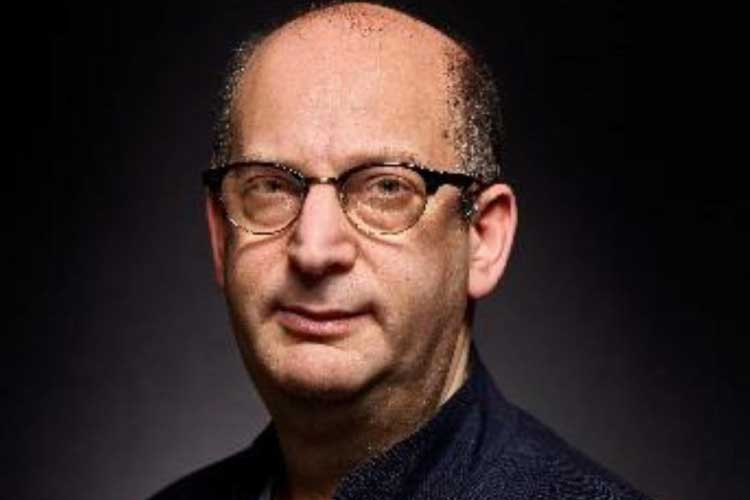 Q] As per the report, India's top brands performed well against other countries where declines in total brand value were much greater. What were the factors that worked for these Indian brands?
Over the other countries, in India, the balance of things has gone reasonably well with a decline of around 6%. One of the reasons that we haven't seen a greater decline in India is the strength of Indian brands.

In particular, the key components of brand value growth, which is their meaningfulness, and also how the brand is well differentiated is a testament to the strength and quality of brand building in India. Here lies a critical point, which is that the amount of investment you make in building a brand has an amazing payback.

It not only helps you recover faster but also helps you during difficult times. Strong brands recover faster and we are going to see the same as we start to join the glide path out of the COVID pier that we are in.
Q]What are some of the key steps that marketers/ brands must take to build trust with the new and evolved consumer, in a socially distant world?
Trust has always been a key pillar in what defines a valuable brand. Our experiences over the last few months and the ones we are going to have towards the end of the year are going to define what we now mean by trust.

Several things that brands did that were invisible to us, especially in terms of health and safety, have to become much more visible. That is going to develop trust. One of the things that we have seen in India, and also across the world, is that despite the difficulties that everybody has had, it hasn't taken consumers' eye and mind off how important it is to the companies and brands to operate in both an ethical way and a way that lessens the impact on the environment.

The third area which is equally important is the whole notion of transparency. Consumers look to see how brands behave versus their claims, and where there are gaps between the two, that has been exposed in the past and that will occur in the future. Another element is value.

Consumers are going to be much more careful about where and how they spend their money and will be looking for greater value propositions.
Q] A lot of digital brands like Netflix, TikTok and MasterCard have made it to the top brands list this year. Do you think it is a momentary phenomenon or will these brands be able to hold their position in the top brand list in 2021 too?
I think they will hold onto their positions, only the growth won't be as spectacular as it was in 2020. Several non-returnable gates will go towards consumers in the way in which we consume entertainment and shop, and those top brands are very well placed to take advantage of that. Of course, there will be some normalisation of it.

One of the key things that we are beginning to see in data from people who track web traffic is that web traffic is starting to decline over the last few months as the lockdown in many parts of the world is becoming less aggressive. But what has been maintained is the transactions that were made on the web and the conversion rates.

These factors are signals that consumers have held onto a fundamental change in some of the behaviours and they probably won't return to the way it was before. Which means marketers around the world are also going to have to be much sharper in the way that they refine their marketing strategies.
Q] You handle many international markets. When we compare Indian brands with others, what are some of the strong areas for us and where do you see the need for more work?
One of the things that always positively surprised me about working in India with our Indian colleagues and clients is the amazing amount of both, the intellectual ability that they have and also a can-do attitude and a very positive outlook on life and circumstances.

These qualities have been very important in the way in which Indian brands have responded to the challenges that nobody would have predicted at the end of 2019 which was a pretty good year for brands across the world.

The areas where India has some catching-up to do is in the e-commerce space. Although, frankly, the speed in which that has happened over the last few months and also the last couple of years has been quite dramatic in India and that is quite impressive.

But there is still some catching-up to do in terms of digitisation of processes and procedures, making things more simplified and quick for the consumers so that the time is reduced for them to complete a purchase and that is extremely important. But I have confidence in the skill ingenuity of Indian marketers, and how they go about doing things. It will make this gap disappear soon.
Q] What are the long-term transformational changes in the working of the overall business that we can expect in India and globally?
As I said 2019 was a good year on average. We are all realizing that it is pretty unlikely that retailers, brands, and manufacturers are going to have as much turnover for the next 2-3 years as we had in 2019. Businesses do need to be re-engineered, become significantly more efficient and need to get close to their consumers.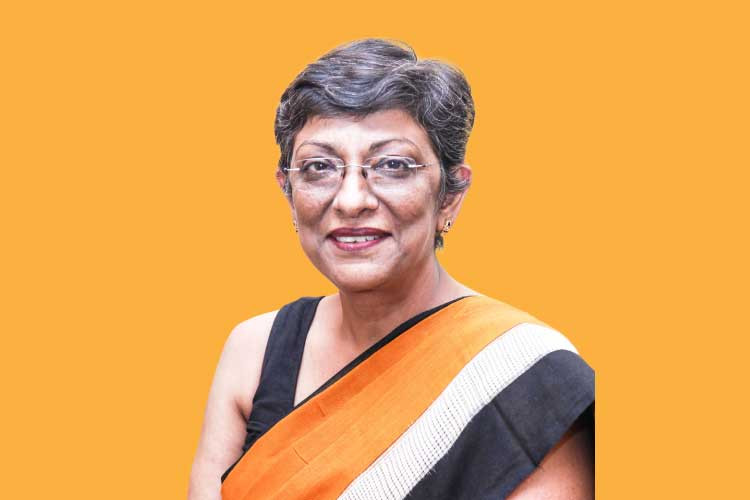 'CONSISTENT BRAND BUILDING GIVES YOU BRAND VALUE'

Q] What do you think are the key factors that have brought the Indian Brand 75 Index down by 6%? What are the reasons for the global Index growing by 6%?
The drop has actually come because of largely the two sectors, BFSI sector and the auto sector which are significant contributors to the portfolio in terms of brand value.

Some riser categories like retail, telecom, digital and food have mitigated the possible impact of the pandemic, otherwise it could have been worse. Globally, technology companies like Microsoft, Google, Amazon, Facebook, etc. have contributed in a big way to the Index.
Q] What have been the key factors behind the rise of sectors like retail, telecom, food and digital?
The sectors that have grown are retail, telecom and personal care. These were the sectors with which consumers were interacting even during the lockdown. These brands serviced them well during the lockdown and the consumers are rewarding them in terms of the equity that they have built.

With regards to personal care, in difficult times like these, when consumers are actually not spending on big ticket items, personal are becomes a route through which they can actually do a bit of affordable indulgence, which is what we call 'the lipstick effect'. You are not spending on holidays but at least can buy one small lipstick. So, people are spending in self-grooming and personal care.
Q] FMCG brands along with ed-tech have been major spenders during the pandemic lockdown. However, we do not see those brands in the top 20 ranking. What is the correlation here?
The thing to remember here is that what finally pays off is not only ad spends but consistent brand building. Brands are built through various methods and advertising is one of them. A brand for example, TCS, doesn't advertise much but it has equity among its customers and it has great financial evaluation.

Every company including the FMCGs spent less during the lockdown, but the top 10 to 20 brands are being rewarded for all the years of brand building and equity which is paying off even during the pandemic. The correlation is that consistent brand building gives you brand value.
Q] What trends do you see in terms of recovery of the Brand Index in coming years?
The economy is likely to take some time to recover. The consumer trends which we saw during the pandemic will continue. Consumers have seen the benefits of digitisation, online shopping and in-home entertainment. Another trend that we will continue to see for a while is this consumer restraint and curb on spending.

People's incomes have reduced and there in uncertainty about their work. This has brought fear that confidence will take time to return. Until that happens, they will not spend on anything more than essentials for some time. Demand for non-essentials will have to be created and consumer confidence will have to be built again.