Q] What was the idea behind Philips India's #TenOnTenYou campaign?
The #TenOnTenYou campaign actually comes from our consumer insights. At Philips India, we do regular interactions and engagements with consumers where we try to understand what is happening with their lives. Coming to this target group, 15-35 year-old consumers, what we have seen is that today, especially youngsters, are more vulnerable, as they always have the fear of getting judged. Today consumers are under pressure, and have the fear of getting judged. So in order to start a conversation, we started this movement #TenOnTenYou, which means that what score your friends, relatives or cousins give you, it doesn't matter. What really matters is that you give yourself ten out of ten. We have Virat Kohli as the face of the brand who drives this message and he is the perfect example of #TenOnTenYou.
Q] What was the marketing mix of the campaign, and can you tell us the ad spends for the campaign?
We are reaching out to the youth, within the age group of 15-35 years old. We have realised, post-pandemic, youngsters want to go out a lot more. The last two years, people were at home due to travel restrictions. So as our marketing mix, we had to incorporate Out Of Home, TV, OTT platforms and Digital. We have always had a presence with social media platforms. Especially this time, we have gone heavy on social media influencers. We used to have about 10-12 influencers till about last year, but this year we are engaging through 150 influencers. Looking at the percentage breakdown of ad spend allocation, we have lowered Digital to 40% from 50%; 20% is on OOH; 30% on traditional television; and the remaining is the others category.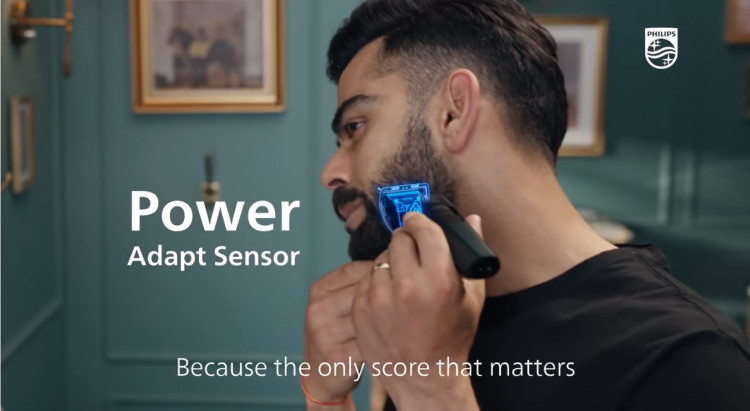 Q] The TVC describes how a celebrity is judged by the audiences, so do you think a brand's image takes a hit when a celebrity who endorses the brand has an unfortunate career downfall or during controversies?
Yes, it does. We have seen it many times when the celebrity has a downfall. I think it obviously impacts performance. When we work with a celebrity as a brand ambassador, it is not about the short-term batches because if we look at Virat Kohli, he is a class player. Today, form is temporary, class is permanent. Having said that with all the engagements that we do with consumers we still see that Virat has a great appeal among the consumers, especially among the younger ones. He is still a big role model for our consumers. The number of impressions that we are having today is 30% higher than the last year.
Q] The Covid-19 pandemic affected almost every sector in India. How did Philips India cope with the pandemic, and what trends did you notice in the electronics industry?
It has been a roller-coaster ride for most brands. If I speak on behalf of the electronic industry, the onset of the pandemic was not an utter chaos across the industry. Lockdowns were probably not anticipated, but when it happened, brands found a way to reach and engage with consumers. At Philips we have seen a lot of new consumers coming in, be it teenagers or working professionals. People were at home, working, so they still had to be on the camera for virtual meetings. In order to reach out to our consumers, we actually did a campaign with Virat Kohli, where he was trimming his beard live at home, which was the #TrimAtHome campaign. We saw almost 25-40% of consumers entering the category during the last couple of years, they were all first-time users. I think crisis is an opportunity for brands to engage and go deeper and build a long-lasting conversation with consumers, and that is the philosophy that we have.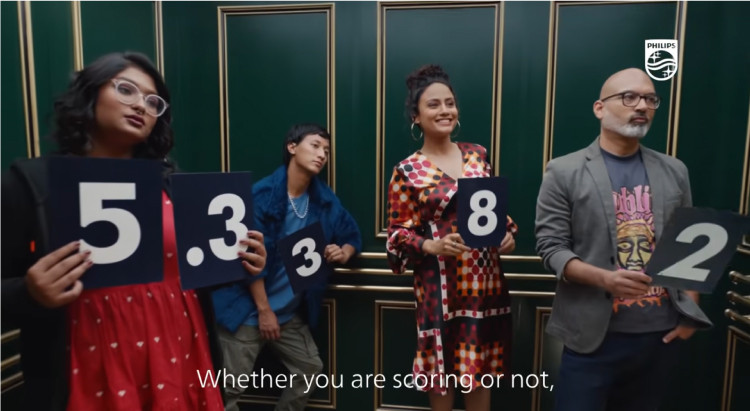 Q] Today, Indian markets are flooded with Chinese made electronics, does that affect a more dependable and established brand like yours?
There are and there will always be these cheap products available in the market. But, at the end of the day, the cheap products leave a bad taste in the mouth. I am not worried about the market shares because I have been long enough in the industry to understand the quality of the product, and the innovation that we bring. We are the brand that established men's grooming in the country, and now we are seeing the emergence of Chinese origin, cheap and sometimes fake products. These cheap products, their battery runs out in two months, the cutting plates stop working, and you need to continuously oil it. The product also heats up. We are not worried about the market share loss, we haven't lost, in fact we are actually gaining shares.
Q] As you have said that Philips India established men's grooming portfolio in the Indian market. There are several other brands who provide men's grooming products, whom does Philips India consider its competition?
From a competition perspective, there are many brands out there in the market and there are brands which come out everyday. Our primary focus is consumers. So, while there are competitors out there, I think they have their own space and their own strengths, and also have their own market shares. I won't say we are not focusing on them, but our primary focus is on consumers.
Q] How is Phillips India planning to increase its revenue growth and what innovative strategies does Phillips India plan to utilize for maximizing the reach?
There is a big focus on India, and it's not a short-term play, it's more about how can we go deeper into India. We are creating a very India-specific innovation pipeline with all the segments that we play in, whether it's the men's grooming, female beauty, mother and child care, which is Avent, and also oral health care. There are three ways in which we want to accelerate growth. First is to bring a very strong innovation pipeline. Second is to drive down distribution by going into tier II, tier III cities and further. We are also expanding in the Digital space, and partnering with all platforms, including verticals. We are also looking at having a direct engagement with consumers through D2C. Last but not the least, we are engaging with consumers through campaigns and brand activation.
Q] We have seen a massive growth of e-commerce platforms, how much sales does Phillips India products register online as compared to offline?
I can easily see that we have an equal balance of sales on both online and offline. For us growth is not only coming from online, it is also coming
from offline. We are continuing to expand into lower tier cities and this
is where we see a massive growth of Digital. In metro cities, convenience is important, but we are also witnessing an increase in e-commerce penetration in the lower-tier cities. Consumers want to go to the store, have that personal interaction, and learn more about the product and then purchase.