Two years ago, TV18 made its foray into the lifestyle entertainment genre with the launch of FYI TV18, a channel with curated content focused on food, home, glamour and relationships. Now, the channel has launched in high definition with FYI TV18 HD, coming on the back of its earlier success with FYI TV18 SD, HISTORY TV18 SD and History TV18.
Speaking on the launch of FYI TV18 HD, Avinash Kaul, COO-Network 18 and MD, A+E Networks I TV18 said, "Within a span of just two years, FYI TV18 has grown to become a leader in the lifestyle genre. This is thanks to our original, unique, localised and differentiated content, digital-first strategy and strong distribution network. With the launch of FYI TV18 HD, we will be offering premium content for a niche audience which is more evolved in taste."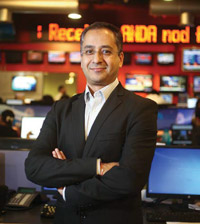 FYI TV18 HD will be showcasing some of the best international shows and formats, including 'Married at First Sight', 'Best in Bridal', and 'Tropical Gourmet with Justine Schofield', which will be exclusively available on the channel. Food and Home Improvement will be other areas of focus for the channel, given the higher viewership observed in those segments for international channels such as TLC and Fox Life. As per Kaul, the channel's content will be reviewed every three months to rebalance its portfolio of offerings.
With over 40% of viewers tuning in on a weekly basis to FYI TV18 and an approximately 35% channel share which is the highest in the lifestyle genre, according to Kaul, FYI TV18 has had an impressive success story.
"When we launched FYI TV18, we positioned the channel on three distinct platforms which weren't existing technically on the other lifestyle channels at that point of time. So instead of the glitz and glam of international lifestyle channels like TLC, we decided to focus on all things Indian. Initially, we didn't have travel or luxury, instead we created a new standard with locally-curated content on relationships, food and more. Consistency of offerings has been our strength, combined with unique content partnerships, a digital-first strategy and the availability of the channel in 100 million households in India," Kaul tells us.
And how have advertisers reacted to the channel? While for HISTORY TV18, almost 10%-15% revenues come from content partnerships, for FYI TV18, it is still early days, with this number still being in low single digits. "There is that certain gestation period for brands. By the time a channel achieves leadership and the revenue starts flowing, there is a lag. With the HD launch, we are hoping that we attain the numero uno position in terms of revenue, in this genre," Kaul tells us.
With eight million-plus online views and sizeable traction on Facebook, FYI TV18 is looking at a TV plus Digital strategy, going forward, with customized co-created brand content and storytelling being offered on both, TV as well as the digital platform. There will also be a clear focus on more original, differentiated content, which will appeal to advertisers.
On whether the channel will adopt a different content strategy for Tier II and III cities, Kaul says, "We would typically be offering the same content in multiple languages. Currently, we are available in Hindi, Tamil and Telugu. That said, we will be looking at a different promo strategy for those markets, and will pitch the content very differently, keeping in the mind the sensitivities of that particular market."
Ultimately, FYI TV18 is looking at revenue from content brand partnerships contributing to a sizeable percentage of the channel's overall top line. Some brands for whom FYI TV18 has created tailor-made integrations include the likes of Skoda, Jeep, KRBL, Ritu Kumar, L'Oreal, Pepsi, Oppo, Tata Sampann, Flipkart, Google, Gyproc, Apollo Paints, Korea Tourism, Philips LED, Sony Bravia, Domino's Pizza, and Kurlon.
With the launch of FYI TV18 HD, Kaul is hopeful of taking the channel to new heights of success. "We are expecting a great run as far as the HD business is concerned," he concludes.