Launch of a new Print publication in the current industry scenario is novel and a challenge at the same time. However, even today, when we do not see a newspaper at our doorstep in the morning, our day seems to miss a major element. Probably that is why Print in India is still thriving and that is the opportunity FirstPost from the Network18 stable wants to be part of.
'The last word in news' says the masthead of the newly launched weekly broadsheet Firstpost, from Network18 Media & Investments Limited. With the idea of going media agnostic, the online news brand has launched a 20-page print broadsheet, every Saturday, emphasizing narrative, long-format journalism with a focus on national politics, culture and art and a mix of hard and soft feature news.
"In a market with a 100-plus-yearold brand and lot of loyalty inherent in the category; a category which in the developed world has almost imploded, and even in India it is gradually trending downwards – to launch a newspaper successfully in this market is full of challenges, but we do believe we have identified a sweet spot which will help us succeed," says Rahul Kansal, Business Head, Print & Brand Advisor, Network18.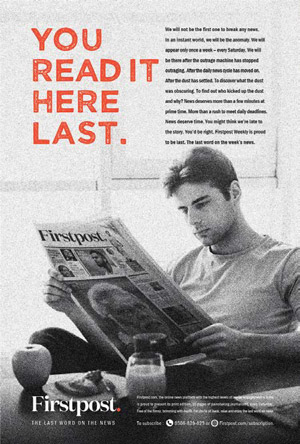 THE SWEET SPOT TG
A weekly broadsheet in Mumbai and Delhi is obviously looking at a TG of upmarket, discerning customers, interested in good quality content. But these are also the readers who have shifted to online in a big way, especially the young English readers. So what is the opportunity that FirstPost is looking at through launching a Print edition?
One, apparently, is the composite package (across mediums) that the group can provide to a brand– print, online and even television. Plus, Print alone has opportunities. "While at one stage English publications would automatically stratify higher echelons of the society, today it has become quite mass. For certain upmarket brands like Calvin Klein or Rado, publications like a Times of India or a Hindustan Times would not necessarily reach their audience. Therefore, there is an opportunity to reach out more sharply and in a more targeted manner to these discerning upmarket customers, especially on the weekend," explains Kansal.
Another opportunity that FirstPost is looking at is action-oriented, deal-centric advertising over the weekends for this audience. Business dailies tend to have a drop of circulation on Saturdays and bring out lifestyle supplements, for example ET Panache. Also Saturday is an important time for advertisers. People are willing to go out and take part in a sale or go for a test drive or site visit and magazines are not good for action-oriented deal-centric advertising. "As well as those who are seeking to reach influential people in the corridors of power, this is a sharper way to reach people who matter," says Kansal.
SUBSCRIPTION REVENUE FOR ONLINE
Content of the Print edition will also be available behind a paywall online and thus help build subscription revenue for Firstpost.com. "Content is platformagnostic, especially good content. The digital consumer reads a lot but not necessarily the best. Reading the best becomes somewhat of a lottery, dependent on whether they open the right links from among the dozens they are dumped with every day. Firstpost print content, arranged to enable quick access in one place, will provide that reading pleasure to digital readers as well. Existing digital readers can access the content free for a limited period and then signal their readiness to put a premium on the content they cherish," says BV Rao, Editor, Firstpost.
The publication has about 23-24 dedicated editorial staff along with sharing responsibilities with the online desk and a dedicated marketing and operations team. The paper is looking at reaching about 50,000 readers in the two metros, and reaching a break-even in three years time.
"In a highly cluttered market, the need of the hour is good content, well presented. FirstPost has done a great job with their online edition and I look forward to reading the paper now in my hands every week," says Lara Balsara Vajifdar, Executive Director, Madison World.