Whether it is grooving to the tunes of the famous Bollywood song 'Chipka le saiyan Fevicol se', kids studying art and craft, or mending broken objects at home or work, the one brand that unequivocally comes to mind, whenever you think of an adhesive, is Fevicol.
The brand, hanging around since 1959, still stays true to its core of creating unbreakable bonds. And as Fevicol celebrates its 60th anniversary with its creative partner in crime, Ogilvy by unveiling its new campaign, the duo continues to believe that a good story is key.
Speaking about the new ad spanning 90 seconds, the longest ever aired by the brand, Bharat Puri, MD, Pidilite Industries says, "Our whole belief is that if you have a good story to tell, your ad will give you the same TRP like that of a 20 second ad. This is a film and we're going to air it on leading GECs, digital platforms and will be supported by Radio and Cinema, without being shortened."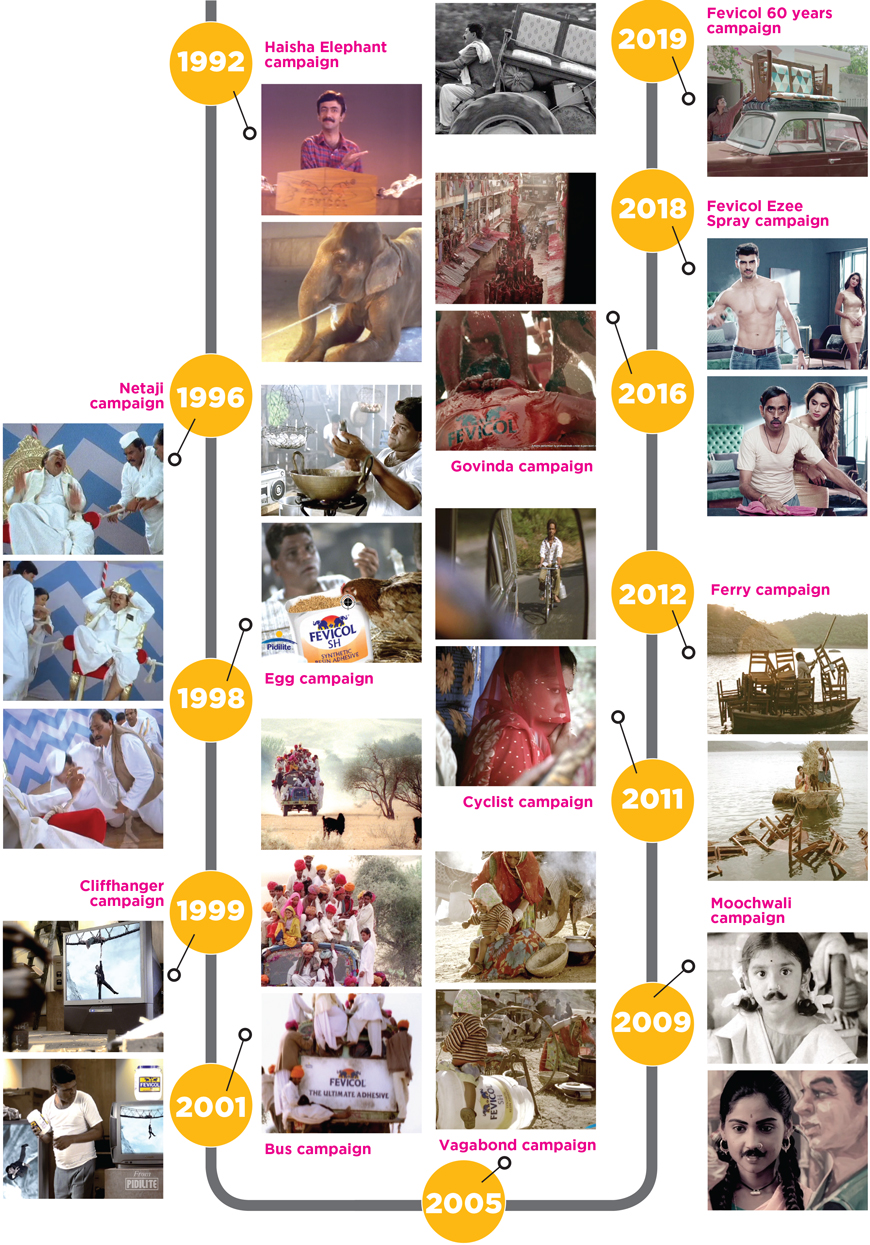 This is the first time a brand's advertisement will be placed as content on OTT platforms, so viewers can watch it as any other program. What's fascinating about the TVC is the use of a dialect from Uttar Pradesh. The commercial, which will not have subtitles, will, however, be translated into seven languages, including Hindi, Tamil, Bengali and Marathi.
"Everything must have its own root, especially when you're capturing 60 years," says Piyush Pandey, Chief Creative Officer Worldwide and Executive Chairman India, Ogilvy. Speaking about the dialect he says, "We've used music which is universal. But we always make sure to pick up flavours of the nation... The human element we use is beyond languages, otherwise we wouldn't have used the UP dialect in this."
This belief has remained since the 1970s, when Ogilvy bagged the creative mandate for Fevicol with Piyush Pandey joining the account in 1989. Fevicol ads are known for their humour, and Pandey says that the brand has neither been outright laughter inducing, nor has it seen life as a business problem, but tries to strike an emotional chord with customers.
Despite having around 200 brands under Pidilite, the company is often referred to as the 'Fevicol Company' by many customers. "Fevicol stands like a mother brand and for us it is very important to keep the mother brand shining", Pandey adds.
Even with a flurry of successful campaigns, Puri believes that ads may fail, but efforts must continue. "Not everything we've made is widely successful, but we will never stop pushing the envelope," he says, adding that this time around the company will spend close to Rs 20 crores on media. "Our digital spends compared to our competitors is nothing. It is a proven fact that it is not only the medium that is important, it has to start with a great idea", says Puri.
Despite being a leader in the adhesive category, the search for unexplored categories never ends for brand Fevicol. "We're pioneers spotting unserved categories and never treat Fevicol as a mature brand. We develop the category, grow it and hopefully own it," he says, adding that there is more opportunity to be tapped, "The household penetration of Fevicol is still less than 30%. I still have two out of three households that don't use Fevicol. In India, only tired marketers believe that brands are mature."
Fevicol and Ogilvy follow a no-deadline policy for the conceptualization of their campaigns and their ads have gone viral even years after the campaign was initially aired.
So loved are its campaigns that viewers have been sending story ideas to the brand for years, and it has taken notice. The 'shadow ad' was in fact the brainchild of an editor who shot an amateur video before he shared the idea with Ogilvy, says Pandey. "I discussed the shadow ad with Pidilite and we bought it off him, and it won us a big award in India," says Pandey.
In an age of growing people equity versus agency equity, Fevicol has had a long and exciting relationship with Ogilvy, and continues to have an unbreakable client-agency bond, much like the brand promise. "Every client-agency relationship starts with trust and then builds up with ownership. To my mind we have never regarded Ogilvy as the agency, it co-owns the brand with us," Puri remarks. "They continue to display the same passion for the brand that they did years ago. We've approved ads on the phone too, that's the kind of relationship we have," adds Puri.
The company has grown by double digits in the past four years and has recently taken up new ventures with a Spanish and an Italian company, aiming to continue spotting categories which it believes are categories of the future, to create Fevicols of the future.