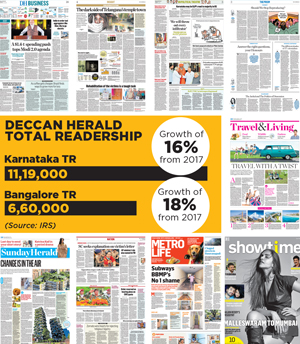 Karnataka-based English Daily Deccan Herald, published by The Printers Mysore, has undergone a major revamp exercise. The redesign is part of overall repositioning of the publication across five areas – change in content strategy, visibility across formats, strengthening product portfolio, increased integration of Print, Digital and onground activities and design revamp. The repositioning aims to attract a younger audience and more women readers. With the tagline 'Power of Good' below the new aqua blue masthead, the publication intends to drive 'Power of Good' journalism to bring about positive change on the ground. The new layout has been designed by the Edinburgh-based Palmer Watson Words and Pictures design agency.
As part of the exercise, the publication has beefed up its portfolio with a new business section on Mondays, a new Sunday opinion page 'The Prism' and an entertainment supplement on Saturdays called 'Showtime'. Travel and Living sections have been merged into a new supplement – 'Travel & Living' - on Tuesdays. The publication has refurbished its digital presence in the last 8-10 months and has seen an increase in traffic by almost five times since then. It intends to increase its engagement integration across Print, Digital and onground activities.
'WE WANT TO ATTRACT MORE YOUNG READERS'
Sitaraman Shankar, Editor, Deccan Herald talks about the change in content strategy as part of the repositioning exercise and the new tagline 'Power of Good'

Q] Tell us about the change in content strategy at Deccan Herald and the way you go about stories after the repositioning exercise.
It's not just about the visual appeal and the optics of the redesign; it's also about the content that goes with the paper. This has been a continuous process. Over the last 6-7 months, we have introduced some features that were lead-in into the redesign. We introduced a section called 'Political Theatre' which has a lot of lively caricatures, profiles, interviews, analysis about the politics of the country. We also introduced political cartooning. The next step was an edit page cartoon. We introduced a section called 'DH Deciphers' which basically breaks down concepts that are in the news into digestible bits so that people understand what they are reading. We also re-jigged the edit page. Now, along with the redesign, we are introducing a set of elements like edit page on Sundays called 'The Prism, business section in pink on Mondays, a supplement on entertainment called 'Showtime' on Saturdays and have merged 'Travel and Living' into a new supplement on Tuesdays. We will be making a few more changes on the Print side.
Q] What is your insight behind the new content?
We want to cater to a lot of groups that we may not have catered to in the past. Our readership tends to skew towards male and slightly older people. We want to bring in a lot more for women readers as well as for youth. So, if you look at the way it looks in terms of colour, in terms of readability and liveliness, it is skewed towards a younger audience.
Q] How open are younger audiences on picking up a newspaper and reading it rather than reading it online? How are you taking your content across platforms?
A large part of the redesign is geared towards that. It's no secret that younger people nowadays gravitate more towards devices and we intend to have an answer for that as well. In terms of the Print newspaper, it is not only young and lively, but also provokes intelligent discussions and ideas and is a paper that younger readers will like. We have a fairly vibrant website, the traffic for which has nearly quadrupled in the last six months.
Q] What is the idea behind the tagline 'Power of Good'?
We believe that good journalism is journalism for good. Our stories and articles have resulted in positive change for a large number of people and we intend to step that up. We are working on a suite of products on the editorial side. All of that is guided by a desire to make a difference. We want to build a huge amount of traffic on the website and another digital property that we are working on. We want to grow circulation of the paper and also make it a high quality paper. The two go hand in hand.

Q] How long did the entire process of repositioning take?
The entire process started towards the end of 2018. We have been making changes in the paper simultaneously in consultation with the editorial board. For example, we made page one more vibrant and slightly busier with something for everyone. The redesign exercise has been happening in the back-end simultaneously.
Q] What has been your key challenge in terms of making changes in the newspaper, content and overall strategy?
This is a very well respected, high quality newsroom. The publication has been around for 71 years. So, making change takes a little while. But there has been a great deal of openness to change gear, both within the team and among the editorial board (owners of Deccan Herald). So, our experience has been entirely positive.
'REPOSITIONING WAS THE TRIGGER FOR REDESIGN OF DECCAN HERALD'
Karthik Balakrishnan, Chief Executive Officer, The Printers Mysore tells us about the entire process of redesign, creating multiple touch-points for young readers, the idea of investing in a Print brand in the current macro scenario and the structural shift that the Print industry is undergoing

Q] Please tell us about the insight and concept of the redesign and refurbishment of Deccan Herald?
This is more than just a cosmetic redesign. The genesis of this exercise goes back to late 2017 when we decided to reposition the brand. We spoke to many of our stake-holders, got a lot of inputs which went into crafting our positioning 'Journalism for Good'. In today's day and age, when people are literally bombarded with news and/or information 24/7 across formats and platforms, good journalism ought to drive positive change or make a difference to people's lives and society at large. So, the repositioning was the trigger for the redesign. The impact of this repositioning exercise will be felt across five broad areas - revamping content strategy; leveraging content across formats; strengthening the product portfolio by adding new supplements and niche products; increasing integration of Print, Digital and on-ground activities with increasing thrust on involving different stake-holders in bringing a positive change and lastly the redesign and visual make-over.
Q] How do you plan to strengthen your product portfolio?
Apart from the addition of new supplements and pages in the newspaper, we are looking at a few niche products across various target groups and topical content which should potentially be standalone products by themselves. This will be rolled out in a few months' time. So, we are not only strengthening the Deccan Herald portfolio, but the portfolio on the English language front as well.
Q] The Print industry is not growing. In fact, many newspapers are cutting down their pagination. What was your objective and insight behind investing in the Print brand in such a scenario?
Pagination going up or down is more of a response to the price movement in news print. We all are aware that vernacular newspapers still have some kind of a runway in front of them whereas the English newspaper industry will be the first to face the slowdown heat. But, there are two ways of looking at it. Our personal reading is that going forward, Print will probably become more of a niche product. Days of mega brands that basically carry news will come to an end. There will be a lot of niche products in the market where Print will still have a role to play. Future success of companies in the industry will depend on how well they identify these niches and come up with products that cater to these niche markets. These may have smaller circulation numbers but a lot more engaged and involved readership. And that is the area we are currently working on where we have a couple of products in the box.
Q] Can you tell us how the company is doing financially?
I guess we are in the same boat as the rest of the Print media industry. All of us are grappling with the speed at which this whole business model seems to be changing. There is a structural shift that the industry is undergoing, whether you talk in terms of readership and circulation or the value it offers to advertisers. Competition for the same marketing dollar has increased with the emergence of a lot of other options and it is in this environment that Print has to figure out a way to survive and thrive. The basic challenge facing all of us is of a business model that will work in the next two to five years from now and hopefully 10 years from now. A lot of experimentation is going on.