Q]

What was the insight behind roping in Salman Khan for your latest communication?
Dainik Bhaskar has roped in Salman Khan for this big new circulation and readership scheme that we are driving. We chose him because this scheme is larger than life. It has prizes worth Rs 21 crore for the readers. And in terms of brand and campaign recall, we needed a larger than life image. And Salman Khan fits in very well in this whole theme.
Q]

What is the media plan for the campaign? How do you plan to amplify it across your markets?
We are extending this campaign through Print, Outdoor, Digital, Radio and door-to-door communication, and there are a lot of on-ground activations happening for this campaign. This is a four-month long campaign that we have just rolled out this month. In fact this is the biggest promotion scheme for circulation readership done by any player in a long time. No one has ever come close to it. The first prize is gold jewellery worth Rs 50 lakh and we have multiple prizes too. There are also assured prizes for all the people who participate.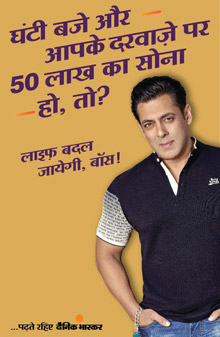 Q]

What kind of circulation growth are you targeting out of this entire campaign? What is your end objective?
We are currently at around 58 lakh copies as we speak. With this campaign, we are targeting to grow by at least 5% to 7% in circulation, which is a growth of almost 3.5 lakh copies - 4 lakh copies. This will also help us increase our penetration and create excitement across the market.
Q]

Any specific geographies you are targeting for this campaign?
This scheme will run through all of our 12 markets. But, the biggest growth will come from Rajasthan, Gujarat, Madhya Pradesh and Bihar because they are the sizeable markets. This campaign is also a kind of an acknowledgement for our existing readers.
Q]

What would be the cost to the company for this entire campaign?
So the prizes themselves are about Rs 21 crore. Then we have the investment in terms of media spends, which is around Rs 10 crore.
Q]

How are the numbers looking for this quarter and for the entire year?
I think circulation-wise this scheme should be able to really help us a lot. If you look at all of our efforts in Rajasthan from the past two years, we have now reached a circulation in the state of 16,35,000 copies as per ABC. Our endeavour is that this campaign should give us a good boost in terms of growth and circulation. Thanks to our circulation growth, we have been able to increase our advertising market share in most of these markets.
Q]

How do you see the coming year shaping up for the Print industry?
Because of the elections, the last quarter, which is the first quarter -- April, May and June -- for every industry and every publication would be slightly subdued. This is because 15%-18% of our revenue comes from the government, and this goes down during the election season because of the code of conduct. But we are excited about the next three quarters. The government too is rolling a lot of benefits in the market and helping to push the consumption up. There is a lot of liquidity in the market, so things are looking pretty positive for the industry.
Q]

What is the key challenge for you right now?
The challenge is to create the excitement around the readers. A consumer needs to feel happy while consuming your product. He should feel that we have learnt something new or got some more knowledge. That is the challenge we all need to address.