Q] What are the insights behind your latest ad campaign?
We are trying to take a very hyper local approach, and South India happens to be an emerging market for us. So, we thought of tying up with faces that are more popular in that region. We found Nivetha Pethuraj apt for our TG, and hence, roped her in. We are looking at millennials with purchasing power, because our products are high ticket items. This is one of our several campaigns in this region specific approach. In the upcoming campaigns we will have celebrities who have an appeal in other regions such as Kolkata, Ahmedabad, among others.
Q] Today, there are a variety of brands in your space. What separates you from the other brands?
Today, our market share in India is more than 50%. Earlier, there was only one very popular brand in this space, Invisalign. They are the global market leader with presence in across 180 countries. But their business model is B2B. They have tied up with different dentists, and after seeing their advertisements the customers visit those dentists. There is no standardisation in services and costs. On the other hand, our approach is D2C. When we entered this space, we were the first at-home scan provider. What we do is that instead of asking the customer to come to a clinic or visit a dentist, we send our professionals to the customer's house to do the scan free of cost. We were the first player to provide this service, and that was the biggest differentiation that we brought to this industry. Our second biggest value differentiator is that we have a full stack integrated value chain. It means everything, including the marketing team, the customer support team, the manufacturing units are in-house. We have a team of orthodontists and dentists who work in each and every case. So nothing is outsourced.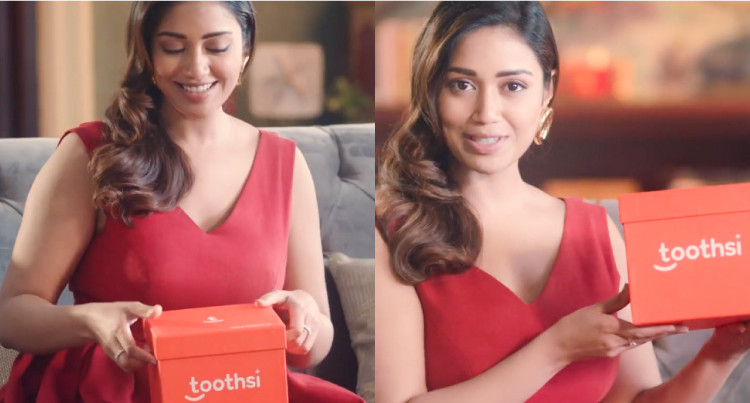 Q] Ever since you entered the market, how have you connected with the customers? Can you give an idea about your marketing mix?
In our space, every customer is unique, and hence it's not a mass product. Each customer will have a customised aligner. So, we have a very personalised approach. Secondly, for educating people, we have taken a 'Digital first' approach. We have realised that our product requires a bit of information and understanding. Therefore, through our campaigns we try to educate the customers in a creative and innovative fashion. While doing so, we talk in the customers' language, rather than a dental or medical language. Apart from getting connected with the Indian customers, we are also on the verge of entering the overseas markets. We are at the final stage of paperwork for setting up business in the Middle East region.
As far as our marketing mix is concerned, 80% of our focus is on Digital. The rest is a mix of Outdoor and Print.
Q] What was the growth rate in 2021? And what are you expecting to achieve in 2022?
As compared to 2020, our growth rate in 2021 was 700%. In 2022, we are expecting to see a growth of 300%. You may say that after seeing seven fold growth in 2021, we have set a low target for this year, but there are multiple reasons behind it. Initially, we started with a few cities and then we grew at a very fast pace by expanding it to multiple places. Now we want to penetrate further into the existing cities. Also, we want to approach those people who are not thinking of teeth correction. We have to go and make them realise that if they have gaps or crowding issues in their teeth, then there is a solution available. Most of the people believe that they've missed the boat if they have not gone for braces during their childhood. But that's not the case.
Q] A lot of smaller brands have entered your space in the recent past. Do you see their entry as a challenge?
Not really. We have designed the communication around the D2C model for providing customers with aligners directly. There were not many brands before us and thus we have an early-mover advantage for sure. We understand the industry, the customers and their needs very well, and we also have the expertise with our own manufacturing facilities and orthodontists on board. So it's very tough to replicate.
Our biggest challenge right now is to create awareness about the product. A lot of people still don't understand what the product is about, what kind of problem it solves, how much it costs etc. We are working on it.