Q] Tell us about the 'Power of Two' campaign and its relevance in the current climate.
The 'Power of Two' campaign is about recognizing that two is better than one. Given the current scenario, everyone must adhere to Covid protocols. Moreover, the medical fraternity recommends Double masking as an additional safety precaution. We at Allen Solly recognized the new need for a Double Mask for our consumers and hence introduced 'Allen Solly Duo Defence Anti-Viral Mask'. The masks have been tested with a government approved laboratory with higher Bacterial Filtration Efficiency and also treated with HeiQ Viroblock Swiss technology that is tested to provide resistance against common viruses and bacteria as per global testing methods, upto 20 gentle washes. However to be clear the treatment does not claim to prevent infection/diseases or imply any public health claims to the wearer.
Q] Can tell you tell us more about how the Duo Defence Anti-Viral Mask works?
This new product range is in line with customer needs, providing twice the safety and comfort compared to the current variants of a normal mask. Duo Defence Masks is our way of creating a safe environment for not only our customers but also for those around them.
The intent of a 'double mask' is to wear a surgical mask first and top it off with another cloth mask. The overall idea of wearing two masks, sparks discomfort, especially when we have recently come to terms with wearing just one mask on a regular basis. It is with these insights that we created the Duo Defence Masks. The Duo Defence Masks comes with five anti viral layers, with additional detachable and reusable filters which are to be placed inside the mask. These filters are specifically created with an anti-viral finish to ensure the safety of a double mask with the comfort of one.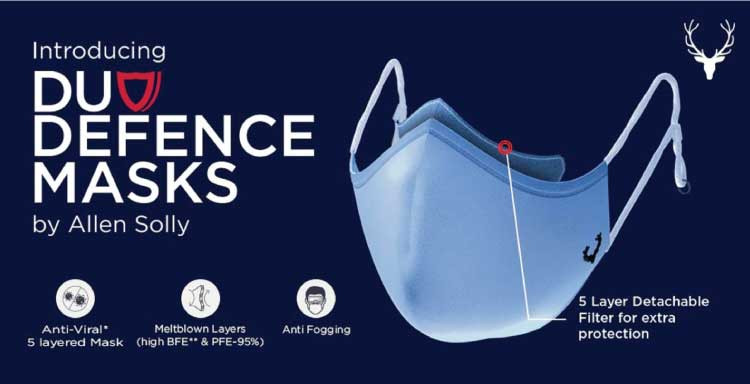 Q] What other features does the mask possess that will incentivize customers to choose it?
Addressing our consumers' needs has always been our priority. Allen Solly's Duo Defence mask with an anti viral finish* and additional detachable anti-viral filters* ensure maximum protection and comfort. These filters are reusable for up to 10 washes and the masks- up to 20 gentle washes. These melt-blown layers ensure high bacterial**filtration efficiency for the product. The masks also come with an end-to-end nose clip that prevents aerosol flow and ensures a snugfit. We believe these features make the Duo Defence mask the perfect choice for our customers.
Q] How are you advertising this product? Which mediums are you using?
We have created a digital film that highlights the features of the product and its benefits. This film is currently being promoted on various digital channels and platforms including- Facebook, Instagram, etc.
Q] The face mask has taken over fashion recently. Does Allen Solly plan to continue in this business and release more masks?
Allen Solly has strived to create products that are relevant to its times and are born out of customer needs. While masks are a product of necessity and an essential part of our lives and ensembles, the brand will continue to invest in developing products and services that are relevant and in demand.
Q] The pandemic has brought about permanent changes to our lifestyle, how is the brand adapting to the new normal and what are your future plans?
Our lifestyle has undergone a major shift due to the pandemic. From wearing a mask while stepping out, to working from home, the world has witnessed major behavioural shifts. We as a brand feel, that such changes will continue to alter consumer needs. Keeping up with new consumer dynamics, Allen Solly will continue to create relevant products like masks, face shields, etc. for its consumers. Our collections have become more WFH driven, and this insight will continue to drive our collections in the future as well. Customers will see more casual collections coming up within the Allen Solly portfolio. We have also brought about changes in our e-commerce business due to the challenges that the pandemic threw at us last year. We launched the Handmade Shirts Collection, celebrating our factory worker's resilience during lockdown. We also launched our Virtual School Range for Allen Solly Juniors to service need for t-shirts in this category. We also introduced Travel Safe Products for our customers which included TravelSafe Jackets, Facemasks, Face shields etc. For Allen Solly Women, we introduced lounge wear and a wider range of casual clothing with comfort as the key value proposition. With our focus on developing our distribution networks further to help best meet customer needs, we continue to develop products across categories. To reach out to our customers in Tier-III and Tier-IV markets, we continued to expand our presence in these towns.

Q] The shutting down of physical stores especially during the first wave has had an adverse impact on most retail chains, how have you revamped your strategy since then?
Allen Solly faced the same challenges as everyone else due to the onset of the pandemic and the subsequent lockdown. Our stores shut down and our sales took a hit as with the entire fashion retail industry. With offices closing due to the lockdown, and work from home becoming the norm, we were faced with the prospect that our collections centred around formals would have an impact on the consumer. We were able to recognize that the consumer trends and insights had shifted, hence, at Allen Solly we were able to tweak our product portfolio. With masks being the need of the hour, we decided to move toward this category and developed products that met consumer needs. Our collections also underwent a change with more focus provided on WFH driven collections which are more casual, providing more comfort to the consumers. Our E-Commerce business grew immensely during this time not just from the brand website but also from aggregators like Amazon, Myntra, etc. We also shifted our focus to our e-commerce business. The pandemic was the catalyst in bringing more users to online shopping platforms, and we as a brand welcomed that opportunity.