India's beloved adman and executive chairman and creative director, Ogilvy South Asia, Piyush Pandey has added yet another milestone to an illustrious career. Pandey takes over as Global CCO of Ogilvy in January, 2019, which makes him the first Indian to take up the role of a worldwide chief creative officer.
On the appointment of Pandey, John Seifert, Chief Executive, Ogilvy Worldwide, said, "We could not be more thrilled that Piyush will be serving as our Chief Creative Officer, Worldwide and my creative partner. Piyush is a true industry icon who is uniquely suited to lead our global creative efforts. Creativity has and will always be at the heart of the Ogilvy brand and culture. Piyush is the perfect leader to shepherd that legacy as we continue to focus on making brands matter as the leading creative network in the world."
Over the last 35 years, Pandey has influenced creative minds and shaped the Indian creative advertising industry. Anyone who has lived through the '90s in India remembers the iconic Fevicol, Cadbury Dairy Milk, Asian Paints, and later, Rajasthan and Madhya Pradesh tourism ads that were crafted by him. Pandey has won many international awards over the last 35 years. Earlier this year he along with his brother Prasoon Pandey became the first Indians to receive the Lion of Saint Mark Award, Cannes Lions' highest honour for legends in the communications industry.
The appointment of Pandey as Global CCO of Ogilvy puts India on the world map like never before. His peers, colleagues, competitors and industry veterans have reacted with much elation at the news, and have nothing but high praise for the man who put Indian advertising on the global map.
Here's a round-up of some reactions on Twitter: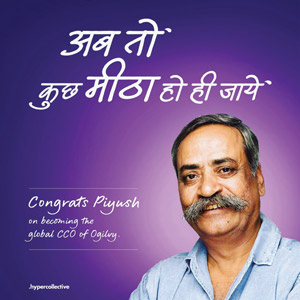 Rohit Bansal @theRohitBansal
So proud that Piyush Pandey will be the first to be made global chief creative officer, Ogilvy. In fact, the first ever to be made a global CCO. He'll lead Ogilvy's 100 offices *while being based in India* - a place he calls a storyteller's factory!
Joy Bhattacharjya @joybhattacharj (pro Volleyball League CEO)
A long time ago, my brother-in-law, Dev Lahiri, was advising another graduate, a cricketer who didn't want to work in a tea garden. He suggested that advertising could be a good fit for his friend. Dev Lahiri is no more, but Piyush Pandey just became the CCO of Ogilvy!
HyperCollective @HyperPops
Making India proud. Congratulating #PiyushPandey on becoming #Ogilvy's Chief Creative Officer, Worldwide!#PiyushMakesUsProud #advertising
Namchu @namchu
Yet another proud moment for the #Indian #advertising fraternity brought to you by #PiyushPandey. @Ogilvy #Respect
Vivek Sharma @Viveksharma04
Makes us proud. #PiyushPandey is a phenomenon that never halts.
Two phrases that typify him most are 'woh mera dost hai' and 'baaki main sambhaal loonga'…
Piyush appears to have a double PhD in People and Common Sense. He can meet a person for five minutes, exchange two sentences with him and know what kind of person he is. It's uncanny. I've never known him to be wrong. I have found it in my interest to blindly follow his advice about people. And even more striking is his ability to find solutions by instantly simplifying a complex situation. Now, modesty apart, I have a healthy respect for my own abilities in this regard, but Piyush leaves me open-mouthed time and again. It is more than a talent he has. It is a genius.
Perhaps the two phrases that typify him most are 'woh mera dost hai' and 'baaki main sambhaal loonga'. I have been all over the world with him and he has a 'dost' everywhere. From Chairmen of rival agency groups to Vietnamese restaurateurs in Cannes, media group owners in Mumbai to Indian Ambassadors in Tokyo. He knows them all. They beam with genuine pleasure when they see him, hug him and invite him home for meals.
One cannot even imagine the pressure under which Piyush functions. Every client wants a piece of him. Even the smallest local clients say 'Hume Piyush ji se milna hai'. He has meetings and seminars and media interviews to attend all the time. And yet he is sensitive to his colleagues' workload. If he sees me struggling with multiple mandates, he will say 'toh gaana likh baaki main sambhaal loonga'. What wouldn't you do for a leader like that?
AJAY GAHLAUT
CCO, Ogilvy North, & Deputy CCO, Ogilvy India