The Cannes Lions International Festival of Creativity 2018 begins on June 18, 2018 and like the rest of the ad world, the Indian jurors for this year's festival are eager to see the best creative work on display. We continue this week with our special series counting down to Cannes, featuring five of the 10 Indian industry stalwarts on various Cannes Lions juries this year. They tell us what they will look for in the categories they judge, India's prospects, trends in each category, and more.
'Everyone wants to see more original Indian ideas
'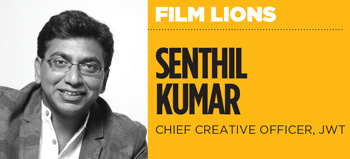 ''Having won the most number of Cannes Lions by an Indian so far, I pray that every year, India must hunt down many Gold Lions and continue to push the bar up to ensure that it is credited with winning at least a few Golds every year. While our ideas are as good as any others', sometimes we do fall short on the execution for various reasons like budget constraints, technology support and epic scale. I would always encourage my team-mates and other Indian creatives to be more Indian in their work and take a leap from strong Indian insights. We can't hope to win any metal by trying to ape the West or the Far-East. They will tell you before you start that it's been done and how! The world wants to see more original Indian ideas and not cheap remakes of last year's winners. I am looking for the idea to be original and of course never done before. The execution has to be awe-inspiring or simply mind-blowing. And the craft has to be exceptional and move your vote up for that sheer eye for detail. Finally, it has to evoke the emotion of public envy and make me wish I had done that. Without these four aspects, no film will make it to the shortlist in my book. The Cannes Lions 2018 judging scores vary from 1-3 (surely not a shortlist), 4-6 (probably a shortlist) and go up to 7-9 (definitely a shortlist and possibly a winner)."
'The world thinks beyond billboards & posters'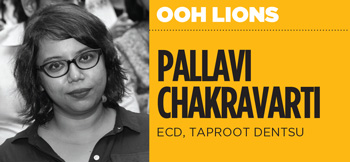 "Firstly, I am excited to have an opportunity to deep-dive into work and evaluate what the best advertising professionals the world over are doing in this category. The parameters for judging entries anywhere are always the same - What's the idea? Is it fresh? Does it connect with the brand? Is it big? Is it right for the category it has been entered in? Most importantly, how does it make you feel? The definition of outdoor advertising has broadened tremendously. Technology is being used creatively. The world is thinking beyond billboards and posters, though in my opinion they have their own, equally important place within the category. So the jury will have to think differently too, I'm sure the work we will see will compel us to do so."
'The outcome of our execution is one of our strengths'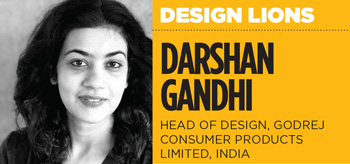 "Good design is relevant and is something I will keep in mind. I will also be looking at the perspective of design, the objective, the core idea of the designer and how it wears various hats and serves different purposes. Collaboration is key. India being a melting pot of cultures and traditions, the outcome of our execution in the category is unique and one of our strengths. Our design thinking, however, can be utilized in a much better way. The work should never be over-designed.
'A lot of people mistake the Direct category for direct mail'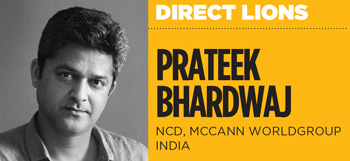 "It is a great honour to be judging at Cannes this year, with everyone watching the new direction Cannes is taking. But at the same time, it's also a great responsibility and I'm already preparing myself for some serious hard work. A lot of people mistake the Direct category for direct mail when it's actually much more than that. Any piece of creative with a measurable direct response mechanism – a number to call, a website to go to, an email to write – qualifies for Direct, and a lot of letters don't. Direct includes every medium there is. So I end up judging films, Print ads, Outdoor, events, all under Direct. In fact, the Immunity Charm, which won McCann the Grand Prix for Good last year, was also a winner in Direct."
'In Media, we have definitely come a long way'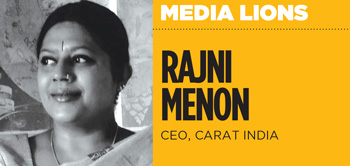 "I will be looking for consumer insights that led to driving action and change in behaviour. I will also be on the lookout for creativity in terms of execution and obviously the results. If the entries have not had palpable impact in moving metrics for the brands in concern, then all the previous great work is of no consequence. In the Media Lions category, we have definitely come a long way with increasing number of metals over the last few years. But India is far from the levels that we would be inspired by. We are far stronger in the creative sphere."
(As told to Neeta Nair, Venkata Susmita Biswas and Misbaah Mansuri)