Q] The latest campaign from Lux Cozi, 'Yeh Nahi Toh Kuch Nahi' features Jacqueline Fernandez. Women have featured in men's innerwear ads in the past, such as Amul Macho's 'Yeh To Bada Toing Hain' ad or even older Lux Cozi ads. What is so unique about it this time, and what does the brand hope to accomplish from this?
Traditionally, the thought of a woman celebrity endorsing men's innerwear brand does not go hand-in-hand. The first thing that comes to mind is that a lady holding a men's underwear product and showing it on television will be deemed vulgar. So we had provided clear instructions to our agency that we need to stay away from any such vulgarity, and the ad should be decent enough for families to watch together. That is the reason why we wanted to have a woman director at the helm. We roped in Gauri Shinde of Hope Productions, who has done women-centric movies such as 'Dear Zindagi,' and 'English Vinglish.' We found her to be the best fit for the shoot with Jacqueline for our men's underwear commercial.

Also, all existing men's innerwear brands are endorsed only by male celebrities. Sidharth Malhotra, Ranbir Kapoor, Akshay Kumar, and Ranveer Singh are all endorsing men's innerwear brands. So now, every brand endorsement ends up looking the same to the end consumer. So just to get out of this clutter, we decided to do something out-of-the-box by getting a woman celebrity to endorse a men's innerwear brand.

This has given us path breaking success. In this season of new commercial launches, if there are 10 brands that have launched their commercials with different male celebrities, nine of them are lost in the clutter. However, everyone remembers Jacqueline and Lux Cozi.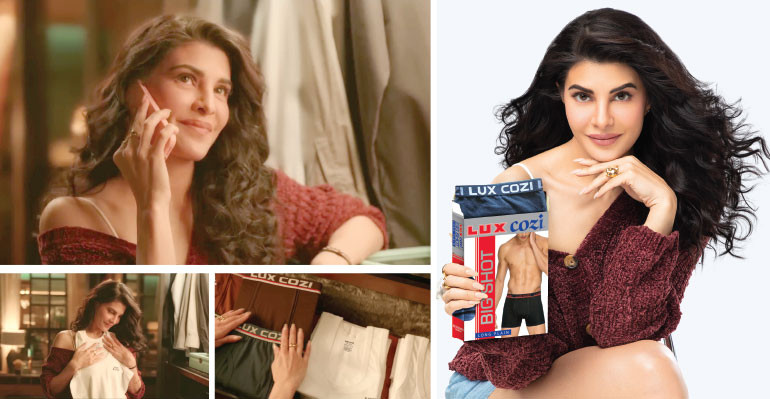 Q] Please elaborate on your marketing strategy for the campaign. What has been your consumer demographic so far, and what's your TG for this latest campaign?
We have deployed around 4500 movie screens at Inox, PVR, Cinepolis, standalone movie theatres, to showcase our advertisement. Apart from this, in addition to Television, we have also invested a lot in Digital media, and launched it on various Digital platforms, despite not being a digitally active brand. But this commercial has come out very well, and our aim to target the audience between 18 to 28 age group would sit well with Digital platforms.

We have also released pan-India full-page newspaper advertisements in The Times of India, NBT, Dainik Jagran, and other newspapers. Additionally, we have put up billboards across metro cities in the country. So, it's a 360-degree campaign where we have covered Television, Digital, Outdoor Hoardings, Billboards, Newspapers, and Magazines. We had launched this campaign on February 12, and in less than three weeks everyone knew about this commercial, It was a huge success.

Innerwear has always been an aspirational product, where we used to target the metros, but in reality the majority of sales would happen mostly in rural areas. Our reach in the rural areas is stronger than in the urban. Also, if we divide the country into five parts - North, West, South, East, and Central, we are strongest in Central, followed by East, North, West, and lastly South. This is how it used to be, but with this commercial, the brand revamp, and our campaign strategy for the next 3 to 4 years, our target is to reach and penetrate deep into tier 1 and tier 2 cities as well.

Our main TG is men between 18 to 28 or maybe 30, because boys start buying their own undergarments when they enter the age bracket of 16 to 20. So our aim was to target those consumers who are entering into this phase of choosing their own innerwear. It's a young, peppy ad with a good song that's from a 1958 movie called Yahudi. So, by showcasing the advertisement on Digital platforms as well as television, we are able to capture this base.
Q] What's the media mix like in terms of the percentage of distribution? Also, how much have you invested in Digital for this particular campaign?
So this is meant to be a four-month long campaign, and in these four months, we have invested around 15% in Digital media, 15% in Print news, 20% in Outdoor, and 45% in Television. You can attribute 5% to the rest of the media. Before this campaign, television used to have a 65 to 70% share for us, which has now gone down to 45%. While for Digital we used to have only 1 to 2% share. Now that has gone up to 15%.
Q] Can you also share some key consumer trends that are driving your category growth and marketing strategies?
Previously our campaign used to focus less on aspirational, and more on happy emotions. We had campaigns such as 'Dil ki Suno,' 'Apna Luck Pehenke Chalo,' based on happy emotions. Now we have moved into aspirational emotions. Previously, we used to show a guy who is roughly in his 30s. But now we are trying to decrease the target age for an ad campaign by roughly 10 years, and focussing on those in their early 20s.
Q] Can you also share the roadmap ahead for the brand in 2023, in terms of gearing up for growth?
Last year under the brand Lux Cozi, our turnover was around 550cr. In the last five years, we had a CAGR of around 10 to 12%. With this commercial, and a few more that are lined up under this campaign in the next three to four-years, we are expecting to accelerate the growth from 11-12% to around 16 -18%.

So, it shouldn't take much time to cross the 1000cr turnover mark under the Lux Cozi brand. We are growing all across India, whether it is North, South, East, West and Central. Interestingly, our sales at places with a low base is receiving a higher growth, when compared to sales at places with a high base. The South has the lowest share with us, and hence it is growing at the highest rate.