There is an age old adage that 'death brings people closer' and it couldn't have been truer than in the case of Anil Kapoor, a doyen of Indian advertising who recently lost the battle against cancer. The entire IPG machinery including former employees, their current and ex clients, and even other agency heads have come together to ensure that their beloved 'Billy' gets a fitting farewell. He was after all the leader who made Ulka Advertising (now part of FCB) and the industry have faith in 'commercial creativity', who convinced them to go beyond making ads for the sake of agency billings or awards; instead question the client brief objectively to see if the product can really sell.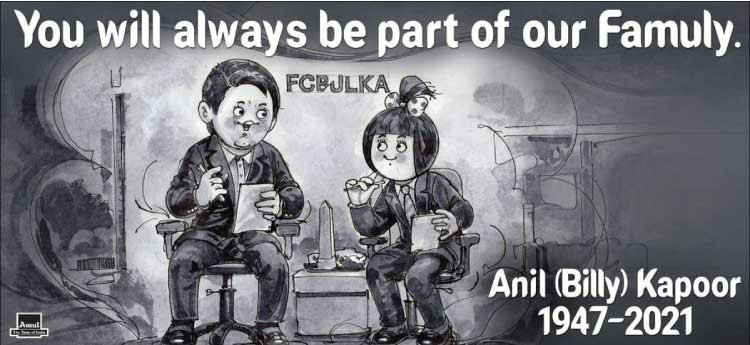 Kapoor was often known for his long arguments with clients, not afraid to call a spade a spade, he has one too many times discarded a client's marketing plan if it didn't make sense to his astute eye, which the clients have naturally thanked him for later. Kapoor has thus over the years earned equal respect in both, the advertising and marketing circles through his leadership at the agency and industry bodies. And yet when one thinks about it, his joining the ad world over three decades ago had ironically caused enough fireworks. The year was 1988 when Anil Kapoor, then a near outsider in the advertising world, had just taken over the reins of a struggling agency Ulka Advertising. Kapoor's stint at a British multinational company, Boots as the Marketing Director was quite a success story and thus many in the industry believed that Kapoor was committing hara kiri by attempting to save a sinking ship. Also it failed many as to why Ulka's Founder, Bal Mundkur's was letting 'the marketing guy' take control of an ad agency, the verdict for them was clear-- Kapoor stood no chance. But soon he was to prove a lot of people very wrong.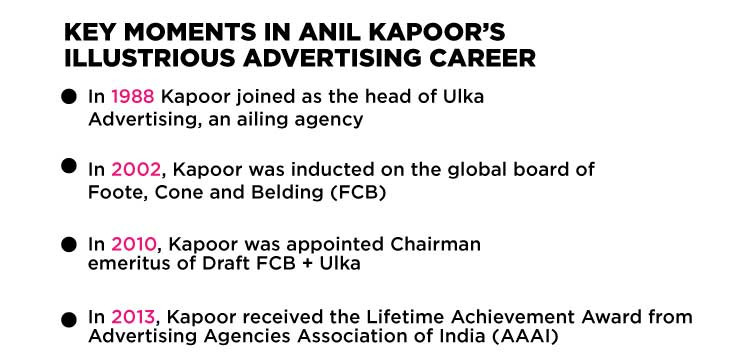 One of his earliest successes was managing to impress Dr Verghese Kurien and forging a rock solid partnership with Amul which could withstand the tests of time. Narrating the incident, RS Sodhi, Managing Director, GCMMF (Amul) says, "Dr Verghese Kurien wanted to hire a new advertising agency for a brand called Amulya which was then competing with the well established product Nestle's Everyday. He had heard that Anil Kapoor had just taken over from Bal Mundkur. So on one of his tours to Bombay he made a surprise visit to Ulka, uninformed and uninvited and put forth the challenge, it didn't take him much time after the interaction with Kapoor to say --You are hired." Today FCB India has completed over three decades of partnership with the brand, one of the longest standing ones in the history of advertising. Immediately after the news of his demise, Amul in its trademark style put forth a fitting tribute to the ad legend with the Amul Girl hoardings in Mumbai saying, 'Anil 'Billy' Kapoor, You will always be a part of our famuly.'
Winning prestigious accounts
Then under Kapoor's leadership, the agency went on to win accounts like Sundrop, Santoor, Tata Motors, Mahindra Auto in Mumbai, LML, Whirlpool, Hero Honda, Naukri.com and Docomo in Delhi and many more. Kapoor showed the industry how to build a strong team and keep it together for more than a couple of decades, how to build an agency group entirely from within, and without the help of international experts and hand-me-down accounts. An IIM alumnus himself, Kapoor led an army of IIM degree holders at Ulka Advertising be it Shashi Sinha, Ambi Parameswaran, Arvind Wable or Niteen Bhagwat, with a thrust on marketing --a practice not all that popular then.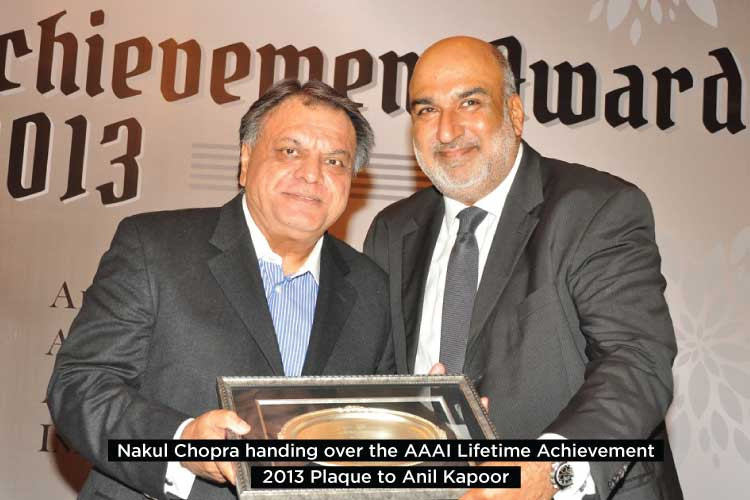 Niteen Bhagwat, Vice Chairman, FCB Interface says, "An army of mercenaries never won a war--- Anil always maintained that you needed an army of believers to make things happen and though not religious he alluded to the missionaries of various faiths who overcame impossible odds to preach what they believed in. Ever the contrarian he set up a management training programme and entrusted Shashi Sinha to recruit from the best creative colleges and business schools every year. Others in the agency business thought it was a waste of money as the youngsters would leave in a couple of years. But he persisted in good years and bad until the programme became the benchmark for the industry. Today the senior management at FCB Ulka and FCB Interface is rock solid and an army of believers."



Another very key member of his team who Kapoor mentored-- Nagesh Alai, Group Chairman of FCB Ulka till 2016 says that Kapoor was a fine reader of human beings and a great counselor, and that he was extraordinarily supportive of his people in public and demanding in private. Talking about his first impression of Kapoor, Alai says, "When I met AK for the first time in 1983 in Boots Pharmaceuticals, he came across as brusque and aggressive, given to no nonsense. Years later, in 1990 when he invited me for a chat for a potential opportunity in Ulka, he seemed to be a man in a hurry, consumed with a vision and mission of resurrecting Ulka from its death throes and making it a force to reckon with. He was looking for a finance partner who can help him build a strong balance sheet."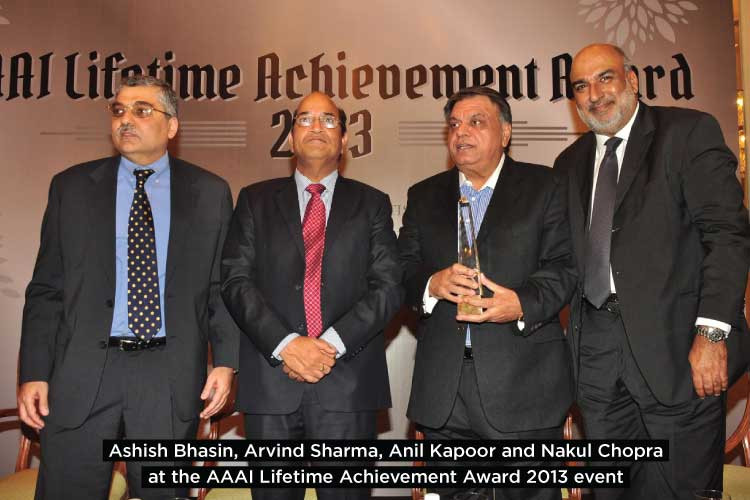 Alai adds, "Kapoor was clear that advertising is not just about jingles or headlines or body copy or tag lines, but about building brands. He was also equally clear that advertising is a business of business and managing the finances is important. Understandably so, since he came from the famed MCM which had collapsed due to bad financial management, he wanted a believer to help him with a strong financial management and was firm in the belief that a CEO and CFO are two sides of the same coin. He had never faltered in this belief and gave me the full freedom, support and backing to build a strong balance sheet. Here was a man who did everything to ensure the success of a key team member. He had a beguiling tough exterior driving me nuts, but a warm interior which came out in overt and covert support in times of difficulty. A true captain!"
Partnership with clients
Kapoor time and again also demonstrated how to partner clients at senior levels to launch one successful brand after another, in tough market conditions and left a lasting impression on them. He believed that partnerships meant having shared goals and shared beliefs. And unless they took care of their partners' interest they could never grow. One of his former clients, BL Maheshwari, former Business Head, Birla White talks about why he has immense respect for Kapoor, "Ulka had won the Birla White account just two months before Anil took over the reins at the agency. Under his leadership, the brand has reached where it is today. Anil led the strategy and brand building mandate for Birla White. Right from the initial stage of changing the brand name from Rajashree White Cement to Birla White; to making it one of the premium products in the country. Anil helped us to build an iconic brand that went on the gain popularity across the globe! I remember many instances, whenever we needed him, he used to make himself available for us immediately. He was a humble person who excelled in the art of building client relationships. He laid the foundation for the agency to reach where it is today!"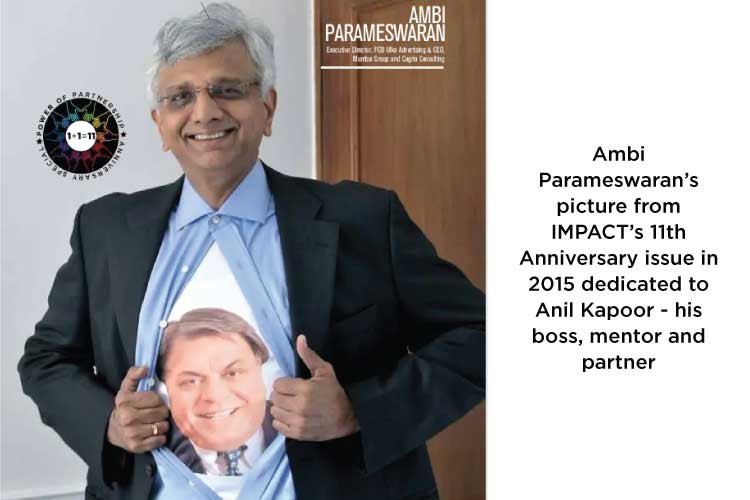 There was literally nothing that Kapoor could not do, his then clients say. Elaborating on a rather humorous episode RS Sodhi says, "We used to have an annual advertising meeting where the agency creates a plan on the creative routes they are planning to follow for various product categories. There was this one guy, Ajay who was to carry the creatives but he missed the flight which Anil Kapoor, Shashi Sinha, Nitin Karkare were on. The meeting was with the GCMMF Chairman and Kapoor reached the meeting without the creatives. But like nothing was amiss, he started explaining each and every creative plan without the creatives and that too with the complete narrative. And by the time Ajay reached with the creatives, the meeting was over. Kapoor was the Jack of all trades, really. How easily he managed everything."
Those who worked with Kapoor at Ulka say that he had a deep appreciation of roles and structures and HR was always important to him. And yet every attempt to recruit an HR head hit a wall. One day he sat down the team and explained that each of the leaders must behave like HR managers and coaches and that the moment an HR head comes in they would quickly relegate responsibility to the HR head. Every small decision was a master class. Bhagwat explains, "He always said that to build long term partnerships with clients you need to have long term partnerships with your teams. And he had a unique way to make it come alive. Managers had the freedom to hire but not the liberty to terminate. It just forced all of us to be far more careful when we hired and work really hard to make the relationship work. As I once jokingly mentioned to Anil that joining Ulka is like marriage, disagreement is welcome, but divorce is not. He smiled with a look that said "You finally get it"."
A people's person
Everybody knew Anil Kapoor as the marketing whiz, but what also made him the extraordinary leader that he was, was his innate understanding of human psychology and his unique people philosophy. He believed that to build an institution, you could not have people coming and going at will or for that matter with accounts. Savita Mathai, Group Chief Talent Officer, FCB India talks about why she feels Kapoor was ahead of his time, "When I joined the Company, many moons back, I happened to have the good fortune of being interviewed by him as a Management Trainee. Management schools prepare you to be grilled on marketing fundamentals at the time of campus placement and I recall coming out of the interview quite perplexed because I had not been asked a single technical question. It was much later, when I got to know him better that I realized that he did not care about how much I knew about the job. That could be taught. He was looking for hunger, the courage of conviction, integrity, positive energy, compassion… all summed up in a word 'attitude'. Years later when we were setting up the HR function, his brief to me was a single line – to manage the 'culture' of the company. Today, twenty years later, most large corporates have a C-Suite role dedicated to that – Chief Culture Officer."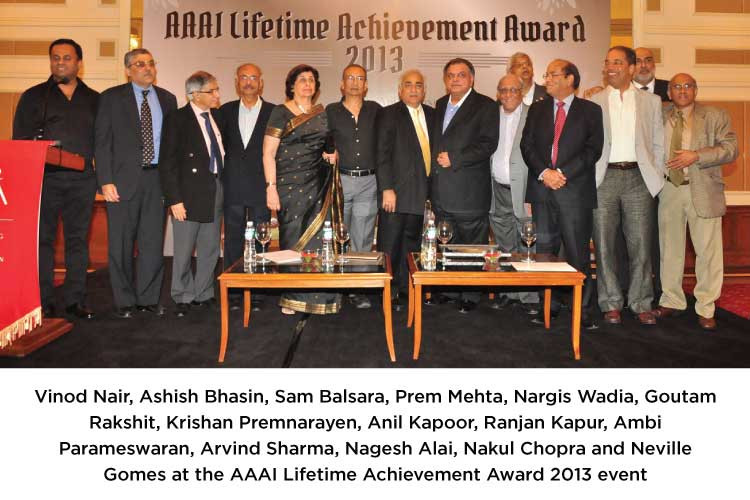 In fact Kapoor left a lasting impression on people who he didn't work very closely with too. Recounting one such incident, Dhunji S. Wadia, Founder, Shift Axis says, "I didn't have the good fortune of working with Anil Kapoor. We hardly interacted, and yet, have immense respect for him. He once helped me out when I was a junior Executive. That might have been a favour to his friend, Shashi Dethe, who was my boss at that time. But acts of kindness always have a way of sticking in my mind. Decades later, when AAAI conferred the Lifetime Achievement Award to Anil Kapoor I was present at the function to honour this legendary ad man. At the after party, I went up to him to congratulate him in person – I was the President at Rediffusion, then. Not only did he recollect my time with Shashi Dethe, he alluded to all I had done from that time as a junior till that day."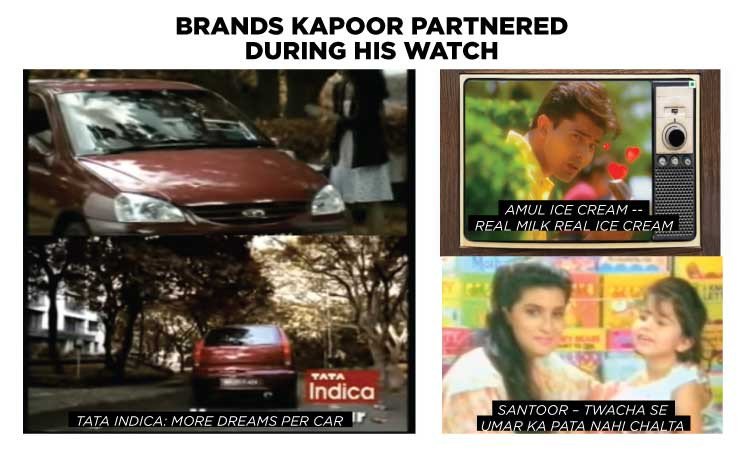 He adds, "He was such a good raconteur for someone who never worked with him. Imagine how much he would have cared for the people in his company. Mr Kapoor had a way of putting the other first, be it a client, a brand and of course all the colleagues who are his lasting legacy. The true test of a leader is how the organization functions after he steps off the pedal. What a grand company FCB Ulka has turned out to be. He cultivated a strong bunch of die-hard professionals who stand tall in the industry today. Bon voyage dear sir. You will always stay in my heart and mind."
Role in industry bodies
Kapoor played a leadership role in various industry bodies such as AAAI and ABC. He was instrumental in setting up the independent NRS survey in the mid 90s. He also played a very vital role in helping the formation of IBF as a body that could work with AAAI to create norms and processes on how agencies work with television.
Remembering the legend, Srinivasan Swamy, Chairman of the R K Swamy Hansa Group says, "Anil Kapoor is a true industry statesman. His commitment to the advertising agency as a business and as a profession is remarkable. I have been with him in AAAI Executive Committee for several years. He is quite articulate and could convince or tire out any opponent with his arguments! While he may appear brusque sometimes, he is soft inside and well meaning. Even when he took ill in the later years, his positive cheerful spirit was always evident. His departure within one year of Goutam Rakshit, another industry veteran, makes it doubly sad."
Kapoor was instrumental in transforming an ailing Ulka Advertising of 1988 into one of the top five agencies of the country. As Ulka became FCB Ulka and later Draft FCB+Ulka, Kapoor's managerial and leadership skills got recognized on the global stage, many times over. In 2002, Anil Kapoor was appointed as a member of the FCB Worldwide (Foote, Cone & Belding) Board, New York, becoming the first Indian advertising agency head to be a part of the apex worldwide board.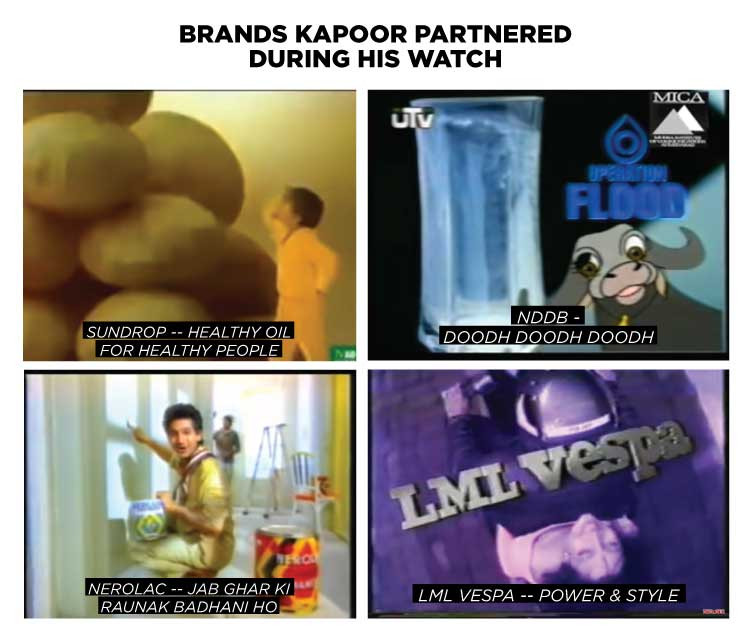 For his team he was always the rock, a solid go to person and a mentor, a people's person, who loved fine dining, fine living, art, cricket and conversations. Talking about his equation with the legend, Alai says, "He was a generous person. I remember him surprising my two sons in 2007 with a laptop when they had both got admission into IIT Madras. He was a king and lived life king size. No wonder, given that his ancestors were Diwans of the erstwhile Kapurthala kingdom. Long live King Kapoor!"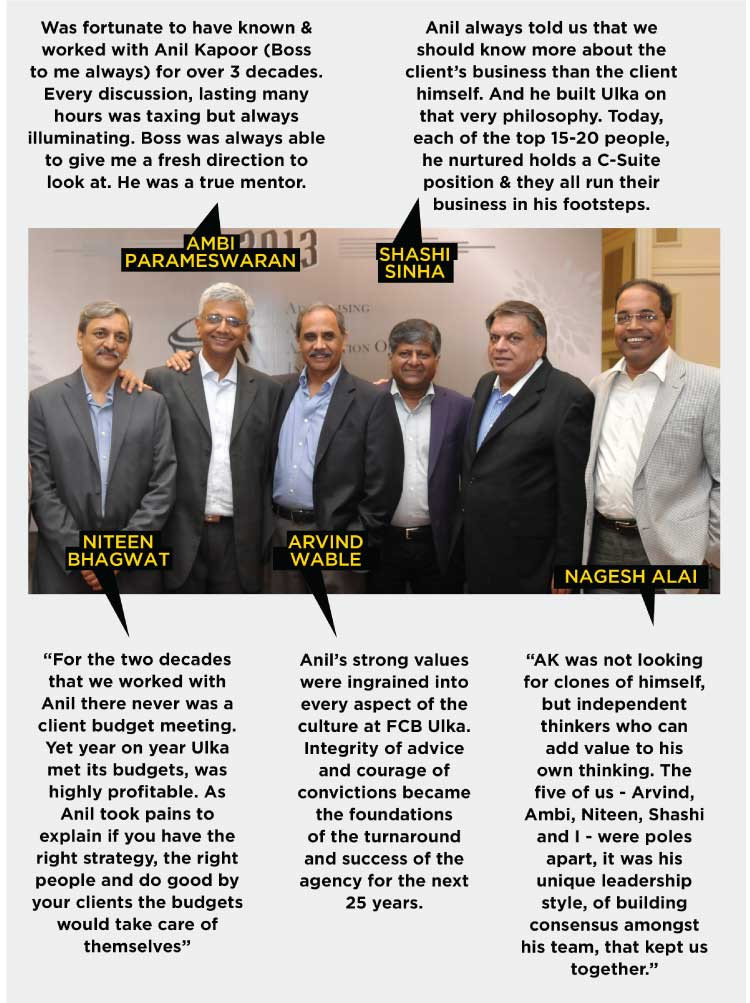 Consensus, Collaboration & Cricket – Remembering Anil Kapoor
By Shashi Sinha
CEO, Mediabrands India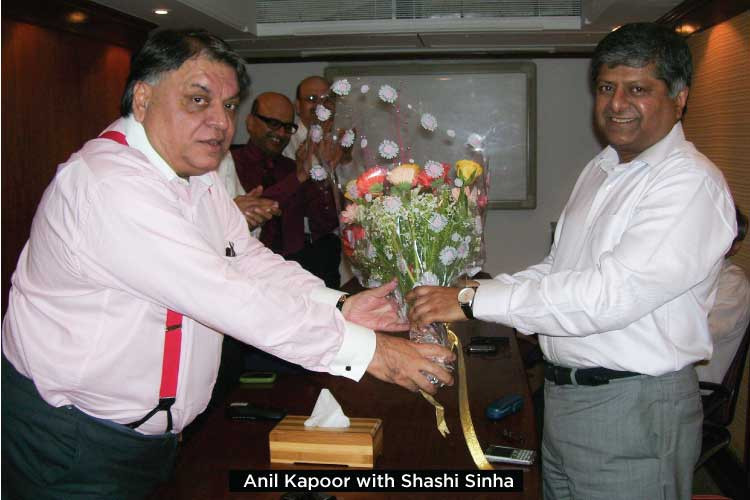 In 1988, when a marketing and sales guy was called in to revive Ulka by its legendary founder Bal Mundkur, the avant-garde, glamorous, laid-back world of Indian advertising, didn't even bat an eyelid. The competition had already started writing Ulka's epitaph when Anil Kapoor made his luminous debut to save the day. The Boots man entered the industry like a tornado and achieved the unimaginable, with his aggressive, arduous, unapologetic, and unique leadership style that was unseen and unheard of by the adlanders or their clients. And two of the pillars of his success were Collaboration and Consensus – the two, basic tenets on which he re-built Ulka and its client relationships.
Anil had a well-rounded personality and tremendous knowledge about the Advertising business. He always told us that we should know more about the client's business than the client himself. And he built Ulka and the client relationships on that very philosophy. Very often he would land in the client's office to discuss how they ran the business, to talk about their industry and the challenges. At first, many clients viewed this as pure arrogance. But when Anil started delivering the numbers, the same clients turned into his lifelong friends, and for some Anil turned into a business advisor.
When we won Amul, one of the reasons Dr Varghese Kurien gave us the account, was because we were not a multinational. So, when Ulka got into the partnership with FCB, Dr Kurien called us, and we most certainly expected fireworks. At the meeting, Anil gave such a passionate speech that it even moved a strict leader like Dr Kurien, a man who always stood by his principles above anything else. He did not sack us but took away part of the business. Because of Anil's passionate argument we got away, in Dr Kurien's words, "with a rap on the knuckles". And in just one year, we won back several other businesses from Amul. Till today, 'The Taste of India' remains the primary tagline of the brand, built under Anil. The relationship resonates in the unprecedented tribute that Amul has put up for him with their iconic Butter Girl. So, like Kapil Dev once said, "If you play good cricket, a lot of bad things get hidden."
As for Consensus, let me narrate a story. Usually, Anil would come to the office post noon and every evening he would call 4-5 of us, his core team, and engage us in a debate. These meetings would last at least for 4-5 hours. If Anil saw that we were reaching an agreement in half an hour, he would fuel it further with a fresh debate, so that it continued. If he was speaking and we sat quietly without participating, then he would yell. Every day we reached home around midnight – battered but came back with equal enthusiasm the following day. And there were two reasons for that. Every decision we arrived at was of the best quality. Secondly, everyone had a sense of ownership in those decisions. There was not a single day when the 'Boss' dictated, and we simply executed. As a leader, Anil was way ahead of his time. He inculcated the spirit of entrepreneurship when such a thing in Advertising didn't even exist. He would passionately speak about concepts like mindset management. Today, each of the top 15-20 people, Anil nurtured at Ulka holds a C-Suite position and they all run their business in his footsteps. Anil strongly believed "advertising like cricket is a team game. If you want fame for yourself, go play an individual game."
Anil also was a great believer in 'Birahdari' and it didn't mean just Ulka and its people. He was truly passionate about the advertising business and was extremely proud of our industry. So, it could be Piyush or Prasoon winning awards. But the party was always at Anil's house.
He often told me that his two role models were Dr Vikram Sarabhai and Dr Varghese Kurien. And while his food stories have travelled far and wide, very few know that he was a great sports enthusiastic. He travelled all around the world to watch sporting events. Anil and I shared a great love for cricket. And I had the good fortune of travelling with him to London, South Africa, Sri Lanka, and many other places, to watch the game. In 1999, we were in England for the World Cup, when Anil's father passed away. Even though he would have been deeply disturbed, he didn't want to spoil my fun and planned to leave discreetly. It's another matter that I got know.
He lived his life king size and has left an unparalleled legacy. And as they say, a good cricketer never loses his nerve. Hope he continues his power-hitting in this new innings as well!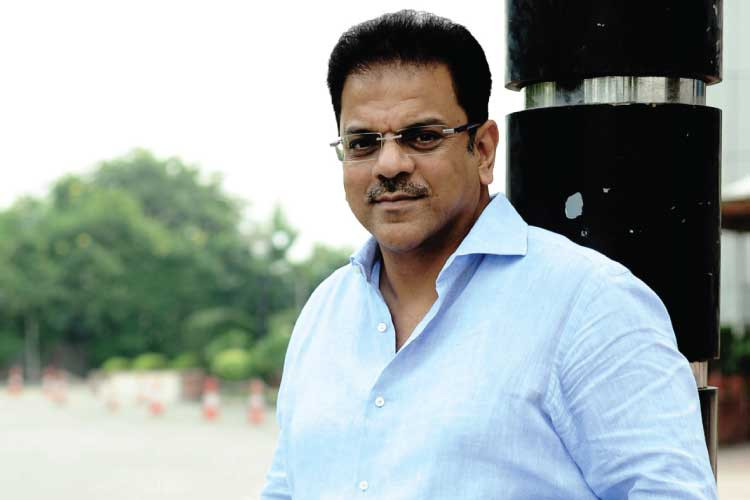 'FCB India's success is a true testimony to Anil Kapoor's vision and genius'
By Rohit Ohri
Group Chairman and CEO, FCB India
I had just been in FCB Ulka for a week when Anil Kapoor invited me to lunch at his favourite place, The Belvedere at The Oberoi, Nariman Point. As we walked in, it was most apparent that the staff knew him well. He was quickly ushered to his favourite table. His favourite drink and dish appeared magically, before he could ask for them.
The meal was fabulous and needless to add, the conversation was even better. For dessert Anil ordered caramel custard. Shortly, a glistening, wobbly but perfectly set caramel custard was placed in front of him. I could tell from the way he relished it, that it was one of his favourites. From the corner of my eye, I saw the waiter place a second caramel custard beside him. I laughed and said… "but you only asked for one".
"That's plan B", he said. "In case I'm not satisfied with one, I won't have to wait for the second one".
"Do you always have a plan B?" I asked.
"Life is all about how you handle Plan B. Commit to plan A but always have a plan B", he said. "In our business, anything that can go wrong, will go wrong".
That was classic Anil Kapoor. A way of thinking that is still reflected in the culture of adaptive management at FCB Ulka. One that believes in being 'never finished' - always learning, growing and changing. This year we celebrate, not just our 60th anniversary in India, but also the fact that we are India's most awarded creative agency – A true testimony to Anil Kapoor's vision and genius.
And since that lunch with Anil Kapoor, I have ensured that my second caramel custard is always within easy reach."


ANIL KAPOOR- A life, larger than life
By Arvind Wable
Former CEO, Draft FCB+ Ulka
Anil Kapoor was a large-hearted person with strong values and a larger-than-life personality. There were no half measures in his vocabulary, whether it was the workplace or in his personal life.
His love for food and a good conversation are legendary. Once we happened to be in New York and Anil invited my wife Neerja and I for lunch, to his favourite South Indian restaurant. We reached the restaurant around noon; Anil was waiting for us with three glasses of mango lassi as a starter. As time went by, almost everything on the menu was ordered and consumed largely by you can guess who. After some time we saw that we were the only people in the restaurant and the staff was laying out fresh table covers and candles. That is when we realised it was six in the evening and time for dinner. Conversations with Anil was always fun and easy as he did the talking and you listened, in the six hours Neerja and I together probably got in six sentences.
At work, Anil's strong values were ingrained into every aspect of the culture at FCB Ulka. Integrity of advice and courage of convictions became the foundations of the turnaround and success of the agency for the next 25 years.
One instance was when Sanjeev Bhargava was heading the Calcutta office and after months of struggle had landed a new client, based on a brilliant campaign for a new product launch. Anil was visiting Calcutta so Sanjeev proudly took him to meet the client MD. When Anil heard the client's marketing plan, he told the client ---please don't waste your money advertising this product, it will never be a profitable venture. Few days later the company scrapped the plans for launching the new product. Sanjeev went back to chasing new business. Anil insisted that we should never do a campaign which benefits the agency in billing or awards but does not meet the client's marketing objectives.
Anil for me was much more than a boss, he was family. He was my mentor, guide and the go to person for every aspect of my life. In the last few years we got to spend time together and I realised how wonderfully he had transited from his successful corporate life to an almost spiritual one. He often talked about Vanaprastha or the sense of detachment. I learnt an unimaginable amount from him both at a professional and personal level. I will deeply miss his presence in my life.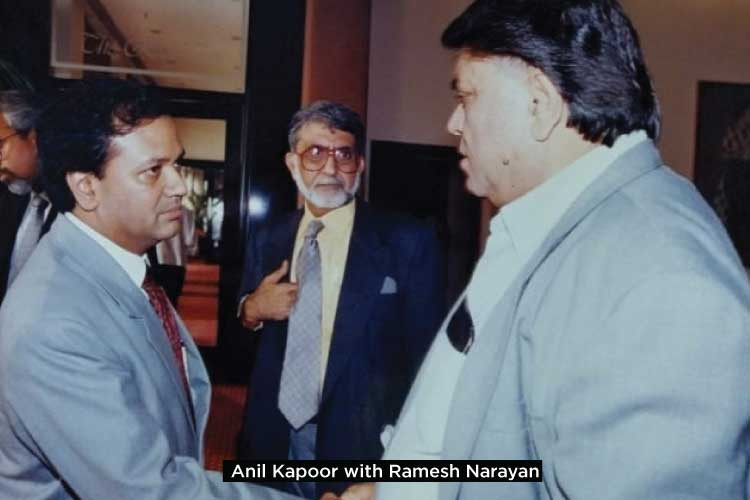 'Kapoor was uncompromising when it came to industry matters'
By Ramesh Narayan
Founder, Canco Advertising
In the year 2000 I was 'parachuted' into the position of the President of the AAAI, at 44, one of the youngest Presidents ever. The Committee was studded with greats. Ranjan Kapoor, Anil Kapoor, Goutam Rakshit, Prem Mehta, Sorab Mistry, Sinivasan Swamy, to name a few. Anil Kapoor and I hit it off almost immediately. I realized that he could be very obstinate, but he was also uncompromising when it came to industry matters. I respected that about him. I would often run my plans past him before a meeting. He would argue and if convinced, I knew I had a solid, outspoken ally on my side.
He has a habit of being very silent when any matter was being discussed. And then at the very end, he would raise a finger, take the permission of the Chair and proceed to demolish every other argument that had been placed before that. During my term, the industry faced its first ever 'Tainted TRP's' controversy. He and Goutam Rakshit guided the industry through that storm. He was very clear that this was an 'intra-industry' matter and should not be discussed publicly till the matter was settled. Eventually, we strengthened the process and invited the heads of the top three (then) TV channels and amicably settled the matter. Such a far cry from what is unfolding these days.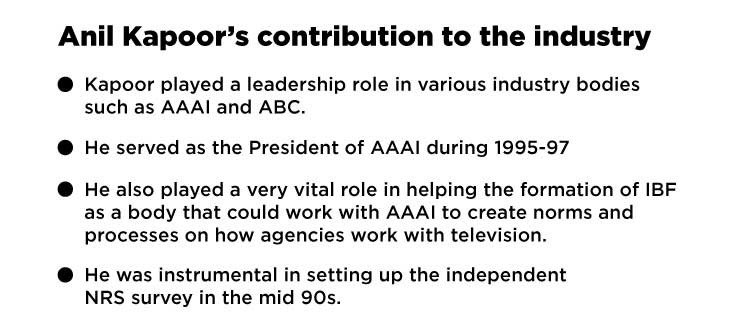 I had taken it upon myself to recover overdue outstandings from errant clients in my term. Billy (as he was called) spoke to me and requested me to go to Delhi to handle a particularly large and vexatious case. That was concluded satisfactorily and I learned how he was willing to use 'force' but also respected the client enough to request me not to announce this at any Management Committee meeting. Our professional meetings at the AAAI office and the Belvedere stopped when I bowed out of the Agency business in 2006. However we continued meeting either at his house, my 'den' or the Bombay Gymkhana. Billy, Goutam, Prem Mehta and I made it a point to meet whenever Billy was in Mumbai (he had begun spending time in Singapore). In fact we last met about 18 months ago. Little did I realize we would lose Goutam and Billy in the space of one year. Yet, his booming laugh, his warm hug and his disarming candour will always live with me.