Audiences, weaned on social media, want a brand conversation. Today, we are a nation with a mass AD (attention deficit disorder). Hot stories are in cold storage by the evening. Everything is an event, everything a potential earthquake. All this makes it massively interesting for us in the Amul bunker. In the pre-social media era, the Amul creative team waited for an issue to gain national importance. Then, we created a topical at a leisurely pace. A wiry gent went up on bamboo scaffolding and painted our artwork on a billboard, safe in the knowledge that he wouldn't have to risk life and limb for another month. But today, it's all changed - the country has become hugely fragmented and localized. We now have several Indias - there's the Northern region inclusive of Delhi and Haryana; the Hindi Belt; there's Mumbai; the South is a universe of its own; as is the East; and social media, a little country by itself.
Very little is of national importance anymore, except a cricket loss, perhaps. Every morning, the Amul creative team, that's Manish Jhaveri the writer, Jayant Rane the cartoonist and I are faced with a myriad possible topics, trends and issues to tackle – the Indian cricket controversies, Imran Khan's comments, insensitive comments made by illiterate ministers, the 'I' obsession with selfies, Indo-US relations, Instagram stories, Internet slang, take your pick. A bag of goodies all crying for a cheery comment, a gentle prod, a proverb, a pun, a punchline. We have to decide whether our Amul girl becomes a crusader, a celebrator, cheerleader, a commentator or the social conscience. The consensus is that we tackle all these issues. They have traction, they all appeal to an audience.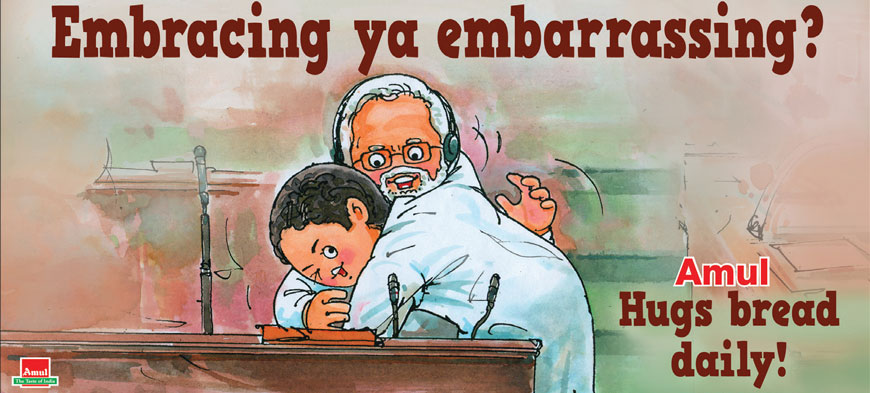 The decision really is how to pace ourselves. The newspapers have given us the topic, but social media has given us the trend, the twist, the timeline. How are people feeling about a particular issue? Are they angry, are they angst-ridden, are they amused? Crucially, when do we strike with the topical - when it is at its hottest, at its most newsworthy, at its trending trendiest? We have to decide when it is too premature, when at its peak, when it's most potent and when past its prime. In the seventies, one topical was created a month. In the nineties, it galloped to once a week. Today, one topical is created every day-and-a-half. The principle is the same. You have a few seconds to reach your consumer - either he's driving past your hoarding or scrolling down his handset – so you need to catch him quick. Our task is to keep the message snappy and impactful. Never mean or malicious. The mirth of an issue is vital, expressed in a maximum of three or four words. There is no doubt in my mind that the Amul topical is at its most majestic up on a hoarding. But it is at its most immediate on a handset.